Battle of Bushnell: 24 Hours of America Set for February 18-19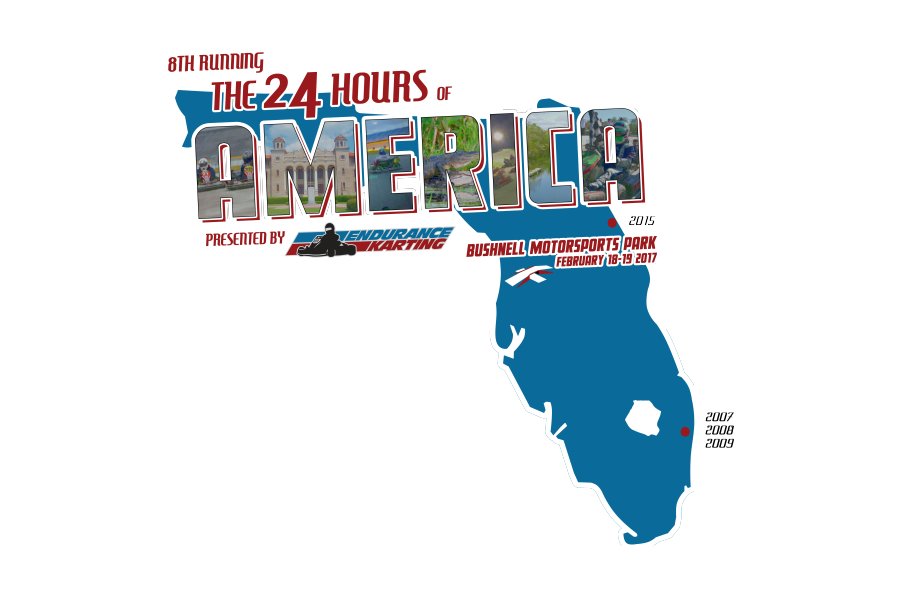 Pro drivers and weekend warriors will clash in equally prepared Honda-powered go-karts over 24 hours at Bushnell Motorsports Park in Bushnell, Fla., Feb. 18-19, in the eighth running of the "24 Hours of America."
In the only 24-hour endurance outdoor kart race in the U.S., the likes of IMSA/Corvette Racing young guns Ricky and Jordan Taylor will match skills against seasoned karting drivers, novices and Verizon IndyCar Series team president Larry Foyt and Indy Lights front runner Zac Veach for bragging rights.
The race, which starts at 11 a.m. Saturday, Feb. 24, and will run through the night and following morning, will feature at least 22 teams from around the country, including Detroit Rock City, outright winners of the past three 24 Hours of America, and Taylor brothers' Simcraft Racing.
Foyt, son of Indy Car legend A.J. Foyt, and Veach, who won twice in Indy Lights in 2016, will share driving duties on the Alfe Racing team along with USF 2000 driver Eric Filgueiras and former karting champion Louis Satterlee.
The 24 Hours of America is the jewel in the crown of Atlanta-based Endurance Karting and has been run previously at Palm Beach International Raceway (Fla.), Charlotte Motor Speedway (N.C.), Daytona International Speedway (Fla.) and NOLA Motorsports Park (La.).
With 15 turns and a bridge/tunnel crossover complex, Bushnell Motorsports Park is one of the premiere kart race tracks in the country with amenities that include a drivers' lounge and race control tower. It is located off Interstate I-75, just over 50 miles from either Tampa and Orlando.
In the past, the "24" has attracted such racers as NASCAR regulars Trevor Bayne, David Ragan and Chad McCumbee.
The Taylor brothers competed in the 2015 race at Daytona, finishing in the lead pack to the winning Detroit Rock City team.
Drivers in the 24 Hours of America must show their ability in the equally prepared, Danish-manufactured Dino karts.
"Each of the karts are meticulously set up," said Endurance Karting owner Chris McCoy, a former racer. "The performance of each kart is as close as we can make them."
The 24 Hours of America is part of an "arrive and drive" program, where competitors are provided kart, tires, fuel and mechanic at the track.
"We take the heartache out of racing," said McCoy. "Everybody has a mechanic to work on the kart. Everybody can live their dream behind the wheel without worrying about equipment. It's all there."
Rain or shine, the 24 Hours of America at Bushnell will be held.
Lightning in the area or a flooded track would be the only elements to cause a temporary stoppage in action. Each team will be provided tent space and pit box.
Practice will begin Friday morning (Feb. 18) around 8 a.m. with qualifying for the "24" at 7:30 p.m. under lights.