Bray In Good Company in Florida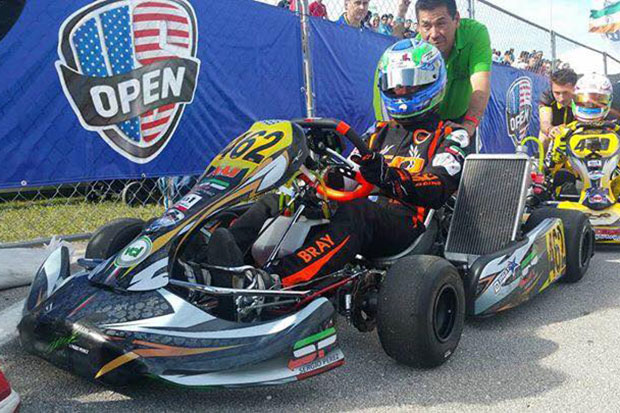 Auckland-based works VCI/GP Karts driver Daniel Bray (# 462) about to head out on track at the opening round of the VCI Powered by AM Engines Florida Winter Tour at Homestead on Sunday (Photo: Fast Company/VCI)
Globe-trotting Kiwi karter Daniel Bray found himself in good company at the opening round of the VCI Powered by AM Engines Florida Winter Tour over the January 14-15 weekend. The Aucklander contested the ROK Senior Shifter class alongside three-time former CIK-FIA World Karting Champion Jonathan Thonon, and former Formula 1 drivers Rubens Barrichello and Nelson Piquet Junior!
Thonon, from Belgium, has just joined Bray on the Mexico-based VCI team, and with the company now the title sponsor of the popular Florida Winter Tour series the Kiwi accepted a last minute invitation to make the trip to the Homestead Karting Facility south-west of Miami for the 2017 US-season opening event.
The 'Tour is popular with drivers from across the United States and Canada escaping the worst of the Northern Hemisphere winter and is seen as a valuable scene-setter for the big spring and summer races held during the year.
An example of its appeal was the 33-strong entry in the class Bray ran in, ROK Senior Shifter, which this year included the likes of factory FK driver Gary Carlton from the United States, Las Vegas SKUSA SuperNats winner Danny Formal from Costa Rica, and Brazilians Barrichello and Piquet Jnr.
Thonon, who like Bray was driving one of the new Sergio Perez-branded GP Karts for the VCI team, was in a class of his own in qualifying, claiming pole with the only sub 46-second lap, before winning the first two heats then finishing second in the Pre-Final then fourth in the Final after being slowed by a tyre issue.
Bray lost time with a misfire in practice, was 12th quickest in qualifying and after a DNF thanks to a flat tyre in the first heat came back from P12 to finish seventh in the second heat and fourth in the third.
He then worked his way from P12 to sixth in the Pre-Final but got turned around at the first corner in the Final. Though he was able to restart it was only after the entire field had passed him, and the Kiwi ace ended up a hard-won 18th at the flag, the win going to Gary Carlton from Rubens Barrichello, top US driver AJ Meyers and Jonathan Thonon.