Nicholas d'Orlando Returns to CompKart and Takes It International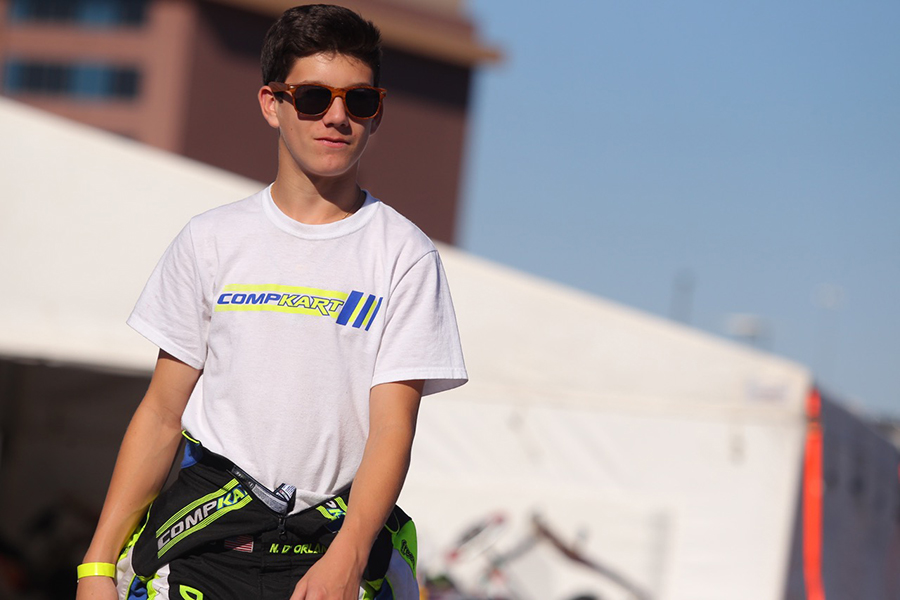 With the holidays complete and the new year underway, 2016 would be a season to remember for Hartsdale, New York's Nicholas d'Orlando.  The 2015 Mini-Max National Champion would exceed all expectations in his Junior rookie campaign, after making some big adjustments and adapting to some big changes throughout the year.  Now, after closing out 2016 with an impressive podium result at the SuperKarts! USA SuperNationals 20 in Las Vegas, he is setting his sights for 2017.
"2016 was a great season and to end it at SuperNats with a third-place was pretty amazing," said Nicholas d'Orlando. "But I had my share of obstacles to overcome this year. From the team change in April and then to no longer be racing beside [big brother] Michael, was tough for me but we were still there for one another even if it was just via telephone or video chats from separate tracks. The transition to Junior was a little tough and the competition throughout the season was not easy. My goal was to learn to adapt quickly to the new class at faster speeds and the bigger chassis, not to mention the much more aggressive nature of the Junior grids, and to also work with J3 to keep my COMPKART chassis in the mix while we were developing our working relationship. I wanted to end the season with a solid finish and on a high note and we definitely did that. I can't thank everyone enough at J3 Competition for giving me such a great kart all season long and helping make this a great rookie campaign in Junior."
Looking forward to 2017, Nicholas will rejoin J3 Competition for his sophomore season in the junior ranks with some promising expectations and goals. His schedule will see him race in North America's top series such as Florida Winter Tour, Rotax US Open, US Rotax Max Challenge Grand Nationals and SuperKarts USA events.  However, both J3 & Nicholas d'Orlando will raise the bar this year as they will travel overseas together with a small elite squad of COMPKART drivers, for their debut in various CIK-FIA European Championship events.
"I am ready & looking forward to 2017 and I want to make it another great year," says Nicholas. "It's great to be rejoining J3 Competition for my second season in the Junior categories and to be running the COMPKART chassis again. But I am also really looking forward to finally getting the opportunity to compete overseas in the European Championship events.  I've been looking forward to this for many years.  But I do understand that it's going to be a big learning curve to adjust to the different racing style and tracks over there, and I think this will be a great opportunity to build on the experience and continue to improve on the skills that I have developed over the past 8 years here in North America."
Nicholas continued… "It will also be nice to get back on the track with Michael [my brother] again.  We spent a lot of time traveling separately last year and it was a challenge on all of us [my family] and I am excited to be back with him, at least at the same tracks, again.  Even if we are on separate teams and competing in different classes."
Nicholas' first competition of 2017 will be this weekend, January 13-15, at the first round of the Florida Winter Tour Rok Cup USA in Homestead, Florida.  He will compete in the Rok Junior category.
d'Orlando Enterprises would like to thank the following supporters for a great 2016 season as they look forward to 2017- Justin Stefani and Jim & John Giacomelli of J3 Competition (www.j3competition.com), Mike Maurini & Martijn Koene of Koene USA (www.koeneusa.com), DB Collaborative (www.db-collaborative.com) & owner John Macones, Danilo Oliveira and Nathalia Iervolino of Fyshe USA/Adidas Motorsport (www.adidasmotorsport.com), all the staff at Iona Preparatory School (wwww.ionaprep.org) and Focused Project Management (www.focusedpm.net).
A sincere Thank You to all our family, friends & fans for your ongoing support as our team continues to work toward our dream in 2017.
Stay tuned for continued updates and more information on Nicholas d'Orlando at www.dorlandoracing.com. Be sure to follow him on Facebook (Nicholas d'Orlando Racing), Twitter (@dorlandoracing) and Instagram (@dorlandoracing).