Michael d'Orlando: Reflection on 2016, A Return to Birel ART and Moving up the Ranks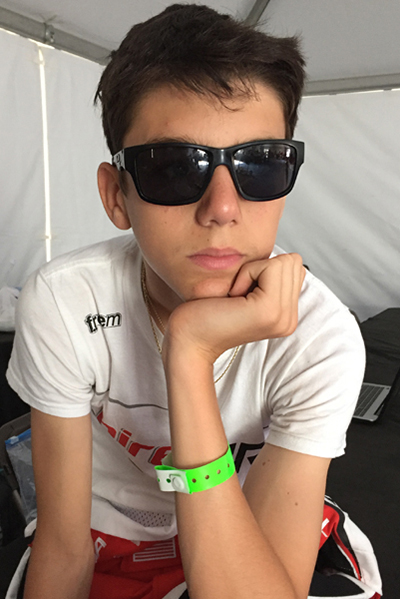 It's another karting year in the books and on to the next one!  Now, as we look back at the 2016 racing season, Michael d'Orlando saw a year that had its share of successes, challenges and major changes all of which contributed to one of his most dynamic years of development as a driver and athlete.  The experience both in North America, Europe, and the Middle East transformed Michael from a great North American driver to a World Class driver and athlete.
He kicked off the year by taking home the Florida Winter Tour Rotax Junior Championship and a TAG Junior Vice Championship, as well as earning a spot-on Team USA in the Rotax MAX Challenge Grand Finals in Sarno, Italy.  He would also show great perseverance and talent by taking on some of the world's best & most experienced European drivers and prove he is more than capable of running with them.  In between contesting the European schedule, Michael managed to fit in a win and a podium finish in Canada and also a Vice Championship in the US Rotax Grand Nationals. Traveling from one side of the globe to the other, he would close out his junior racing campaign at the world's most premier event for junior karting, the CIK-FIA World Championships, in Bahrain.  Although the season did not end the way d'Orlando hoped it would, he still came away as a much more seasoned and well-rounded driver and athlete, both on and off the track.
"Overall the 2016 season was a good year for me.  I had a great start with the success at Florida Winter Tour, a chance to represent my country at Rotax Grand Finals and I was so close [a mere 2/10ths] to another Rotax Grand National champion title.  And although the results in Europe weren't exactly what we hoped for, those results really don't reflect the success we had as a team.  And I feel that as a driver, my development has grown even more than I could have ever imagined. It was a tough adjustment to compete in the CIK European Junior Championship series events with the limited experience at the tracks we raced at and I had a lot to adjust to with their driving style, the higher grip levels on the various tracks, and also the drop-down bumper system… not to mention adjusting to a new team, new equipment and all the travel that was required.  But I feel that the team and I were able to develop a great relationship and most importantly, continue with major improvements in my development as a driver.  This is why I look forward to being back with Birel ART for 2017."
"Additionally," d'Orlando continues "I continue to learn a lot about preparation off the track by being able to work with Formula Medicine in Italy, including Dr. Riccardo Ceccarelli & his staff.  It was a fantastic experience and I look forward to heading back there this year. I feel this offers another level of development in addition to my regular off track training."
For 2017 Michael d'Orlando will be rejoining the Birel ART stables as a factory driver, competing in WSK Series events and CIK FIA European Championship events.  He will also be making the move from Junior OK-J category up to the Senior OK category, now facing even more competition with extensive resumes and world class pro drivers.
"I am excited to be back racing with Ronni [Sala] and the Birel ART factory team, and really looking forward to moving up to the senior ranks. Although we didn't originally plan to cut my Junior karting experience after two years, with the age changes in the regulations, and my height & weight such a big factor in my results this past year (compared to my competitors in the Junior ranks), I believe It's going be a transition I can handle and am completely ready for.   We have been preparing for this for quite some time. "
"I have already started working hard preparing myself this off season, mentally and physically and I am excited to be heading back to the European circuits.  This gives me much more confidence this year than I had last year, with a year experience under my belt."
Michael will kick off his 2017 campaign, and make his Senior OK category debut in Adria, Italy from January 26th through February 6th in the WSK Champions Cup and the WSK Super Master Series events.
d'Orlando Enterprises would like to thank the following supporters for a great 2016 season as we look forward to 2017- Ronni Sala, Rickard Kaell and all my tuners at Birel ART (www.birelart.com), Dominic Labrecque & Coy Arbour at PSL Karting (www.pslkarting.com), Mike Maurini & Martijn Koene at Koene USA (www.koeneusa.com), DB Collaborative (www.db-collaborative.com) and owner John Macones, Danilo Oliveira and Nathalia Iervolino at Fyshe USA/Adidas Motorsport (www.adidasmotorsport.com), all the staff at Iona Preparatory School (wwww.ionaprep.org) and Focused Project Management (www.focusedpm.net).
A sincere Thank You to all our family, friends & fans for your ongoing support as our team continues to work toward our dream in 2017.
Stay tuned for continued updates and more information on Michael d'Orlando at www.dorlandoracing.com. Be sure to follow him on Facebook (Michael d'Orlando Racing), Twitter (@dorlandoracing) and Instagram (@dorlandoracing)