Checkered Motorsports Launches 2017 Season at Florida Winter Tour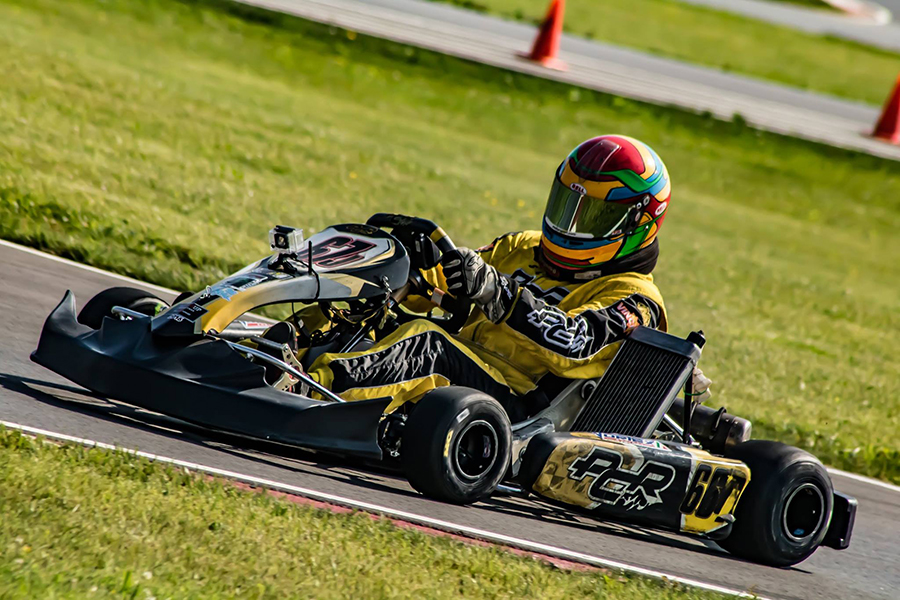 Round one of the Florida Winter Tour is here and Checkered Motorsports is all set up and ready for the international competition that will be present this weekend in Homestead, Florida.
Not only is this the season opener for Checkered Motorsports, but also this is sure to be a race like never before as Scuderia PCR Factory Pilot, Mattia Vita joins the lineup.  Taking second place in the ROK International Finals in 2015 and just recently competing in the 2016 ROK International Finals, Vita is all set to kick things off with a bang alongside the other six Checkered Motorsports drivers who are no strangers to the podium. The last time Bujdoso and Vita drove alongside each other was at the ROK International Finals. Bujdoso looks to return to the track more focused and ready to dominate. Mini ROK driver, Rhule has been notorious for her determination and her persistence to make it to the front. With experience in her class, Rhule is ready to shine this season. With practice and skill within different series through the entire 2016 season, Senior ROK, Raffa, is sure to make a big impact in his class during Round 1. Master ROK, Mahony, looks to start the Florida Winter Tour against a stacked field of Master Drivers. Representing the ROK Shifter Master class, Neubert faces his class for the first time in the Florida Winter Tour series but as a veteran amongst the ROK class.  He returns to the shifter class on the hunt for that top podium. Alongside Neubert is driver, Janos Eiler who will be taking the Shifter class on for the first time. Ready for this new change, Eiler has been improving more and more every day and is ready for his shifter debut.
Driver lineup consists of:
Mini ROK:
Annie Rhule
Senior ROK:
Ryan Raffa
Master ROK:
Miles Mahony
ROK Shifter Senior:
Mattia Vita
Andrew Bujdoso
ROK Shifter Master:
Janos Eiler
Jeffrey Neubert
Team Owner, Csaba Bujdoso, stated, "Competing in the Florida Winter Tour series is always exciting because of the high level of competition and organization that the series consistently brings. We are thrilled to have Scuderia PCR Factory driver, Mattia Vita, with us for Round 1 and look forward to watching all of our drivers grow and firmly make their mark in each of their perspective classes. It is going to be a great season."
With drivers traveled from all over the world, Checkered Motorsports strives to highlight the versatility and excellence of the PCR product. With team morale at an all time high and driver conditioning at its peak, the yellow and black chassis are pursuing wins for each of their drivers.
Checkered Motorsports will be supporting the F-series GearUp Challenge, World Karting Association (WKA), United States Pro Kart Series (USPKS), ROK Cup USA, MaxSpeed Entertainment Florida Winter Tour, Superkarts USA! (SKUSA) and the Pittsburgh International Race Complex events for the 2017 series. Transportation, arrive and drive opportunities, driver coaching and tech support/data analysis are available. For questions and dealer inquiries please contact checkeredmotorsports@yahoo.com.
For more information about Checkered Motorsports PCR USA or the latest from Greyhound racing products, visit our website at checkeredmotorsports.com
About Checkered Motorsports
Checkered Motorsports was first formed in 2008 owned and operated by Csaba Bujdoso. As the official racing team and importer for PCR karts in addition to GreyHound Racing products, they have proved themselves to be a high caliber racing team. Checkered Motorsports first encountered the PCR product line in 2009 and have gone to win countless championships.  Offering a variety of services from arrive and drive opportunities, kart rentals, and driving coaching; we understand the importance of effectively executing these duties/services. The team focuses to bring a family orientated atmosphere as well as maintaining unparalleled service to their customers.