Boyers 4 Wins Leads All WKA Daytona KartWeek Road Race Winners
Michel exercises Demons in return to the High banks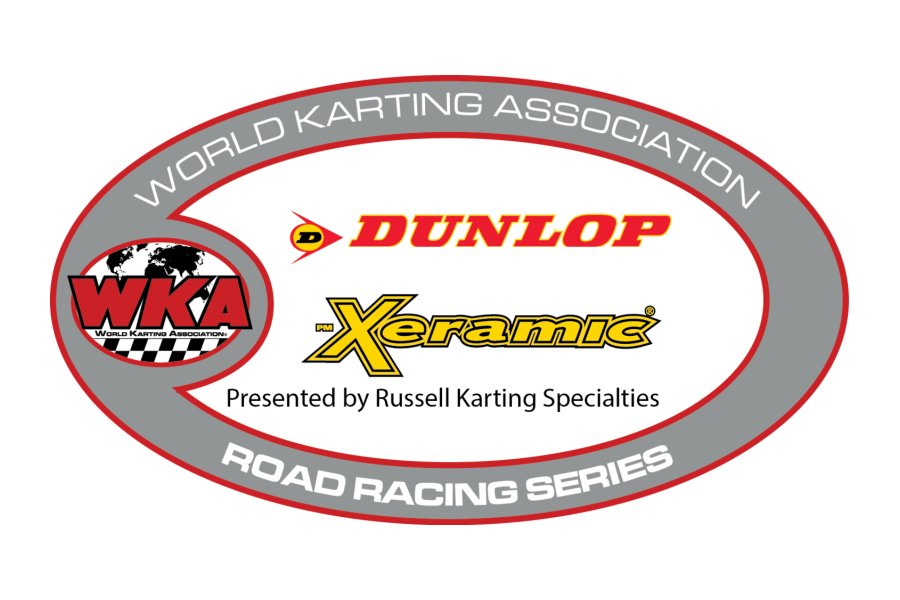 The beginning of a new year for the Dunlop/Xeramic National Road Race Series presented by Russell Karting also ushered in great new momentum to the series, as over 500 entries packed Daytona International Speedway for the latest edition of Daytona KartWeek. Peppered with a great combination of 2 and 4 cycle racers, not to mention new Local Option classes, led by the Cadet LO206 Class, the new season couldn't have started out better.
While at least 19 drivers found their way to victory lane more than once, Andrew Boyer staked his claim to Daytona's Gatorade Victory Circle, notching 4 national event wins during the week, sweeping the Animal Heavy, as well as Clone LO206 Heavy classes. Next in line to celebrate 3 times during KartWeek was Margays own Keith Freber. While his crew was busy thrashing at the neighboring Sprint Track in the Margay Sprint Nationals for the Bridgestone Manufacturers Cup Series, Freber was putting his own thrashing on the competition, sweeping the Yamaha Senior action, while also taking the Yamaha Sportsman Heavy Final on Day 2. The event also marked a welcome return for Matt Michel. Involved in a very hard racing incident just one year ago, Michel returned to the World Center of Racing, conquering the high banks twice, taking the McZero Fabrication Yamaha Sportsman Heavy main on Day 1, then returning to edge Keith Freber in the Yamaha Sportsman Medium Final later in the day.
Other multiple winners included Dawn and Louie Magiera, Dan Febbroriello, Ella Brown, Tracy Phillips, Jason Lorang, Rick Fulks, Logan Nedelka, Ricky Taylor, Patrick Olsen, Brian Wilhelm, Gary Schenkel, and Nicholas Martin.
But for Boyer, it was a dream come true, first knocking down the Clone LO206 Heavy Final on Day 1, topping Joe Cuslidge, James Cartledge, Rob Garland, and Robert Garland Sr. Boyer returned to the track later in the day to top Rob Garland in the Animal Heavy final, with Wesley Thomason, Robert Garland, and Toni Alexander making up the top 5. On day 2, Boyer went right back to work, besting Cuslidge, Rob Garland, Steve Jeffers, and Robert Garland, while again returning to victory lane to sweep the Clone LO206 Heavy final, getting the better of the Garland tandem, Rob and Robert, followed by Thomason and Alexander.
Frebers wins came on the 2-cycle side of the Road Racing fence, first topping Nate Grindell, John Brown, Bill Trumbley, and Adam Trumbley in Yamaha Senior competition. Freber topped Chad Dokken on Day 2 in the same class, with Brown, Adam Trumbley, and Rick Queen making up the top 5. It was again Freber and Dokken in the Yamaha Sportsman Heavy Final on Day 2, with Austin Henry, Tim Linthicum, and Bill Holder making up the top 5.
Florida product Ricky Taylor also checked in for 3 wins on the weekend, notching his first win in the new CIK LO206 Local Option class, which boasted 8 entries for a first-time Local Option Class on the high banks. Taylor topped Rob Hindery, Seth Gordon, Wayne Lee, and Jesse Holt for the top 5 on Day 1. Taylor returned to sweep the class, while also taking Day 2 of the Clone LO206 Lite class as well.
While the series leans mostly on the veteran side as far as level of competition goes, it was great to see the youth movement make their way to Daytona and a new season, as 11 Cadet Racers took to the speedway on Day 1, with Madison Wheatley taking the monumental win over Bree Miller, Austin Harper, Jace Park, and Darryl Lea Moglia. Day 2 found 9 drivers making the return to the speedway, with Austin Harper taking down the win, followed by Wheatley, Moglia, Bree Miller, and Jett Miller. The Cadets, a Local Option Class, will continue as a part of the National Road Race program all season long, next heading to Roebling Road Raceway in Savannah, Georgia March 10-12 for stop #2 on the series.
Other winners during the week included Darrin Cuthbertson in The Agile Group Unlimited Class on Day 1, topping Brian Wilhelm, Scott Hodges, Roger Lockey, and Anthony Turco. Day 2 Unlimited action found Wilhelm scoring the first of his 2 wins on the weekend, besting Robby Harper III, Allen Hollinger, Anthony Turco, and Joey West. Wilhelm also claimed the Rev Clean Formula 125 class, topping Mitch White and Allen Hollinger.
Jason Lorang also checked in for 2 wins during KartWeek, sweeping the West Texas Outlaws TaG Heavy finals. Lorang bested Jim Snyder, Alex Laughlin, Brian Cherry, and Jean Brown on Day 1, with John Brown, Jamey Brown, Tim Snyder, and Jeff Salak making up the top 5 on Day 2.
It wouldn't be a Road Race if a Fulks wasn't in Victory Lane. And that's where Rick Fulks stepped up to the plate, taking the Tru Stripe 100cc Controlled event, topping Lance Yunck, Gary Mikusch, Michael Tracy, and Scott Stauffer for the top 5. Fulks returned for the curtain call on Day 2, besting Stauffer, Mikusch, Tracy, and Adam Myers for the top 5.
And where there is 1 Fulks, another lingers, as Randy Fulks took the GM Fort Wayne Assembly B Stock action on Day 1 over Scott Goodman, Robby Harper III, Dusty Dean, and Robby Harper.
Andrew Boyer wasn't the only 4 Cycle driver with multiple success during KartWeek, as Stephen Wheatley checked in for the win in the Hoosier Racing Tire Animal Lite class, bettering Ben Thomason, while taking the Animal Medium class on Day 2 over Quentin Hill.
Brian Fisher claimed Day #1 in the Fisher Racing Engines Stock Honda Class, besting Benjamin Eberhart, Steven Rougeou, Keith Buffo, and Jason Park on Day 1, while Stephen Flatt rebounded from a 10th place finish on Day 1 to score the win on Day 2 over Alex Laughlin, Fisher, Rougeou, and Eberhart.
The WT Racing IAME Sprint class was also well attended, with Nicholas Martin sweeping the weekend action, first over Paul Bachman, Stephen Bassham, Walter Troup, and Donald Nelson, then returning on the second day to top Alex Laughlin, Nelson, Lee Curtis, and AJ Ellis.
Known quite a bit for his tuning capabilities, Patrick Olsen traded spots at Daytona, the end result being a sweep in the KALL Racing/Millers Dynotime Racing Formula 100 class both days, topping Lance Yunck, Scott Stauffer, Brian Morse, and Jason Lorang on Day 1, while Michael Tracy, Travis Miller, Lorang, and Morse chased Olsen across the stripe on Day 2.
Here's a look at many of the other Daytona KartWeek winners:
Day 1:
WKA Sprint: Louie Magiera
Rapid Racing Vintage: Robby Harper
Yamaha Sportsman Sprint: Dan Febbroriello
Animal Medium: Wayne Moffat
Clone LO206 Lite: Rob Hindery
Junior Sprint: Ella Brown
125 Sprint Shifter: Tracy Phillips
Open Sprint: Jerry Revely
Junior Enduro: Logan Nedelka
TaG Junior: Zander Taylor
Junior Animal: Jordan Johnson
X30 Laydown: Gary Schenkel
Yamaha Sprint: Dawn Magiera
100cc Piston Port: John Brown
Junior LO206: Dylan Amundsen
Day 2:
Yamaha Sprint: Dawn Magiera
TaG Junior: Zander Taylor
Junior Animal: Jordan Johnson
Junior Enduro: Logan Nedelka
Junior LO206: Devin Taylor
125 Sprint Shifter: Tracy Phillips
Open Sprint: Adam Myers
X30 Laydown: Gary Schenkel
Vintage: Dick Charest
Animal Lite: Ben Thomason
Junior Sprint: Ella Brown
WKA Sprint: Louie Magiera
Yamaha Sportsman Sprint: Dan Febbroriello
Congratulations to all Daytona KartWeek winners! Before the next checkered falls at Roebling Road Raceway March 10-12 in Savannah, Georgia, the series will crown their 2016 national champions at the year-end awards presentation, following the day long practice for the Roebling Road Nationals Friday March 10. Final preparations are being placed on the Year End Awards presentation, as well as the entry blank for the series second stop for 2017. Be sure and stay connected to the WKA website for the information regarding both events.