2017 EKN Chassis Showroom: CKR
Successful Italian-made kart looking to grow in North American market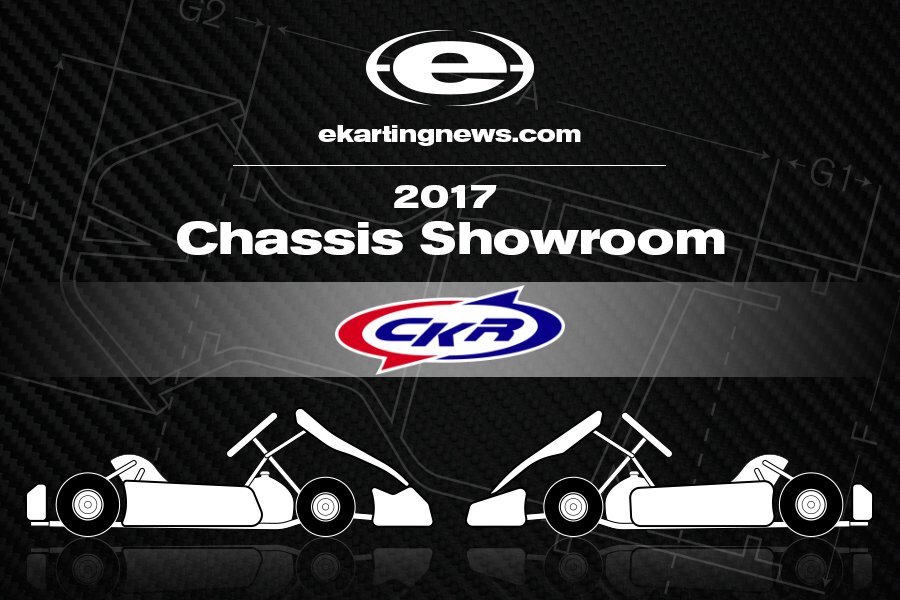 EKN is excited to offer an exclusive editorial series for our readers – the 'Chassis Showroom'. Over the next couple of months, we will be highlighting many chassis manufacturers and the importers / dealers who are responsible for making these karts available to the North American karting community.  The market is filled with models for all levels of competition, from four-cycle to shifterkarts, and the new offerings are really great looking.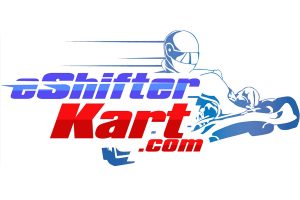 Importer: eShifter Kart
The love of the sport oftentimes leads to making the transition from a racer to an industry member. It was a similar path that James O'Brien followed and led to the creation of eShifterKart.com. The Idaho-based operation is focused on providing products and service for shifterkarts within the Pacific Northwest region and worldwide through their online store. In addition to the number of engines, parts, safety gear and more offered at eShifter Kart, they are also the North American importer for the CKR chassis and parts.
Chassis: CKR
Competitive Kart Racing – CKR – is among the popular European chassis brands. The Italian-based company has a tradition of award winning manufacturing and engineering since 2000, and they introduced their own chassis brand in 2005. While young when compared to other brands in European and world competition, CKR continues to excel on and off the track, establishing a strong dealer network around the globe. The CKR chassis models range from a gearbox model all the way down to Kid Karts, providing multiple options for racers of different ages and speeds.
The premier chassis – the SG3 – was developed for the KZ categories. It works very well, reaching a high level of performance, with any type of tire. Sniper Castor/Camber adjustment is standard on all models. The SG3 is equipped with square rear bearing cassettes from maximum rear grip. Two front torsion bar hangers allow for optimum frame tuning to adapt to any driver under many conditions.
The SG2 is a very balanced chassis with smaller diameter tubing for added flex and provides a viable option to the SG3. Developed for the KZ and KF categories, it is a very smooth and precise machine entering corners without unbalancing the grip of the rear. The SG2 has been a top-level performer around the world within the TaG and DD2 categories, as well as Stock Honda with Terry Lawrence at the Superkarts! USA SuperNationals.
For the young Cadet drivers, the Spider is designed with the same aspects as the larger CKR models, centered around the 28mm tubing and 30mm axle. The frame provides the perfect balance and features direct mount 17mm spindles with Sniper Castor/Camber adjustments. The chassis has no third bearing and all USA models are standard with an inner keyway on the axle to allow for LO206 engines, and still works well with the more powerful Cadet engines.
---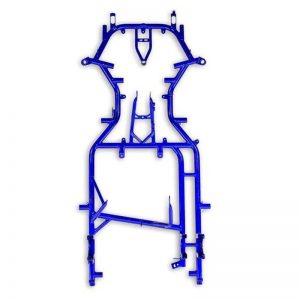 Model: SG3
Frame tube size: 32mm
Wheelbase: 1045mm
Spindle size: 25mm
Front width: 725mm
Rear width: 640mm
Length: N/A
Front hub: 76mm Magnesium
Rear hub: 98mm Magnesium
Front Wheels: 132mm Magnesium
Rear Wheels: 212mm Magnesium
Brakes: VEN 05 Iron, Duralcan Ceramic Option
Seat: IMAF F6, Rombo Silver Option
Steering Wheel: CKR three post, Thick Grip Option
Bodywork: New Age 2
---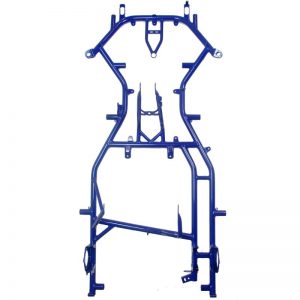 Model: SG2
Frame tube size: 30/32mm
Wheelbase: 1052mm
Spindle size: 25mm
Front width: 715mm
Rear width: 650mm
Length: N/A
Front hub: 76mm Magnesium
Rear hub: 98mm Magnesium
Front Wheels: 132mm Magnesium
Rear Wheels: 212mm Magnesium
Brakes: VEN 05 Iron, Duralcan Ceramic Option
Seat: IMAF F6, Rombo Silver Option
Steering Wheel: CKR three post, Thick Grip Option
Bodywork: New Age 2
---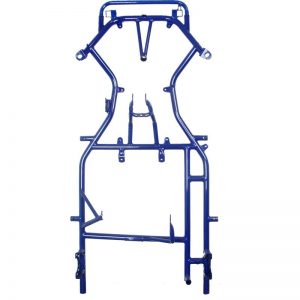 Spider
Frame tube size: 28mm
Wheelbase: 950mm
Spindle size: 17mm
Front width: 560mm
Rear width: 615mm
Length: N/A
Front hub: N/A
Rear hub: Aluminum
Front Wheels: 130mm
Rear Wheels: 130mm
Brakes: Hydraulic Mini – Iron
Seat: IMAF F6, Rombo Silver Option
Steering Wheel: CKR three post
Bodywork: Mini Black
---
Dealer List:
eShifter Kart Racing
119 E. 46th St. #207
Garden City, Idaho
208-384-KART
eShifterKart.com
Fastech Racing
212 Cypress Avenue
Marina, California 93933
888-333-4181
Michael Rivera Racing
203-988-4869
Rebel Mutt Motorsports
284C E. Lake Mead Parkway #234
Henderson, Nevada 89015
919-896-9559
---
Photo Gallery: