Quick Ink Celebrates 1st Anniversary with Return as New Junior 2 Kart Divisional Sponsor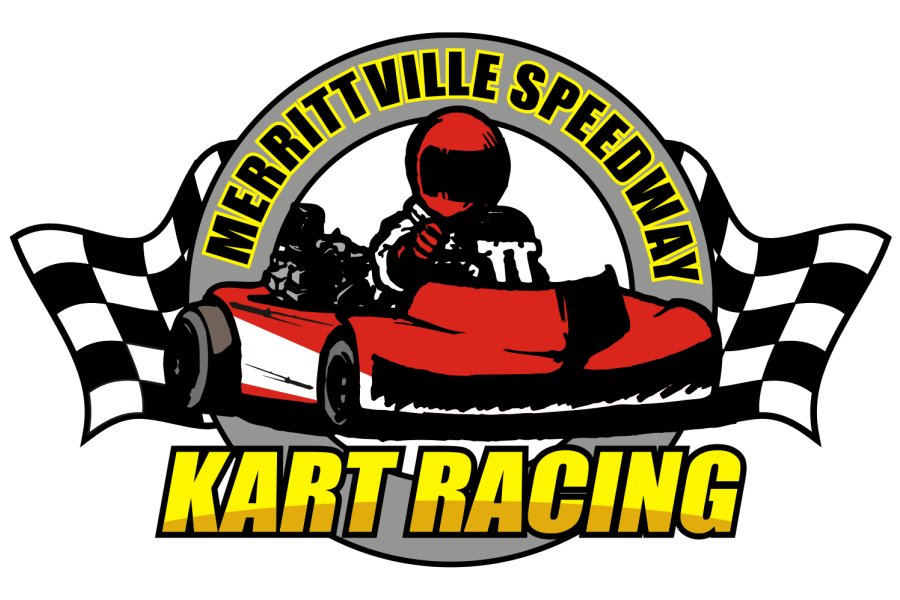 Last January, Quick Ink Custom Screen Printing owned by Shayne Pierce, Chris and Sami Steele began after months of planning. Just ahead of celebrating their first full year of operation the three will celebrate their beginnings in Kart Racing as the new Junior 2 Divisional Sponsor at Merrittville Speedway.
"Sponsoring the Junior 2 division is just our way of trying to help develop the young talent and future competitors," said Co-owner Shayne Pierce on behalf of his sister and brother-in-law, "I grew up racing Tuesday Nights as did Chris and recently my sister too. Tuesdays were our Saturday Nights … we're excited to help develop the future stars."
Race Fans and Teams may have first been introduced to the St. Catharines Ontario company leading up to last year's 2nd Annual Brian Stevens Memorial presented by Zavitz Financial Strategies and ZFS Employee Benefits as they provided a special event T Shirt honoring the former Champion and L. St. Amand Enterprises Wall of Famer.
Looking to give back to the sport … proceeds of the T Shirt Sales went to 358 Modified Quick Time Awards. $200 Cash Awards went to the fastest in each qualifying group. Local drivers fittingly took home the awards – Ryan Susice, Erick Rudolph and Tim Jones.
"In a relatively quick time … Quick Ink has established itself as the place to go for screen printing," said new Merrittville owners Don and Lorraine Spiece, "it's nice to see them support our Karting program … once the word went out – they were quick to join in."
Quick Ink can supply businesses with branded apparel … can create a design for your next event and for drivers – can create a T Shirt race fans will love.
To learn more about Quick Ink Screen Printing you can visit their Face Book Page at https://www.facebook.com/quickinksp/ or contact them via e mail at quickinkscreenprinting@gmail.com.
The Quick Ink Screen Printing Junior 2 Division is part of the Tuesday Night Lucas Oil Weekly Karting Series Performance Manufacturing line up that also features the Vansickle PetValu Novice 1, Tim Phillips Garage St. Catharines Discount Auto Parts Novice 2, RCM Racing Equipment Junior 1, Superior PetroFuels Junior Restricted, Wilder Racing Engines Senior Animal and the Cassell Manufacturing Senior Fun Divisions.
To learn more about Tuesday Night Kart Racing including Sponsorship Opportunities to create future stars visit http://www.merrittvillespeedway.com or call the Winter Office at 905-685-7223 or via e mail at merrittvillemedia@gmail.com. Race fans and Race teams alike can follow Merrittville on Face Book (Facebook.com/Merrittville Speedway) and Twitter (Twitter.com/Merrittville
Merrittville Speedway's Winter Office is located in Bicknell Racing Products, 117 Cushman Road in St. Catharines.
MERRITTVILLE SPEEDWAY SPONSORS The 2016 65th  Anniversary Lucas Oil Weekly Racing Series for Merrittville Speedway's 5 Divisions was brought to race fans and racers by division sponsors – Pinty's Delicious Foods, Yager Bros Trucking, Rev's Full Throttle Powersports, Hoosier Tire Canada and Van Raine Construction in addition to many marketing partners Visit them at  http://www.merrittvillespeedway.com/sponsors.htm  and visit them when you require their products and/or services.
Lucas Oil Products is one of the fastest growing additive lines in the consumer automotive industry featuring a premium line of oils, greases and problem-solving additives.
Through innovative product research and development, along with aggressive marketing programs, Lucas Oil Products has established itself as the top selling additive in the industry.
Race fans can look for Lucas Oil Products at their favourite automotive retailer or maintenance centre including Kala's Hardware, St. Catharines Discount Auto Parts, RCM Racing Equipment and Tim Phillips Garage.