CRG: The Champions Factory of 2016 Described by Giancarlo Tinini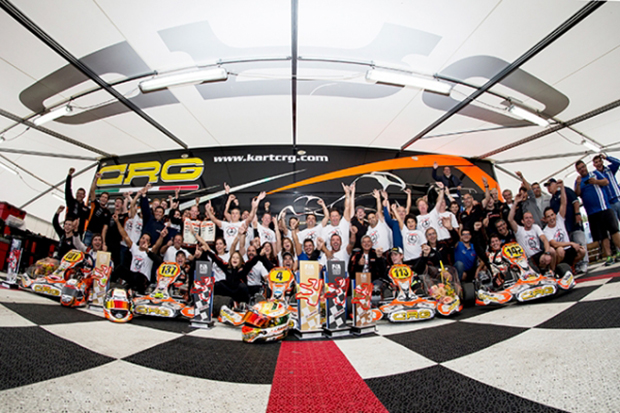 Giancarlo Tinini, CRG President, comments on the excellent season that scored new highs in 2016. The Italian outfit's prize list reached 39 World titles, 45 European titles and 65 International victories.
CRG has always been regarded as the "Champions Factory" and in 2016 the Italian outfit lived up to its expectations. CRG completed in fact a highly successful year, with several international wins and the victory of the KZ and OK World Championships, that of the International KZ2 Super Cup and of the two European Championships KZ2 and OK.
This is not the first time that CRG puts in a string of great results in a single season, it happened back in 2013 when Max Verstappen was crowned KZ World Champion, European KZ and KF Champion, and when Danilo Rossi who won two World Championships and the World Cup in 1992, but this is the first time that these International titles have been won by different CRG drivers. On top of this, CRG has also been shining in all the four categories of the German DKM 2016 Championship.
In one word, this has been an exceptional season that made CRG prize list reach level 39 World Championships and World Cups and 45 European titles. In 2016, their contribution to the CIK-FIA tally was given by Paolo De Conto, who was crowned KZ World Champion on CRG-Tm, by the new OK World Champion Pedro Hiltbrand on CRG-Parilla, who also won the KZ2 International Super Cup on CRG-Maxter and the OK European Championship on CRG-Parilla, and finally by Fabian Federer who secured the title of new KZ2 European Champion on CRG-Modena.
To date, CRG totaled 65 victories in International races and season 2016 has welcomed all the victories of Jorrit Pex in KZ2 DKM, Max Tubben in KZ2 Cup, Paavo Tonteri in OK and Dennis Hauger in OK-Junior. Pedro Hiltbrtand won the Spanish Championship in KZ2, Giacomo Pollini won the Andrea Margutti Trophy of KZ2, Paolo De Conto the KZ2 Supernationals in Las Vegas and the Race of Stars in Australia, while the new entry Mirko Torsellini won the recent Champions Cup of in Vendrell.
Giancarlo Tinini, CRG S.p.A. President – company founder and great director of all the deeds of the Italian outfit, talks about his view on season 2016.
GIANCARLO TININI'S OPINION
"This has been a great season – commented Giancarlo Tinini – and repeating such string of  victories is going to be difficult, but we will always have a go at it. The value of the most deserving drivers came out in the end, and also all the other racers that did not manage to win displayed all their competitiveness anyway. We enjoyed a strong commitment from everybody, starting with drivers, mechanics, technicians and all staff: this has certainly contributed to the success of the whole Team."
– Among CRG recent victories, season 2016 reminds slightly of 2013, but back then, only one driver – Max Verstappen – won in several categories, while a higher number of CRG drivers came to the fore this time around.
"Correct. This year we dominated with several drivers. But if we go through the final classifications, we have always had our drivers high up in the rankings, which means that the whole package, technicians and drivers, worked like a charm."
– Alongside the shifter category in which CRG has been victorious for several years now, this season has been quite successful also in the direct drive categories OK and OK-Junior.
"Things went very well also in OK and OK-Junior. At the beginning of the year we made the technical choice of employing Iame engines, and this helped a lot, as did the agreement with TM Racing Engines in KZ1. These are important partnerships that are needed to get the victory. I would say, that our strategy on technical partnerships worked perfectly alongside the driving skills of our drivers."
– OK and OK-Junior have been quite successful on the international scene in their debut year, but the heirs of KF and KF-Junior did not produce the numbers exhibited by national championships yet.
"Only some confidence is needed, I believe that this product is destined to cause some headaches to the single make categories. The new OK and OK-Junior categories are a good product, they are not complicated and did not give any problems even with engines start – a point I admit I was a bit skeptical on – as a little push is enough to fire up the kart. This has been a nice surprise to me, as the lack of a starter did not create any problems. OK has a stunning engine, it produces a great push, therefore I believe this is the product destined to replace the old 100cc. "
– Presence in OK and OK-Junior have been limited to works teams only in this season, as were the old KF categories…
"I believe that, should one ASN start to use these karts, they will not dislike them. After this first year, I am sure that figures will increase in 2017. When we do not get complaints from clients it means that drivers enjoy the product. The two new categories are completely different from the previous KF, they have better performances and are a lot easier. I believe this is the right path to bring an higher number of drivers on track."
– What are CRG expectations for 2017?
"Our company is always scoring positive results. Alongside the Racing department which is a priority, we are successfully developing the Rental and Electric Kart products. We already have several new ideas forward to offer our resellers and customers further business opportunities. Regarding the forthcoming racing season, we will have a partially renewed and still to be defined squad, but the level is certainly going to be high. We will kick off the season at the Winter Cup of Lonato, that has traditionally been our test-bench. We will then compete in WSK, in the CIK-FIA European and World Championships, as well as in DKM. In 2017 we will also be present in the X-30 Iame, a category that is particularly competitive and interesting."