New Exprit Kart Chassis for 2017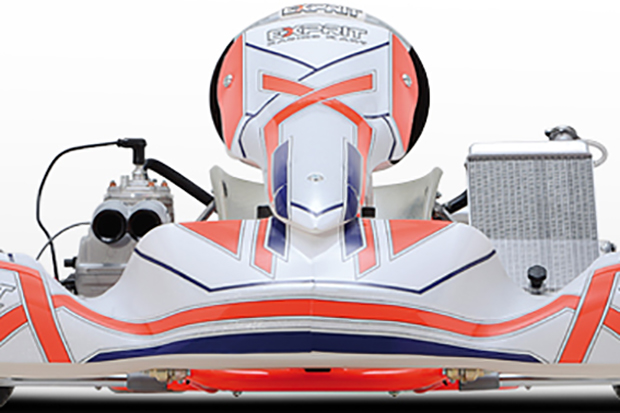 Thanks to their technical qualities and performance, the Exprit chassis contributed to the success obtained with the CIK-FIA Academy Trophy. Improve the quality of high-level products already is a real challenge, pursued by OTK's Research and Development department. This work has enriched the already formidable models we are presenting today with a new captivating graphic design.
NOESIS S AND THOOS S
Both of our top range chassis have been further developed and optimized thanks to the new equipment adopted in the production line. The frames of both models have been ameliorated in the steering column support connection and in the front bumper connection.  The frames of both models have been ameliorated in the steering column support connection and in the front bumper connection. Moreover, the centre flange is forged with a new design specially conceived to better accommodate the exhausts of the new OK and OKJ engines. New designed components are also the throttle cable adjustment, the sprocket's hub (with two screws), the new floor plate (thickness 1.5 mm) and the chain guard support, one-piece and made of a new lighter material. The new braking system, equipped with the very new BSD caliper, forged in one-piece and able to guarantee greater rigidity, strength and performance stability, deserves particular attention. The upgrade on the new models also resulted in lighter frames, so the NOESIS S and the THOOS S allow drivers to handle with the weight distribution even better.
KZ: The models reserved to the shifter categories are distinguished by a frame particularly designed to better suit the technical specifications of KZ engines. The frames of this category have now the seat support connections modified, to allow a better housing. That's not all. The clutch lever of the new NOESIS S and THOOS S has been totally renewed, granting noticeable ergonomic benefits. It can actually be mounted on several types of steering wheel hubs now, including the inclined wheel, also allowing many driver's driving position adjustments.
MINI: The EXPRIT NEOS will not disappoint the youngest drivers, it is actually a completely renewed model. To make this EXPRIT KART a special model are two key aspects, the geometry of the frame, totally renovated as well as the manufacturing process which now, even more than in the previous years, are just the same as the top-range models. The most evident innovations are the new brake hoses, the high-grip steering wheel, the new silencer connection, the multi-hole bearings, the throttle adjustment, the new stub axles and the new wheel hubs.  A separate chapter deserves NEOS braking system, called BSM2, equipped with a special brake pump, as a result of a new project completing a formidable technical package.  The Exprit NEOS will be also equipped with the aluminum AXJ wheels (110.145), featured by a new design conceived by our R&D department.
The new chassis will be available from January 2017.