9th Annual Turkey Trot at Capitol City Speedway
A Tribute to Dylan Brockwell - Banker Bags Hat Trick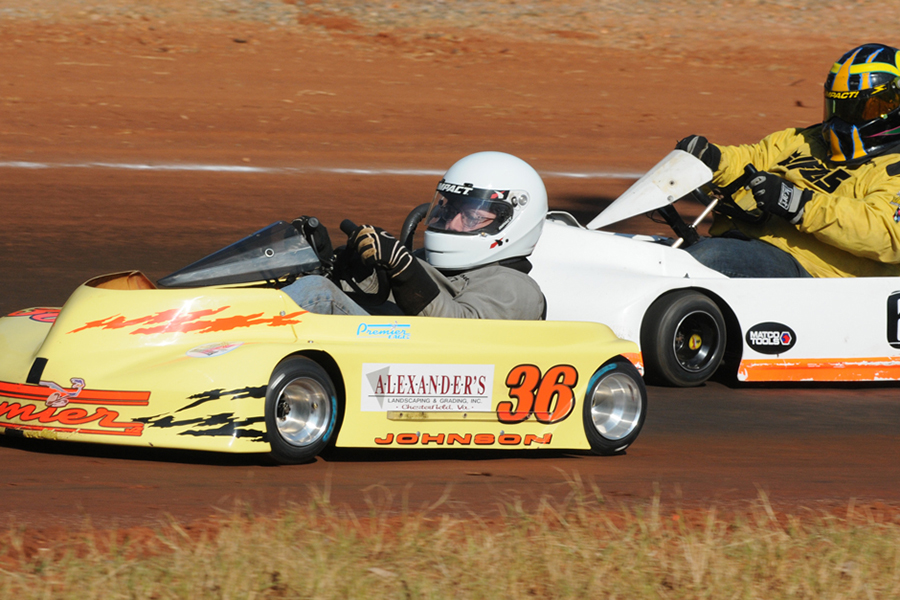 A record 505 racers entered Capitol City Speedway's 9th Annual Turkey Trot presented by Premiere Racing Chassis and Maxxis Racing Tires. Twenty-eight classes were offered Saturday November 19th with all, but Junior Star, competing for a purse.  The Ashland, VA track offered $400.00 for each regular class guaranteed and a $1,000.00 or more for the PRO Classes.  In addition, because of the large number of entries, promoter Chris Beasley put up $200.00 to win non-transferable B-Mains in several classes.
With three wins that night P&P Speed Shop powered Premiere Chassis pilot Austin Banker of Emporia, VA, got his share of the purse, $1,800 to be exact. Banker's first win came in Clone Heavy HT3 375.  Dagon Bowdoin, of Mechanicsville, VA, one of two double winners that night, dialed in the pole time with an 11.859 seconds rounding that reached 75.892 mph on the fifth-mile banked clay oval.  Banker was second fastest qualifier with a fast time of 11.996 seconds that was 0.137 seconds slower than Bowdoin.
Behind them in row two were local Kyle Ezzell of Ashland who won PRO Animal Heavy earlier and Matthew Robinson. Ezzell was third fastest qualifier a 12.024 seconds run followed by Robinson who turned a 12.029 seconds lap for the fourth starting spot.
Banker and Bowdoin battled for a couple of laps before Banker seized control.  Bowdoin stayed glued to Banker's back bumper crossing the stripe just 0.041 seconds late.  Seventh fastest qualifier Donovan Holt (12.046 seconds) finished third by 0.200 seconds.
Ty Bass, of Pikesville, NC, and VirginnianThomas Underwood completed the top five.
Banker earned Clone Medium EL 350's pole with a 12.820 seconds lap. Ezzell's brother,
Connor Ezzell was 0.111 seconds off the pole with a 12.931 seconds lap.  James Smith and Cullen Roberts filled row two.  Banker took the early lead and held it to the finish where he was 0.881 seconds ahead of Ezzell at the stripe.
"I was fortunate enough to qualify on the pole today. I really think that's what won me the race," Banker said.  "I wasn't really the best kart, but I was in the front and that paid off for me.  I  think if there was a couple more laps they'd of got me.  We were just fortunate to start up front.   I think that helped me win the race. It was a little sketchy at the end.  I had a guy spotting for me and he kept signaling that they were getting closer and closer to me.  I was just hoping they would throw the checkered flag."
Cody Carlton, Stephen Pearce and DJ Stotler completed the top five.
Banker had another great start later that evening.  A 12.905 seconds lap earned him a 0.034 seconds edge over Austin Wyatt for Varina Landscaping PRO Clone Heavy EL375's pole.  Behind them was a steady field of contenders. Stephen Adams and Conner Ezzell filled row two, Bryan Fallen and Stephen Pearce were in row three.
Banker blasted into the early lead and never looked back. Wyatt stayed glued to his tailpipe finishing just 0.314 seconds late.  Conner Ezzell was a close third by 0.451 seconds followed in the top five by Jonathan Cash and Kyle Ezzell.
"I'd like to thank Hermie Saddler, Robin Bradshaw, my Lord and Savior Jesus Christ, my mom, my pit crew, Wormy and everybody who makes this possible for me, it's a team effort and without tall of them them I wouldn't be able to do it."
Greenwood, DE native Cole 'Bubba' Neibert was one three double winners. This was 16-year-old Neibert's last chance to win the PRO Junior belt, as he will be too old to race in the Junior divisions next season. This year's belt was a tribute to Dylan Brockwell a former kart racer from Smithville, VA, who tragically lost his life March third of this year.  Brockwell, a beloved former national kart racer, was only 22-years-old when he died.
Neibert's two wins on the 1/5th mile banked dirt oval included X-Factor Preps PRO Junior Restricted 320 where he was awarded a coveted belt he's been chasing for years.  This was 16-year-old Neibert's last chance to win the PRO Junior Restricted 320 Turkey Trot belt.  He will be too old to race in the Junior divisions next season. This year's belt was a tribute to Dylan Brockwell, 22, a beloved former kart racer from Smithville, VA, who tragically lost his life March 3rd of this year.
Neibert spun a 12.375 seconds lap for PRO Junior Restricted's outside pole.  Cody Oliver clocked a 12.242 seconds lap that was 0.133 seconds faster. Oliver took the early led with Neibert in hot pursuit.  Neibert grabbed the lead from Oliver early in the race.  As Oliver slipped back into the pack fifth fastest qualifier Carter Wood battled his way to second.  Neibert fought off Wood's challenges crossing the stripe for the final time with a 0.465 seconds advantage over Wood.  Zach Ventura was third across the stripe followed in the top five by Taylor Johnson and Devin Bean.
"This win really means a lot to us This is pretty much a tribute to Dylan (Brockwell).  I didn't know him personally, but I was surrounded by him," Neibert explained. "I've chased this Junior Belt for many years.  This was my last chance to get it and I finally got it!" Neibert beamed in Victory Lane.
Earlier in the night Neibert earned Junior Champ Heavy's pole with a 12.516 seconds lap. TJ Reed, of Carlisle, PA, was second fastest with a 12.696 seconds lap time.
The lead changed several time before Neibert got a tight grip on it.  Third fastest qualifier Ryan Matthews offered Neibert several late race challenges that Neibert shook off before beating Matthews to the finish line by 0.238 seconds.  Completing the top five were Pembleton, Kayla Surles and Olivia Hartlaub.
"For the longest time it was real close," Neibert described.  "The top three including me were nose-to-tail.  We kept battling back-and-forth, back-and-forth and finally I came out on top." Neibert said of his first win.
Joseph Overstreet, of Bedford, VA, earned two wins, one each 2 and 4-cycle.  In Unlimited All-Stars 2 cycle Overstreet, piloting a 2012 Charger chassis, was third fastest qualifier with an 11.799 seconds lap.  Pole winner Bobby White was 0.129 seconds faster with a lap time of 11.670 seconds.
Overstreet quickly overtook the leaders building a comfortable 3.230 seconds finish line advantage over fifth fastest qualifier Nick Hall.  Trailing Hall in the top five were Dover, DE driver Michael Ellerbusch, John Decker, and Chris Peck.
"It was a good race.  I had to start from third and come up through them, but it was good once I got to the front. The Charger Chassis did good the whole race and the engine was strong," Overstreet described.  "I want to thank my cousin Troy (Overstreet) for letting me drive and my wife for all she does."
For his second win Overstreet pocketed Premiere Racing Chassis Limited Flat Head 375/AN 410's guaranteed $400.00 purse.  He dialed in the pole winning time of 11.872 seconds.  Kyle Rigg shared front row with a 12.089 seconds rounding.  Overstreet rocketed into a never surrendered lead to the finish line while the race was for second. After several laps Rigg lost the position to fourth fastest qualifier Austin Wyatt who trailed Overstreet across the stripe by 2.695 seconds. Blane Bishop battled his way from seventh to a third place finish.  Third fastest qualifier Colby Sipe dropped a position at the end and was followed by Pat Keller who capped the top five.
Dagon Bowoin's wins came in Dylan Brockwell Memorial-BDL Motorsports PRO Champ Animal 425 and the night's grand finale Karting Community Tribute-Discovery Title Service of VA PRO Clone Heavy HT3 375 making him the night's largest winner pocketing $3,500.00.  Bowdoin's Tod Miller Racing Engines powered Phantom Recon kart battled from a fifth place start in PRO Champ Animal to the night's closest finish where he was just 0.002 seconds ahead of fellow Virginian Thomas Underwood.  As they reached the stripe for the final lap they traded a little paint between them that sent Underwood sideways.
Nose-to-tail behind Underwood for the top five of 26 entries were Corey Roberts, Kyle Myer and Kyle Ezzell.
In PRO Clone Heavy HT3 375 Bowdoin had heavy hitters Jonathan Cash, Stephen Adams and Banker close behind him.  Cash crossed 0.715 seconds later, Adams was 1.295 seconds off, Underwood trailed by 1.373 seconds and Banker finished 1.467 seconds behind.
"In the Champ Kart race it was just tight racing. Nobody did anything intentional there. It was just everybody was fighting for the same spot on the racetrack and it just happened to go bad. The kart was good; it got a little tight at the end.  I think we had it setup the way we needed to. Cautions always worry you, but they really didn't bother me," Bowdoin said about his Champ kart win.
"The flat kart was good, it got a little tight at the end on that one, but we got out far enough that it didn't take in too much effect," Bowdoin said of his second win adding,  "I want to thank Scotty Bajer, he provides the ride and all of the tires, Joe Haines, John Yancy, Brian Turner, my dad, Harrill Wiggins and Phantom Racing Chassis, Tod Miller, Andy Murray.
Landed Pembleton was the night's first feature winner.  The 10-year-old Creedmoor, NC competitor won Junior 2 Sprint 290 lbs.   "The Triton kart handled good and the P&P Speed Shop motor was good too," Pembleton said. "The cautions really didn't bother me," Pembleton said.  "The other guy got up high and I went under him for the lead."
A 13.655 seconds lap earned Kendall Catlett Junior Sportsman 1 Champ Heavy's pole.  Charlie Beals was second fastest at 13.708, 0.053 seconds too slow.  Beals picked up the pace in the feature hustling into the early lead.  Behind him Scooter Tippett threaded his way through the field from a sixth place start to distant second place finish 4.582 seconds behind Beals.  Jarrett Edwards finished third, Catlett crossed fourth followed by Bradyn Kuhn.
Kyle Ezzell was Avis Electric PRO Animal Heavy's winner.  Underwood won the pole with an 11.971 seconds lap. He was the only one of 25 entries to crack the 12 seconds mark. Ezzell was second fastest qualifier with a 12.013 seconds lap that was 0.042 seconds slower than Underwood's time.  Adams and Matthew Robinson shared row two followed by Wyatt and Roberts.  Talented, experienced continued down the grid with Cash and JW Loveless parked in row three, Pikesville, N|C based Ty Bass and were next on the grid.  Wyatt Corkell and Mechanicsville, VA racer Jason 'Higgy' Higginbotham and Banker rounded out the grid's front half.
With that much talent behind him Ezzell had only one choice, get out front and build the largest lead he could and stay there.  And that's what he did Ezzell tried to gain as much of an advantage over Adams as he could while the slicing and dicing went on behind them.  Adams held onto Ezzell's tailpipe for the day's second closest finish 0.020 seconds.  Trailing Adams in the top five were Loveless, Banker and Underwood.
Piloting P&P Speed Shop powered Phantom Recon kart; Cody Oliver captured Restricted Junior Heavy's checkered flag.  Zach Ventura crossed 0.205 seconds later and was followed ii the top five by Neibert, Abby Edwards and Jay Powers.
Bunker Hill, WV based Thomas 'Matt' Cropper claimed Clone Heavy HT3 375's checkered flag.   Cropper's P&P Speed Shop powered Millenium kart commanded a comfortable early lead he showed to the finish where he was 1.565 seconds ahead of Josh Hare.  Mike Hurd handled third, Scott Donoho followed in fourth and Zach Emlet rounded out the top five.
JD Eversole spun Albemarle Speedway Senior Champ Flathead 425's pole time of 13.099 seconds. Tim O' Connor clocked the second fastest qualifying time in 13.128 seconds.  When the green flag flew O'Connor zipped by Eversole bringing Fahed with him.  The three battled over the lead for 20-laps.  In the final laps O' Connor good Fahed for good taking the win with a 0.263 seconds advantage.  Eversole held third across the stripe and was followed in the top five by Nathan Danner and Amada Stallings.
"It was a crazy one.  I had a lot of lapped traffic in the way, but I had a good race with Chris Fahed and JD Eversole," said the 20-year-old Chester, VA based O'Conner.  "I can't thank Marc Mode enough for the awesome Trick/Olimpic Scorpion chassis, it was on a rail.  It definitely had a good race. Tod Miller's motor was strong. I can't thank Tod enough for the horsepower.  I've got to thank Matt Dale for the awesome helmet and his help with tires, Kyle Powell for letting me ride his buggy, and my brother and my dad."
Snow Hill, MD based, Chip's Towing and Repair backed Logan Shockley spun Junior 1 Heavy Sprint's fast time in 13.639 seconds.   P&P Speed Shop powered Titan kart pilot Jarrett Edwards was just 0.005 seconds slower for the outside pole.
Edwards took the early lead from Shockley and ran with it building a comfortable 4.633 seconds advantage over Shockley.  Further back Austin Lathroum, Georgetown, DE based Racyn Hayes and Ryley Music completed the top five.
"The race was very good.  At the beginning I felt them back there and then towards the end I knew I was far out there, it was just perfect.  I've got to thank Jonathan Cash at P&P Speed Shop hit motors have taken us a long way this year," said the 9-year-old winner.  "I also want to thank my mom and day, my mom mom and pop pop, Cody Oliver and Brady Penny."
Jacob Harberts led the way in Senior Champ EL Clone. Harberts turned the fastest qualifier with a 13.568 seconds lap.  From the pole Harberts led every lap sailing over the finish line with a huge 3.045 seconds advantage over Cody Carlton.  Tanner Aman crossed third, Sara Mitchell followed in fourth and Jason Schue capped the top five.
It only took John Yancy 12.455 seconds to secure Clone Super Heavy 425's pole.  Izral Daniels started next to him with a fast time that was 0.130 seconds slower.  Behind them in row two were Brandon Davidson and Mike Bayne.
When the green flag flew Yancy and Daniels broke away from the field for a fight for the front.  Yancy held on fighting off Daniels challenges. The difference at the stripe was just 0.237 seconds.  Behind Daniels in the top five, crossing over 2 seconds later, were Davidson, Stephanie Lambert and Mike Bayne. Self, Shockley and James rounded out the top five.
Carter Langley and Colin James spun qualifying lap times of 12.527 and 12.830 for Junior 2 Heavy Sprint 290's front row.  When the initial green flag waved for the 14-racer field Langley led the way while Peyton Abbott and Hunter Self fought over second behind him. After securing second Abbott chased down Langley.  Langley held onto the lead and was 0.251 seconds ahead of Abbott when the checkered flag waved.
"The race was good.  The Primer kart was tight at the beginning of the race and then it started getting looser at the end. It started sliding a little at the end," described the 12-year-old Clayton, NC based Langley.  "I want to thank my dad for the tires, my uncle for helping me, Bubba and the Primer Team for helping me and Hermie Sadler for letting me drive the kart."
Aiden Poole, of King George, VA, is an amazing young man.  After looking for a sport for him to compete in his parents finally settled on karting.  Aiden showed driving talent and was able to work well communicating to his father what changes the kart needs to go faster.  They were just starting to click back in 2012 when Aiden's optometrist spotted something suspicious over his right eye.  That something turned out to be a huge golf ball sized tumor. For now Poole's doctors are keeping their eyes on his tumor while Poole's eyes are on his racing career.
Piloting a CKC powered Charger Dynasty chassis 10-year-old Poole produced Junior Sportsman 2 Champ 315's pole lap in 13.336 seconds.  Langley was took the outside pole with a 13.444 seconds rounding.  Poole showed the field from start to finish where he was 0.108 seconds ahead of Langley.
"It was fun and exciting," Poole said of his win.  "The track was fast and bumpy. The kart handled good, it would turn wherever I wanted it to go and the motor was fast too.  I want to thank my parents, Larry, Marty, Charlie and his family."
Joe Moe Bates, Pembleton and Olivia Thayer finished third through fifth.
Dominic Guarry grabbed Stock Heavy Flat Head's win over Chance Hendershot by a mire 0.o25 seconds.  Close behind in the top five of 18 were Jonathan Mullett, Douglas Phelps and David Stallings.
Louisa, VA based Matthew Knighton showed the way in Stock Medium Flat Head.   "It was awesome," said Knighting, a 17-year old Kevin Smith Racing Engines powered Charger Legacy Racing Chassis pilot.  "Coming from sixth to first is just an amazing feeling.  The kart was like it was on a rail and Kevin's motor was strong as ever. I want to thank my dad and my mom, Kevin Smith, Charger Racing Chassis, Boomer Hawk and all of them that keeps me up front."
Four Oaks, NC native Stephen Adams tamed Animal Heavy.  After dropping back to second Adams powered his way back to the front before mid-race, through a caution restart and then across the finish line.
"I was really good on the long run. Everything just kind of clicked for me to be able to get the win," said Adams a P&P Speed Shop powered Phantom Racing Chassis Recon kart pilot.  "I want to thank Phantom Racing Chassis, Jonathan Cash and P&P Speed Shop for all he does for me, Bryan Bradford Racing, all my help, my brother, Booboo, Pork Chop and everybody who helps me get to race."
Eight-year-old Chase Johnson wanted to race the Turkey Trot so bad it was driving his family crazy.  So his cousin Eddie Johnson decided to give him an early Christmas present; an Illusion kart powered by a Lee Thompson.  Chase had what he wanted and knew he had to make his cousin proud by winning Junior Star Champ.  And that's what he did.
"It's all about learning.  You got to learn and then you get better and better at racing," Johnson explained. "The Illusion kart handled pretty good.  It got a little loose and started sticking."
Abbottstown, PA 2-Cycle pilot Dane Mathias won the Yamaha class.  Piloting an Eckerd Racing Engines powered Phantom Icon chassis quickly put himself to the front of a fast racy field. Mathias continued building a comfortable lead to the finish.  "I was just trying to walk away with it and stay ahead of them," Mathias said.  "The kart was good until the end.  The tires went away and kept getting worse, but it was alright. I want to thank the Eckerd's and Tyler Horstman for being here and Roy Miller."
Racers in Capital City Speedway and the Virginia Dirt Karting Association point's chases will be recognized for their achievements in those series during an Awards Banquet scheduled for January 21, 2017.  The event will be held at the Richmond East Moose Lodge 7167 Flag Lane Mechanicsville, VA.  Doors open at 3:30 pm. The program starts at 5:00 pm.