Sodi Kart Congratulates Pierre and Charles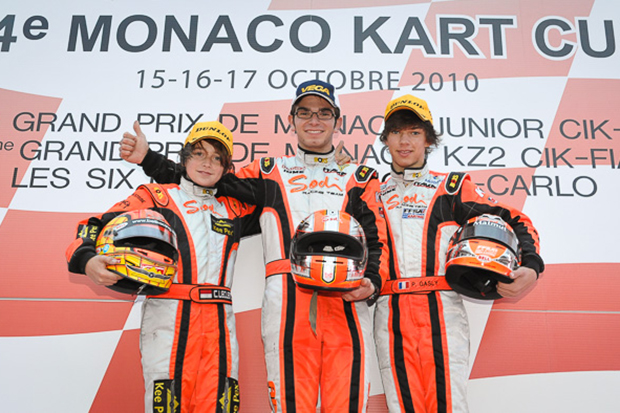 © KSP Reportages
Sodikart and the Sodi Racing Team congratulate Pierre Gasly and Charles Leclerc, two great talents who made their debut in karting with Sodi, for their respective crownings in the GP2 and GP3 Series' last weekend in Abu Dhabi.
A friendly character who is smiling, calm and posed in life, the Norman Pierre Gasly is quite different as soon as the visor of his helmet is lowered. A tireless fighter, he never lets anything in achieving his goal. Pierre always remained faithful to Sodi since his debut in karting at nine years of age. Joining the Sodi Racing Team in 2009 marked a major turning point in his career. Thanks to the perfect harmony in the team, he fully exploited the potential of his Sodi chassis to shine at the highest level.
Pierre won the French KF3 Championship in 2009 before finishing 2nd in the European Championship, 3rd in the Monaco Kart Cup and 4th in the World Cup the following year, still in KF3 (Junior). Moving to cars very young, he finished 3rd in the French F4 Championship in 2011 and won the FR 2.0 Eurocup in 2013 for his second season in Formula Renault. He took 2nd place in FR 3.5 V8 in 2014. A development driver for Toro Rosso F1 in 2016, he won a major title in GP2 where he was racing for the second year.
A pure Monegasque, Charles Leclerc is a naturally very fast driver equipped with a racing intelligence that makes him outstanding. He rarely makes mistakes and knows how to seize the opportunities to go beyond. Very determined, only victory interests him. Winner in the final round and French vice-champion in Minime with Sodi in 2008, he won the French Cadet Championship and the Bridgestone Cup the following year. Racing with the Sodi Racing Team in 2010, he won the Monaco Kart Cup in KF3 and finished 2nd in the French Championship behind Pierre.
It was with regret, fairly, that Sodikart agreed to release him contractually so that he could join Nicolas Todt in order to climb the ranks of motorsport and reach the heights. He also won a great victory at the wheel of a Sodi by winning at Bercy in the ERDF Masters Kart in Junior in 2011. A member of the Ferrari Driver Academy, he has driven his first laps in free practice at three Grands Prix this year with Haas F1. His title in the GP3 Series confirms the expectations that Sodi had of him since his beginnings.
Gildas Merian: "Today we are very proud to have contributed to the success of Pierre and Charles and hope to see them take the final steps to reach the ultimate dream of F1. We are very confident in their ability to achieve this as they are both real talents who possess a little additional "trick" that makes the difference."