CRG Scoring a One-Two in Vendrell with Torsellini and de Conto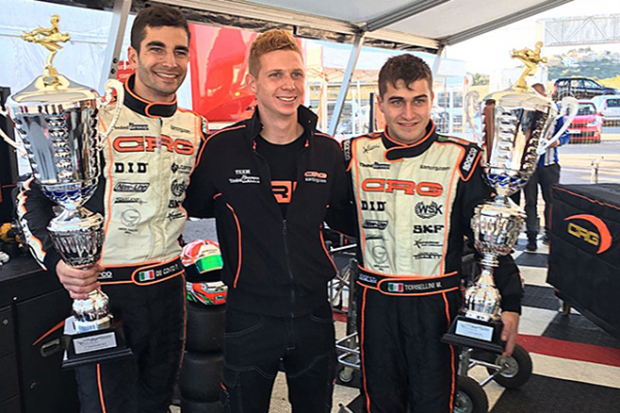 Mirko Torsellini claimed the victory at the Champions Cup leading Paolo De Conto. Good  performance for CRG with Molina, Cebrian and GP3 driver Palou who went back to karting for the occasion.
CRG scored a great one-two at the 16th Karting Champions Cup that took place in Vendrell (Spain). Mirko Torsellini claimed his first victory after returning to CRG, while current World Champion Paolo De Conto secured a good P2.
CRG works team enjoyed the excellent support of the new CRG brand reseller SportKart at the famous closing appointment of the season in Vendrell (Spain), as Torsellini and De Conto have always been among the main protagonists of the Spanish weekend. The two Italians have found their place among the quickest racers since the beginning, ended the Prefinal in third and fifth place before keeping their momentum in the Final with Mirko Torsellini taking an early lead and being trailed by Paolo De Conto.
CRG TRIUMPHING IN VENDRELL
Mirko Torsellini has claimed his first victory of the year on CRG pushed by a TM engine by Viti Racing, ending at best his preparation ahead of the next season with the Italian outfit. Paolo De Conto used a works TM engine unit in Vendrell and increased his great tally of the season with the second place, result that came after the KZ World Championship won with CRG and the win at the prestigious round of Las Vegas.
Five CRG drivers made it into the top ten in Vendrell. Behind Torsellini and De Conto, Miguel Molina was in fact fifth, Gerard Cebrian sixth, and Alex Palou – who has contended the past two seasons of GP3, decided to come back to karting in this occasion ending tenth on CRG-Modena run by Kartissimo, and displaying a very quick pace.
THE INTERVIEW
Mirko Torsellini: "I am really happy for this victory. I had not raced in Vendrell for several years, it was virtually my first time over here. After the normal difficulties early on, I managed to find the right engine and chassis setup and I did not have problems to get the lead of the Final and keep it all the way to the flag. I am really happy for this victory with CRG, a result that comes after the recent second place at the Trofeo delle Industrie. I cannot wait to start the next season now."