Lucky 7 for Nicholas d'Orlando at SuperNationals 20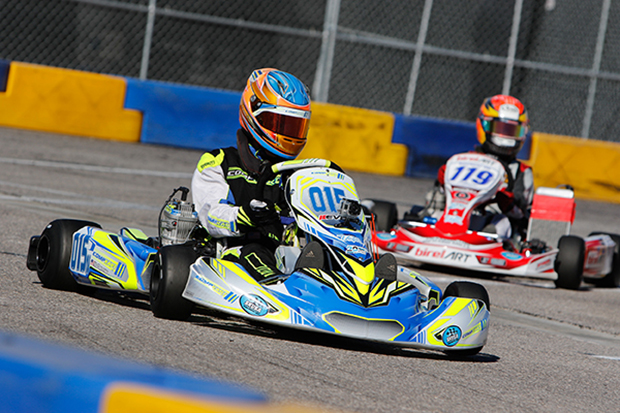 What an incredible 2016 racing season it has been for Nicholas d'Orlando, and he closed out the year in spectacular fashion!  It was Lucky number Seven that ended the year in classic Las Vegas style, with a step on the podium at the world's largest kart race, the SuperKarts USA! SuperNationals.  After seven attempts for hardware over 5 years at Las Vegas events, including 3 top-5 starting positions in main events, Nicholas persevered.
Less than 2 weeks after the disappointing results at the Rotax US Open in Las Vegas at the Rio All-Suite Las Vegas Hotel & Casino, d'Orlando and his J3 Competition team would return to Sin City at the Las Vegas Convention Center, this time for the SKUSA Pro Tour SuperNationals, looking for redemption.
Topping the charts in his group 2 of the official Qualifying session, it was only enough to put d'Orlando in the 18th spot for each of the four heats.  And in Heat 1 an incident at the green flag forced him to recover from the tail of the field with severely compromised equipment to finish 20th.  But everything was about to change from there.
Slicing his way through the field and finishing 2nd & 3rd in the final two heats would put d'Orlando in the 9th slot for the Final on Super Sunday, and noted as the driver to watch out for.  And he wouldn't disappoint.  Working his way forward in the opening laps of the 20-lap main event, this is where things would get interesting.  As the clouds in the distance moved closer, rain drops would wet the visors of the 34 drivers on track but not compromise track conditions.  But it was just enough to test the mentality of the field.  And as d'Orlando moved into the 3rd spot like a seasoned veteran, the real rain then came down and played havoc on the track.  As the tight field tried to adjust to the drastic changing conditions on slick tires, d'Orlando continued to hit mark after mark earning him a spot on the podium and finally bring home the hardware of 3rd place at the coveted SKUSA SuperNationals.
"What a great season and a great way to end the year." said Nicholas d'Orlando. "There is always a strong group of junior competitors at this event. Our goal was simple… to keep my COMPKART chassis up front and bring home a solid finish to end our season on a high note.  And in the past few years, both Michael & I haven't had very good luck here at SuperNats so it feels great to finally get the results we deserved.  I can't thank everyone enough at J3 Competition for giving me such a great kart all weekend, and for a great year."
Stay tuned for future announcements regarding the 2017 season.
In the meantime, a representative from Nicholas d'Orlando Racing will be in attendance at the Performance Racing Industry show at the Indianapolis Convention Center in Indianapolis, IN this weekend December 9th & 10th.
Nicholas and the d'Orlando Racing team would like to extend a special Thanks to J3 Competition for all their support and leadership this year, specifically Jim & John Giacomelli and Justin Stefani, in addition to Sam Fugett, for turning the wrenches at SuperNats!
We continue to extend our thanks to our partners for their support this 2016 season, such as DB Collaborative (www.db-collaborative.com) and owner John Macones, Danilo Oliviera at Fyshe USA/Adidas Motorsport (www.adidasmotorsport.com), all the staff at Iona Preparatory School (wwww.ionaprep.org) and everyone at Focused Project Management (www.focusedpm.net).
A sincere Thank You to all our family, friends & fans for your ongoing support as our team continues toward a dream in 2017.
For more information on Nicholas d'Orlando, please visit www.dorlandoracing.com. Be sure to follow them on Facebook (Nicholas d'Orlando Racing), Twitter (@dorlandoracing) and Instagram (@dorlandoracing) to stay up to date on news, information, photos and results.