Countdown to the 2017 AKC is Underway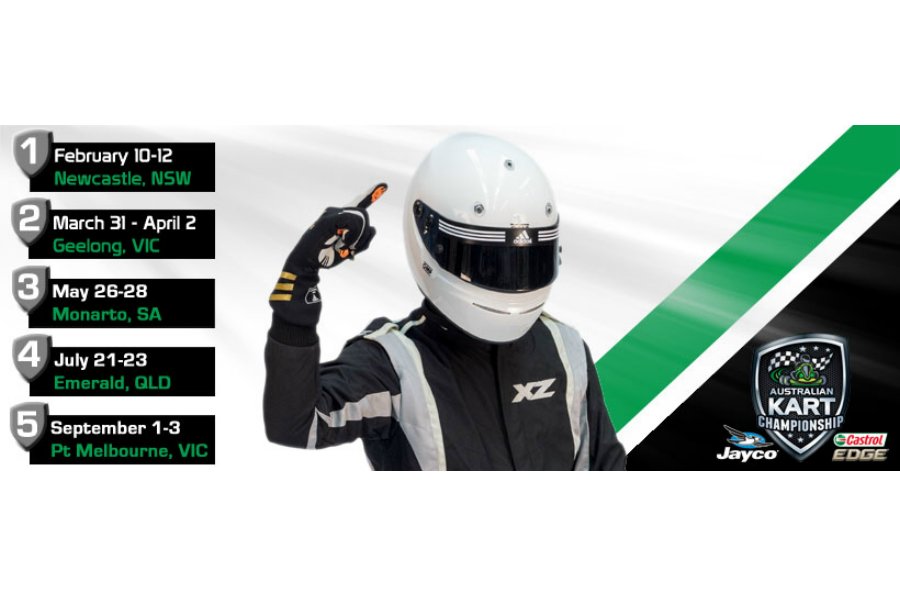 With less than 100 days until the 2017 Australian Kart Championship presented by Jayco and Castrol EDGE kicks off in Newcastle, the countdown has certainly begun.
The recent calendar announcement saw the return of both Geelong and Newcastle to the AKC schedule along with the inclusion of Emerald for the first time. The trio of circuits join with the past two winners of Karting Australia's Event of the Year Award – Monarto and Todd Road, to make up the five round schedule.
While Geelong and Newcastle are familiar venues for the majority of teams and competitors, Emerald will be a new challenge for the majority.
Australia's newest karting facility, the Emerald track is 1006-metres in length, 10 metres wide and includes ten corners while boasting one of the largest pit areas in the country.
Over the years the Australian Kart Championship has enjoyed significant support from competitors from Central and North Queensland. The announcement has excited not only these competitors from the region but also Central Highlands Regional Council Mayor Kerry Hayes.
"This is fantastic news for our community," the Mayor said.
"Not only for the local kart enthusiasts, but also for our businesses and service providers. This exciting event will attract visitors from all over the country, providing a welcome injection into our local economy.
"We are very grateful to be chosen as one of the five venues for the schedule and look forward to seeing some of the country's best racers take to our track."
Gladstone karting veteran John Grother was involved in the development of the Emerald venue while working in the region. After two decades of competing at venues all across Australia, he believes the Australian karting community will be very impressed with that the circuit has to offer.
"When the circuit was built, it was designed to cater for the largest events in Australia and I'm stoked to hear that the Australian Kart Championship will be heading to Emerald next year," said Grother.
"I've raced at just about every track that has held a National level event and many of the most popular characteristics from the best of them can be found in the Emerald layout. It's also ten metres wide producing some great passing opportunities.
"I can't wait to see Australia's best take on the best drivers from Central Queensland on home soil next year."
Championship Regulations will be available in mid December following shortly after by the opening of driver registrations on www.karting.net.au