Cesari and Maranello Win the Prodriver Under Italian Cup in Viterbo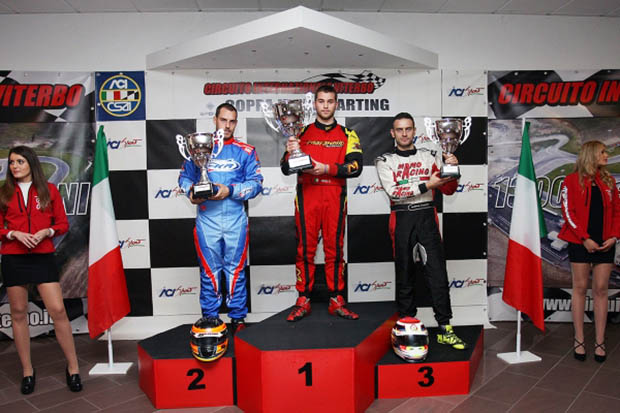 Roberto Cesari took the victory in the Italian Cup of Prodriver Under at the International Circuit of Viterbo. Vanelli, Molinaro and Del Vecchio also quick in KZ2, while Matteo Luvisi ended within the top ten of 60 Mini.
Maranello Kart obtained very good results at the ACI Karting Italian Cup, race held at the International Circuit of Viterbo. Roberto Casari won the Italian Cup of Prodriver Under. Very positive and interesting results were also obtained in the other categories on track.
Roberto Cesari claimed a very good victory in Prodriver Under on Maranello-Tm. He started the Final from P3, before having the upper hand on all his rivals, leading a charging Ragno and Capponi, the latter having held the lead early on. Roberto Cesari won the Italian Cup ending the season on a high, after shining in the Regional Lombardia Championship and partaking in the Italian Championship. Maranello also lined up  Gionata Monti in Prodriver Under, but he was unfortunately forced to the retirement both in the Prefinal and Final.
Marco Ruschioni was the quickest of Maranello drivers in Prodriver Over. He closed his effort in seventh position on Maranello-Modena after ending the Prefinal in P11. Maurizio Giberti had to retire from 125 Club after being fourth in the Prefinal.
GOOD PERFORMANCES ALSO IN KZ2 AND 60 MINI
Jacopo Vanelli put in a great performance in KZ2 on Maranello-Tm run by Team Kart Evolution. He completed a strong comeback closing his weekend with the fifth place of the Final after starting from the last spot of the grid due to the DNF in Prefinal. Danny Molinaro was seventh, while Luigi Del Vecchio – supported by Tuscany's reseller for Maranello Flavio Sani, was 13th in the Final.
Matteo Luvisi managed to end within the top ten of 60 Mini in P10 on Maranello-Tm, after a comeback run started from the 15th position of the Prefinal.