Another Victory for CRG: de Conto Hitting the Jackpot in Las Vegas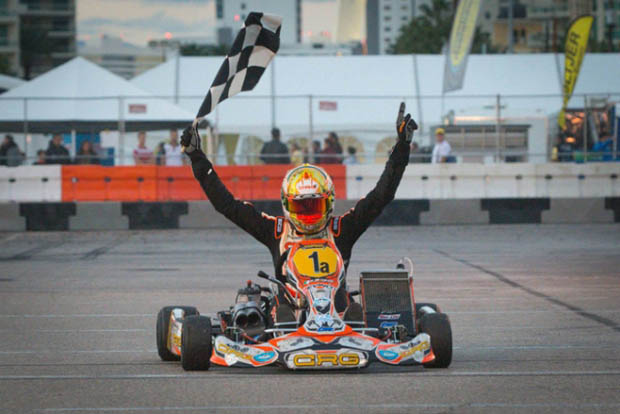 Paolo De Conto and CRG Nordam claimed a great victory in KZ2 at the prestigious 20th Skusa SuperNationals in Las Vegas. Robert Marks won S4 Super Master and the Skusa Pro Tour title on CRG.
Paolo De Conto and CRG Nordam have contributed to the success of the splendid CRG's 2016 sporting season taking the victory in Las Vegas' Skusa SuperNationals of KZ2, shortly after the OK World Championship won by Pedro Hiltbrand and CRG in Bahrain.
The American race celebrated its 20th edition on November 20th in Las Vegas and has seen CRG colors on the top step of the podium with CRG Nordam and Paolo De Conto, pairing that dominated the KZ2 Final of the SuperNationals.
PAOLO DE CONTO TRIUMPHING IN LAS VEGAS
Paolo De Conto took the victory of the Main Event in Las Vegas, crossing the finish line more than 6 seconds clear of internationally recognized rivals of the likes of Anthony Abbasse, Bas Lammers, Jonathan Thonon and Lorenzo Camplese.
Paolo De Conto claimed his second victory in Las Vegas in this occasion, repeating the success of 2014. The Italian driver has had a stunning 2016 season with CRG – he won in fact the KZ World Championship in Kristianstad (Sweden) on CRG-Tm and category KZ2 at the Race of Stars last October 16th in Australia.
CRG Nordam has fielded the Americans Matt Jaskol and the recent winner of Indy 500  Alexander Rossi in KZ2, but both drivers had to retire early from the Final. The team's lineup was completed by the Swede  Benjamin Tornqvist, who ended third at the CIK-FIA International KZ2 Super Cup earlier in the season and was 13th in Las Vegas this time.
Among the 10 categories on track during the weekend, Robert Marks won S4 Super Master SuperNats on CRG. This win earned him the Skusa Pro Tour title victory.