Night of the CIK-FIA World Championship in Sakhir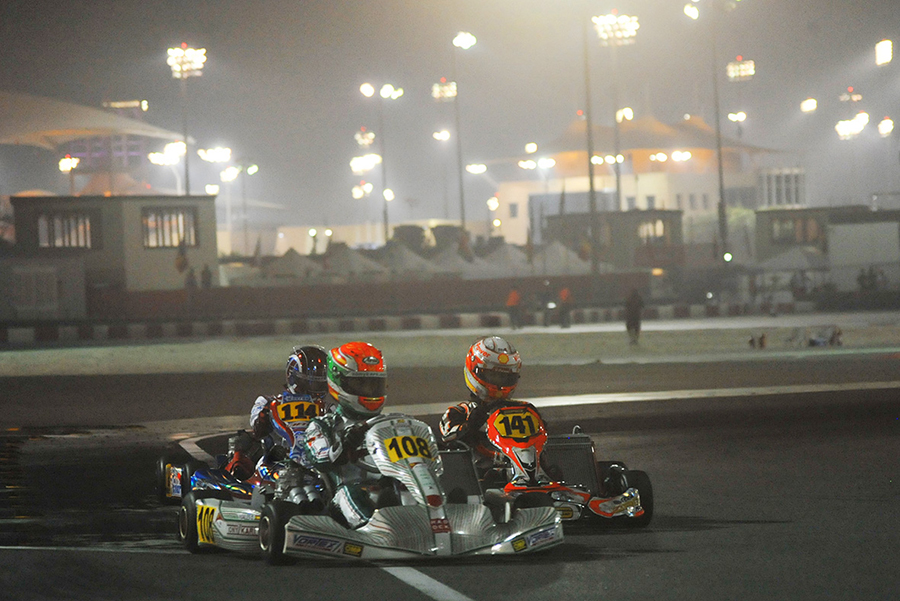 At sunset, the duels on the Bahrain International Circuit in Sakhir began. The CIK-FIA World Championship is up for grabs: it will be awarded to the winner of the Final in OK category, while the best drivers of OKJ class are racing for the World Junior title. The qualifying heats took place under the light of the powerful lighting system (above, David Vidales is leading one of the heats) of the facility: 21 races which established tomorrow's starting grid.
Karol Basz is the top driver after the OK heats
The reigning World Champion, the Polish Karol Basz (Kosmic-Vortex-Vega), does not want to renounce to the title without fighting: he achieved the pole position of the Pre-final 1 thanks to two victories (below, Basz leading a race ahead of Travisanutto) and a second place in today's heats. Next to him the Italian Lorenzo Travisanutto (TonyKart-Vortex), who scored good results today. Second row for the Swedish Noah Milell (Kosmic-Vortex), who won twice but was slowed down by a penalty and lost one of his victories. Next to him the Russian Alexander Smolyar (TonyKart- Vortex), winner twice. The front row of the Pre-Final 2 sees the Finnish Paavo Tonteri (CRG-Parilla) in pole position, with the Italian Leonardo Lorandi (TonyKart- Vortex) on his side. Behind them there are two particularly strong drivers such as the Spanish Pedro Hiltbrand (CRG-Parilla), the recent European Champion, and the quick British driver Jordon Lennox-Lamb (BirelArt-Parilla), the runner-up of the last World Championship.
David Vidales keeps the pole in the OK Junior.
The Spanish David Vidales  (Tony Kart-Vortex-Vega) wins again after setting the fastest time in yesterday's qualifying. He is the frontrunner of the OKJ Championship thanks to his two victories in today's heats and was always in the top four positions in the other three races: the overall result of the Castilian driver places him ahead of the French Victor Martins (Kosmic-Parilla) and the Swedish Hampus Eriksson (Tony Kart-Vortex). They also won twice but they didn't score good results in the remaining races. Good start also for the Australian Oscar Piastri (FA Kart-Vortex) and the Brazilian Gianluca De Castro (CRG-Parilla), who placed fourth and fifth with a victory each. Only sixth place for the new European Champion Finlay Kenneally (FA Kart-Vortex): the English is the only top driver who didn't manage to win in the heats but he is still among the frontrunners for the final victory. Tomorrow, in the Pre-Final 1, pole position for David Vidales; next to him Hampus Eriksson. In the Pre-Final 2, the first slot will be filled by Victor Martins with Oscar Piastri in second position.