So Cal Oval Karters End Season Saturday at Wheel2Wheel Raceway in Victorville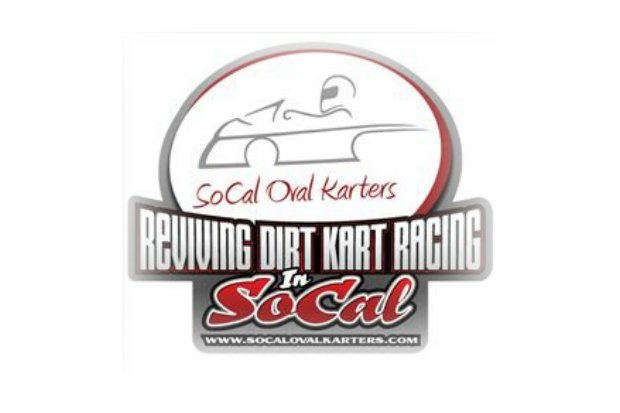 The ninth season of racing for the So Cal Oval Karters will come to a close this Saturday night, November 19, at John Aden's Wheel2Wheel Raceway on the San Bernardino County Fairgrounds in Victorville.  Spectator gates will open at 4:00 PM with racing at 5:00.  In addition to the So Cal Oval Karters, the Speedway Sprints and Dirt Karts will also be in action.
Two of the four point paying classes in the SCOK have tight championship races coming into Saturday night.  The top two in the KT100's are only separated by 25-points.  The top two in the F200's are even tighter with a mere 20-points splitting the combatants.
Victorville local Chris Southern of Hesperia and Joe Gibb of Lakewood will decide the 2016 KT100 championship on Saturday.  Southern won the last race two weeks ago when Gibb broke while leading late at Perris Auto Speedway.  Thus, Southern carries a 25-point advantage into Saturday's decider on the High Desert.  Going into Saturday's finale, Southern has won five of the first 10 KT100 main events and Gibb has won four.  Of Southern's five wins, four have been at Wheel2Wheel while Gibb has won once there.  Not far behind the lead duo is Oxnard's Rob Marion.  He is only 40-points behind Southern.
In the F200's, Whittier resident Steve Juillerat carries a 20-point lead over Banning's Scott Garner going into the season finale.  Juillerat paces the class with four wins, but has not won since July 23rd at W2W.  Gaynor did not win until the August 6th in the Grand Arena at Industry Hills and has added one more victory since.  Everything told at Wheel2Wheel, Juillerat has three wins on the High Desert oval and Gaynor has one.
The other two classes are anything but close heading into the final night of the year. Gibb and Don Holdsworth of Menifee have dominated the Open and Senior 4 Cycle classes respectively.  In the Opens, Gibb has won nine of the 10 main events.  The only other driver to post a win in the Open class was Southern who took home the first-place trophy on June 4th.  Since then, Gibb has reeled off six consecutive wins and he leads Cathedral City karter Dillon Hoffman by 115-points heading.  Hoffman must worry about Fountain Valley's Scott Bohle who is just 15-behind him in third.
Menifee's Don Holdsworth will carry a 99-point lead over Desiree Gaynor of Banning in the Senior 4 Cycles.  Holdsworth has dominated the class in 2016 winning six of the 10 main events including five in a row from April through July.  Tony de Almieda is third and is 335-points behind Gaynor.
In addition to the above mentioned four classes, the Junior/Junior class for the kids will be making its final appearance of 2016.
The So Cal Oval Karters banquet will be on January 28th in La Mirada.  All the details will be posted on the SCOK Facebook page and web site.
The So Cal Oval Karters would like to thank the following sponsors for helping make the 2016 championship series possible.  Burris Racing, Cory Kruseman Sprint Car Driving School, Hubcapmike.com, Perris Auto Speedway, R&J Motorsports, THC Home Medical Services, T-MAC Racing and Yamaha of America Racing Engines.  If you or your business would like to become a partner of the So Cal Oval Karters 2016 season, please call or E-mail Mike Nigh at (805) 857-2595 or mailto:scokart@gmail.com.
Perris Auto Speedway Results (with starting positions)
Point Standings
KT100
Chris Southern – Hesperia – 1375
1. Joe Gibb – Long Beach – 1350
3. Rob Marion – Oxnard – 1310
4. Thomas Southern – Hesperia – 1274 *
5. Randy Truax – San Diego – 1099
Open Class
Joe Gibb – Long Beach – 1440
2. Dillon Hoffman – Cathedral City – 1325
3. Scott Bohle – Fountain Valley – 1310
4. Norm Reynolds – San Marcos – 940
5. Chris Southern – Hesperia – 840
Senior 4 Cycles
Don Holdsworth – Menifee – 1410
2. Desiree Gaynor – Banning – 1311
3. Tony de Almeida – Chino Hills – 976
4. John Leonhart – Norwalk – 782
5. Ryan Sherman – Lake Elsinore – 680
F200
Steve Juillerat – Whittier – 1375
2. Scott Gaynor – Banning – 1355
3. Justin Garcia – Riverside – 980
4. Troy McIntosh – Lake Elsinore – 700
5. Jason Voss – Lake Elsinore – 645