Birel ART Claims 6 Championships at US Open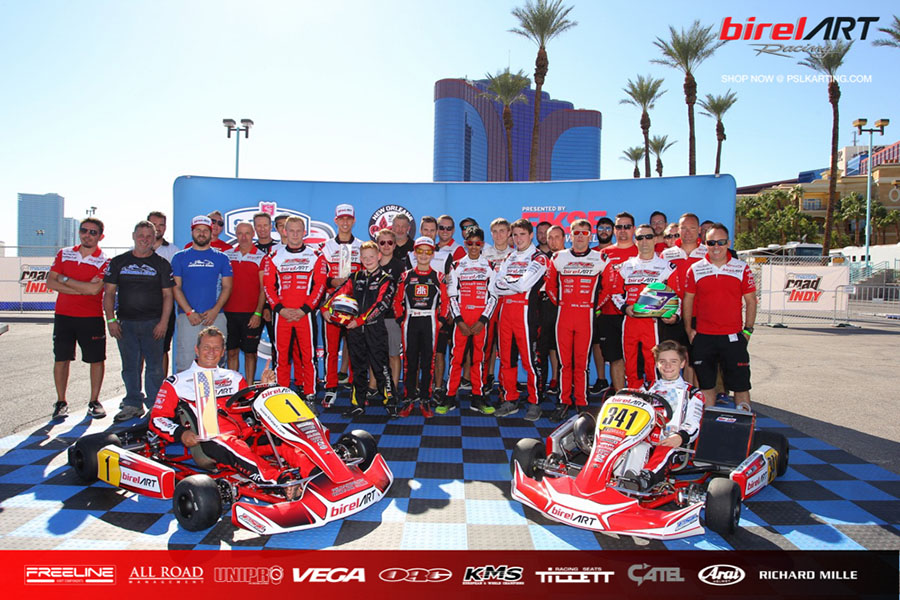 Another season comes to an end, with Birel ART keeping the red army in the front. Thisyear, Birel ART was able to prove the functionality of the kart in multiple classes and tire combinations. The RY-30-S8 has been a proved race winner from Junior all the way to Masters, as one chassis is now able to complete all the jobs for the driver.
Beginning with Junior Rotax, Ryan McDermid (PSL) was able to claim the US Open Junior Rotax Championship, with Mathias Ramirez (Andersen) as Vice Champion. The two would fight hard battles at the final round in Las Vegas as the RY-30 was put through the ropes in the very rough surface conditions.
Senior Max US Grand National Champion, Oliver Askew (PSL), would be unable to finish the final round in Las Vegas due to car-racing opportunities, however his dominating performance during the 2 round before saw him almost score a perfect season winning nearly all of his heats including the poles, would earn him P3 in the Rotax Senior US Open Championship.
DD2, the 2-speed paddle shifter category, also known for Birel ART dominance, was an all red Champion podium with Dev Gore (Andersen) winning the title, Michael McCarthy (Andersen) P2 and Jeff Kingsley (PSL) finishing in P3. The CRY-30-S8 has been specifically designed for the special engine package from Rotax, and has been proven to offer the best balance when compared to other competitive chassis's on the market.
DD2-Masters is able to use the same chassis (CRY-30-S8), despite being a bit heavier, with Nathan Mauel earning the DD2 Championship followed by team mate, Luis Zervigon as Vice Champion.
To order the same model chassis's used this season, visit www.pslkarting.com or contact info@pslkarting.com | For Arrive & Drive Opportunities with PSL at Florida Winter Tour, also contact info@pslkarting.com