2017 National Karting Calendar Confirmed for Australia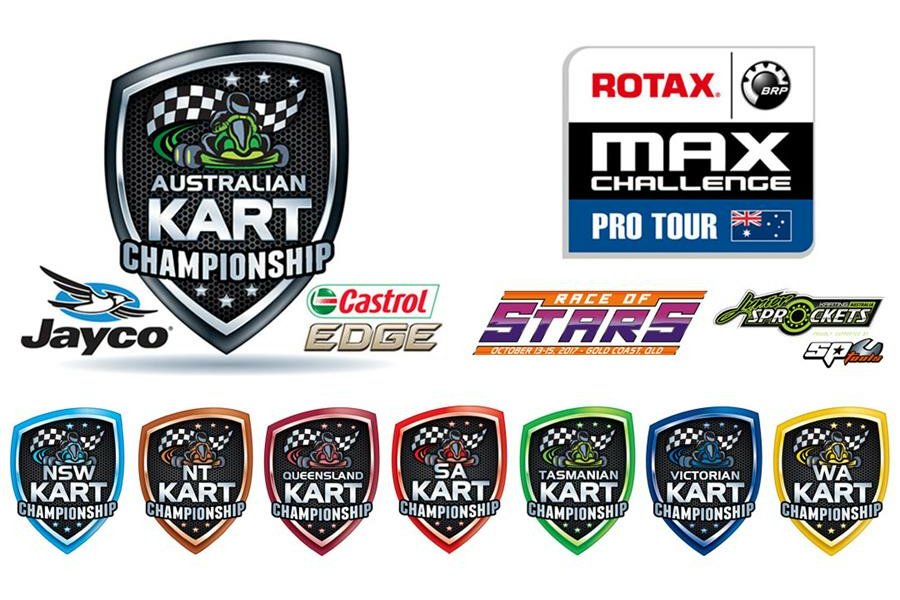 The Board of Karting Australia has confirmed the National Calendar for 2017.
The calendar is highlighted by the Australian Kart Championship presented by Jayco and Castrol EDGE (National Championship), the Rotax Pro Tour (National Series), Race of Stars (National Cup), State Championships and the SP Tools Junior Sprockets program.
A total of ten different venues across four states will benefit from hosting a round of a National Championship or Series during 2017.
Further to September's announcement of the dates for the National Championship and Series openers, Newcastle is confirmed as the host of the opening round of the 2017 Australian Kart Championship next February (10-12). Melbourne's Todd Road circuit will continue the tradition of kicking off the Rotax Pro Tour on January 26-28.
Victoria's Geelong Kart Club will host the second round of the Australian Kart Championship before heading to South Australia on the final weekend in May.
The Championship will then make its debut at Queensland's Emerald circuit for the penultimate round on July 21-23 ahead of the Grand Final at Melbourne's Todd Road circuit on the first weekend in September.
The Rotax Pro Tour will be contested across a total of six rounds – one fewer than in 2016. The National Series returns for the second consecutive year to the Bolivar Raceway in South Australia in March.
Queensland's Ipswich Kart Club will host Round Three ahead of the New South Wales round.
The Eastern Lions Kart Club's Puckapunyal circuit will be the venue for the fifth round with the Series Champions to be crowned at the Albury/Wodonga Kart Club on September 17.
The fifth annual Race of Stars will be contested on the Gold Coast on October 13-15.
The State Championship events will vary in the number of rounds with the New South Wales and South Australian Kart Championships decided over three events and the Victorian and Queensland Kart Championships two. Northern Territory, Tasmania and Western Australia continue with their one-off formats.
The respective State Associations will confirm the complete State Calendars in the coming weeks.
The SP Tools Junior Sprockets program will be expanded in 2017. It will kick off in January with events scheduled in every School Holiday period throughout the year.
After consultation with Australian Kart Championship teams, drivers industry members and Karting WA, it was decided a round of the National Championship would not be contested in Western Australia during 2017.
2017 AUSTRALIAN KART CHAMPIONSHIP
Round 1 – Newcastle (NSW) February 10-12
Round 2 – Geelong (VIC) March 31-April 2
Round 3 – Monarto (SA) May 26-28
Round 4 – Emerald (QLD) July 21-23
Round 5 – Port Melbourne (VIC) September 1-3
2017 ROTAX PRO TOUR
Round 1 – Port Melbourne (VIC) January 26-28
Round 2 – Bolivar (SA) March 10-12
Round 3 – Ipswich (QLD) May 5-7
Round 4 – TBA (NSW) June 16-18
Round 5 – Puckapunyal (VIC) August 4-6
Round 6 – Albury/Wodonga (NSW/VIC) September 15-17
RACE OF STARS
October 13-15 Race of Stars – Gold Coast (QLD)
NATIONAL CUP EVENT (TBC)
November 17-19
JUNIOR SPROCKETS
January 16 – 26 – Victoria
April 10 – 20 – Western Australia/South Australia
June 26 – July 6 – Queensland
September 25 – October 4 – New South Wales/ACT
NSW KART CHAMPIONSHIP
Round 1 February 24-26
Round 2 April 21-23
Round 3 July 7-9
QUEENSLAND KART CHAMPIONSHIP
Round 1 April 7-9
Round 2 June 30 – July 2
SA KART CHAMPIONSHIP
Round 1 February 25/26
Round 2 April 22/23
Round 3 July 8/9
VICTORIAN KART CHAMPIONSHIP
Round 1 April 7-9
Round 2 July 7-9
NT KART CHAMPIONSHIP
July 1-3
TASMANIAN KART CHAMPIONSHIP
November 10-12
WA KART CHAMPIONSHIP
September 29-October 1
*Dates and Venues are correct at the time of publication but subject to change by Karting Australia