SKUSA SuperNationals 20 Track Layout Released
Event veterans Moulton and Idelson design special challenge at Las Vegas Convention Center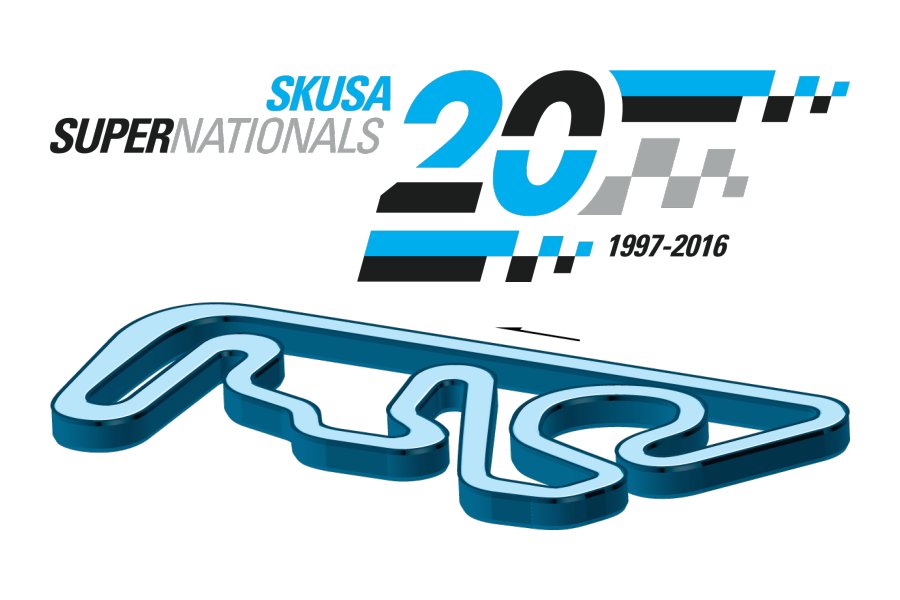 History will be made in just over two weeks as the best karters from around the world take part in the 20th edition of SuperSunday, the biggest day in North American karting. Racers of all ages, experience and background will converge on the Las Vegas Convention Center for the 20th running of the Superkarts! USA SuperNationals on November 16-20 and big money, prestige and SKUSA Pro Tour national championships will be on the line. In keeping with the historic nature of the marquee event, SKUSA is expecting that many of their past racers will join the current crop of pilots for the 20th anniversary of the SuperNationals, either racing themselves or just soaking in this monumental event. The drivers who will be competing in Las Vegas this year will be navigating a course designed by a veteran duo of the event – Bonnier Moulton and Howie Idelson – both of whom have raced in all 19 of the preview editions.
In September, Moulton and Idelson joined Superkarts! USA officials at the Las Vegas Convention Center for two days to evaluate the facility's parking lot – the site of SKUSA SuperNationals 20. Without the opportunity to actually drive a kart around any potential layout combinations, the group used their experience, feedback from last year's layout, and a great deal of ground-level measuring, to put together the right combination of corners that will provide a challenge for the nearly 500 drivers who will compete this time around.
"We've been fortunate to have several key drivers provide input in past track designs, such as Memo Gidley and Alan Rudolph, but this year's design team is really special and I love what they've come up with," offered Tom Kutscher, Superkarts! USA President. "Every year, I've made small changes to the track using feedback from the drivers, and this year's approach was to put the design entirely in the hands of two racers who know what they like, and know what is needed to build a truly raceable layout.  It's been a really enjoyable process."
Unveiled in this release, the SKUSA SuperNationals 20 race course measures out to 0.84 miles in length with 12 turns. The section of the LVCC parking lot utilized for the layout is in the same general area used for the 2015 edition of the SuperNationals, but is almost entirely new. Only the long 800-foot straight remains from the previous layout, as Moulton and Idelson harnessed their experience and knowledge to provide SuperNationals 20 competitors with a tough challenge that pays homage to the previous SuperNats events.
"I think it's going to be badass," commented Moulton, who was on the podium at the first SuperNationals and has won on three occasions. "Howie and I had some definite goals we wanted to meet when designing the layout for SuperNationals 20. We wanted it to be technically challenging, but with some faster sections that will hopefully lead to passing opportunities. I think there will be at least three obvious passing zones.  We also wanted to pay tribute to past SuperNationals. To that end, we incorporated a section from the now gone, but not forgotten, X-Plex, as well as a section from the final Rio layout. I think it's going to be a fun and hopefully difficult track. If the drivers don't like it though, I'm totally blaming Howie!"
"I was really stoked to be asked by Tom to design the track with Bonnier," stated Idelson. "For me, as a designer, there's nothing better than working on something like this that I'm so passionate about. I've always been a fan of track design and what goes into making the great ones. We replicated the X-Plex's long sweeping right-hander that transitioned into a quick left hairpin, where so many races were decided. We also included the Rio's turn 3-4 combo that was such a challenge to drive and a thrill ride when you got it right. We took the same dimensions and flipped them to go the opposite direction. The first turn is also a departure from previous events. We were inspired by many of the top European track designs that have a fast opening corner that requires less braking which can accordion the field…hopefully. I hope people like it. If they don't, remember it's Tom's fault for picking us!"


Move-in for teams and competitors begins on Sunday, November 13, and continues through Tuesday, November 15. On-site registration opens Monday from 10:00 am to 6:00 pm inside the host hotel – the Westgate Las Vegas – and continues into Tuesday, going from 8:00 am to 6:00 pm near the rear lobby area. Fuel and Tire desks open Tuesday as well. On-track action begins Wednesday, November 16 with the first full day of practice. The morning group of classes includes X30 Junior, S1 Pro Stock Moto, Mini Swift, X30 Master, and Micro Swift. The afternoon group of categories is made up of S4 Master, X30 Senior, S2 Semi-Pro Stock Moto, S4 Super Master Stock Moto and KZ.  On Thursday, November 17, practice continues with three more sessions before each group turns in their qualifying runs. Those results line up the divisions for the three rounds of heat races. Two rounds are contested on Friday, November 18, with the third round set for Saturday, November 19. X30 Junior, Mini Swift, X30 Master, and X30 Senior hold their Last Chance Qualifiers for the final few spots to enter the SuperSunday main events on November 20.
The SuperNationals will be aired on the CBS Sports Network in December, with three separate shows highlighting all of the action. eKartingNews.com, the official online media partner for Superkarts! USA, will once again be front and center with daily race reports and insider paddock information, backed up by the industry-leading EKN Live audio play-by-play broadcast streaming all of the official sessions from qualifying through to the end of SuperSunday at www.ekartingnews.com/live.
For more information on anything related to Superkarts! USA, please visit the website – www.superkartsusa.com and be sure to follow the Superkarts! USA Facebook page, Twitter and Instagram accounts – or call the SKUSA head office at 951-491-0808.