Heartbreak at Rotax Max Challenge Grand Finals in Sarno, Italy for d'Orlando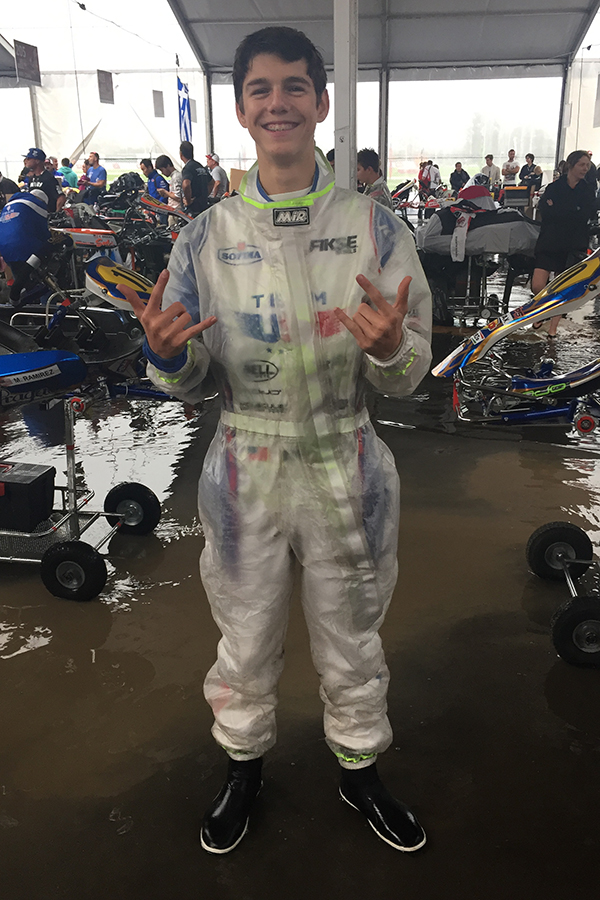 No rest for the weary is the theme for Michael d'Orlando.  Coming off a mere 7-days rest at home in New York, from the trek to Adria, Italy in early October, it was back to Italy again!
It was a race week full of excitement, challenging weather conditions and world-class Rotax talent, but it ended in heartbreak for Birel Art factory driver Michael d'Orlando, as he continued his fall race schedule in the beautiful scenic hills of Sarno, Italy at the Rotax Max Challenge Grand Finals. With limited practice time on the schedule, d'Orlando's week began with some obstacles as changing weather conditions on Monday rendered one practice session ineffective due to slick race tires on a wet track, and he would watch from the infield for a session Tuesday due to equipment failure.  With effectively participating in only two of the total four practice sessions and the morning warm-up before Qualifying and Heat Race action on Wednesday, Michael would start the race weekend behind the eight ball.  But a qualifying effort of 41st out of 72 drivers from around the world did not stop the 14-year old Junior Rotax driver as he battled through the obstacles that were in front of him as well as improving each session.
Official results after the qualifying heats, where he was consistently seen in the top-15, putting d'Orlando in a promising starting position heading into Friday's Pre-Final B 125 Junior Max race, on row 5 in the 10th starting spot.
The mixed weather conditions would remain a challenge all week long in the Junior Max field.  As the grid remained about the same order in dry conditions through the heat racing, the grid would almost invert in the wet.  Results from the Pre-Final A 125 Junior Max Group who went out first in the mixed weather conditions would prove this point with merely only a few drivers starting at the front of the grid advancing to Saturday's main event.  But the experienced d'Orlando remained optimistic and confident as he was running consistently in the top-ten lap times in the morning warm up to start the day leading up to his Pre-Final B 125 Junior Max race set to go off in the early afternoon.
Torrential rains would move in late morning on Friday, and after the delays from flooding were over, the stage was set for a full-on rain condition for the Pre-Final B 125 Junior Max race, however d'Orlando was confident for a solid finish and was looking forward to make his way into Saturdays Final with the top 17 advancing in each of the two Pre-Finals.  At the drop of the green flag, d'Orlando would have a great start from starting outside row five, and wasted little time positioning his way to 9th place down the opening straight away and turn one.  It all seemed to be going well however in the next turn an extremely aggressive driver behind him overshot the corner and sent d'Orlando off the track, falling back to 36th spot.  Knowing that keeping composure and focus is the name of the game now, and with 10 laps still to go, d'Orlando would work his way forward through the grid passing 19 karts and slipping into the 17th spot with two laps to go.  Holding on to the last transfer spot to advance to Saturday's main event, d'Orlando would be alone with a gap too great in front of him to move forward, and with no drafting partner, but with two drafting competitors closing in on him from behind.  With one lap to go, the two drafting competitors closed the gap at the end of the straight but were too late on the breaks and hit d'Orlando in the rear once again sending him sailing off the track into the grass. d'Orlando quickly recovered go back onto the track in the 19th slot, with hope that the penalty-filled event would continue in his favor.  But again, it wasn't to be, when another overly aggressive competitor made a late entry maneuver for a position with only 3 corners left, sending d'Orlando spinning around backwards in the muddy conditions.  After post-race penalties were all awarded, Michael would ultimately be classified 20th and would miss the cut-off to compete in Saturday's main event by just three positions.  Michael would spend the final day of the Rotax Max Challenge Grand Finals from the sidelines supporting and cheering for his USA teammate Mathias Ramirez, the only American to make the feature race.
"It is a hard pill to swallow not being able to make to the final," said Michael d'Orlando. "It was a tough week and we had to overcome our lack of track time early in the week, and when we started to pull it together, we had the incident in the first lap but recovered well and then the two race incidents on the last lap of the Pre-Final.  Despite the disappointment of not making the final, I am confident in the fact that we were competitive in both dry and wet conditions and were peaking at the right time to be able to fight for a podium in the final had we actually had a clean Pre-Final.   This was my last race in the Junior Max category, so I would have liked to end on a higher note, but that's racing.  It was an honor to represent Team USA for the first time in the Rotax MAX Challenge Grand Finals and I can't thank MaxSpeed enough for the opportunity to compete.  Also, I'd really like to thank my tuner and coach, Riccardo Messana, for all his hard work and support.  I couldn't have done it without him."
Michael d'Orlando will continue his travels across the ocean in mere couple of weeks as he returns to the track with his Birel Art factory race team for the CIK-FIA World Championships for OK-Junior in SAKHIR, Bahrain November 16th – 19th.  Be sure to look for updates on www.dorlandoracing.com or Michaels Facebook page for live coverage information.
Michael d'Orlando and d'Orlando Enterprises would like to thank the following supporters for their continued partnership: Rotax, MaxSpeed Entertainment, Birel Art for their support all year, Praga as the chassis provider for this event, tuner and coach Riccardo Messana, Team USA Junior Max teammates Mathias Ramirez, Dylan Tavella & Nicholas Brueckner, Iona Preparatory School, Nick Delury and his team at Westchester Boxing Academy, Fyshe/Adidas Motorsport for the awesome shoes & gloves, Focused Project Management (www.focusedpm.net), Jake from Andersen Racing for your support with data, and Fred from GKS Engines for all the help this week.  Additionally we'd like to thank Mike Maurini and Martijn Koene at Koene USA for their efforts in winning the FWT to earn the ticket to the Grand Finals. Oh… and thanks to my brother Nicholas – always supporting me while he's stuck at home!
For more information on Michael d'Orlando, please visit www.dorlandoracing.com. Be sure to follow them on Facebook (Michael d'Orlando Racing), Twitter (@dorlandoracing) and Instagram (@dorlandoracing) to stay up to date on news, information, photos and results.