Karting Phenom Brandon Lemke Joins McCallister Precision Marketing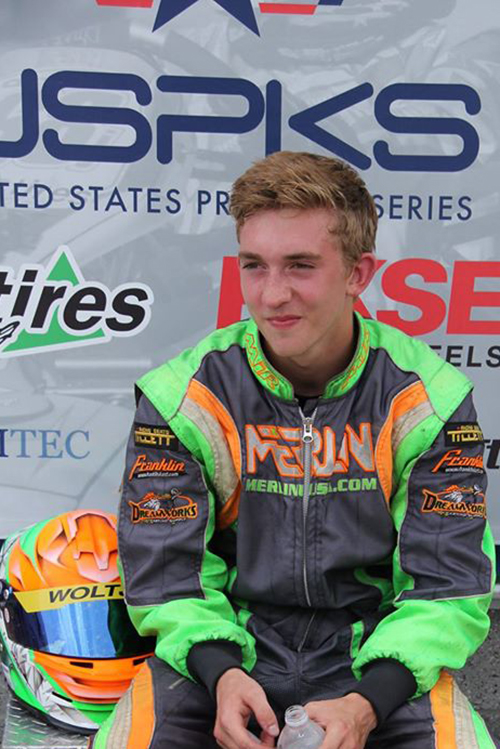 (Photo: uspks.com)
Exciting news is coming out of the McCallister Precision Marketing camp as karting standout Brandon Lemke has signed with the motor sports marketing agency.
"Brandon has received unbelievable accolades at such a young age," McCallister Precision Marketing Founder Tonya McCallister said. "I'm very excited to work with Brandon to help his racing career grow."
Lemke, the driver of the Merlin/Franklin Motorsports kart and the 2015 SuperKartsUSA (SKUSA) Pro Tour Junior champion, has driven to the top of the eKartingNews.com (EKN) Driver Rankings in his first year. After earning the World Karting Association Winter Cup championship, Lemke went on to win five of the eight main events at the United States Pro Kart Series to earn the championship. Out of the SKUSA Pro Tour title chase, Lemke is gunning for a podium at the SuperNationals next month to finish out the EKN Driver Rankings in the No. 1 spot.
Lemke, who is a 16-year-old from Eagle, Wis., has a stout United States Pro Kart Series average finish of 1.57. He has scored four wins, a pair of runner-up finishes and a third-place result.
"Our team has won a lot of races and championships in a very short time," he said. "Teaming up with MPM will help get us the attention we need to continue to grow and help me move toward my goal of being a professional race car driver."
Lemke began racing in 2009 at the age of 9 at the Badger Kart Club in Dousman, Wis. In his first year of racing, Lemke won the championship for Yamaha Junior Sportsman Rookie Novice class and he set the track record for fastest time in his class. He was also named the Badger Kart Club Junior Summer Series Champion and Rookie of the Year.
The accolades have continued to roll in throughout his impressive career.
In 2010, Lemke expanded his racing as he won a pair of regional races. He ended the year with a third overall finish in the KPP Sportsman Heavy class and fifth place in the KPP Sportsman Lite class (Midwest Sprint Series). He also held the season fast time at Badger in the Yamaha Junior Sportsman class and set another track record in the KPP Sportsman class.
Lemke took first in a total of 19 local and regional races in 2011 and he finished second in 13 local, regional and national events (40 overall top-five finishes for the season). He won the Route 66 Regional Champion KPP Sportsman Class and was named Badger Kart Club's National Sprint Driver of the Year. He also set yet another track record at Badger in the KPP Sportsman Class.
Lemke continued to add to his impressive list of winning in 2012, including the WKA National Championship in Yamaha Sportsman; the Dan Wheldon Robopong event at Newcastle; and five separate regional championships. He also placed third in the highly acclaimed SKUSA SuperNationals in Las Vegas during his first time there.
With 2013 being his last season as a Sportsman driver, Lemke's goal was to join the ranks of the sport's best drivers and become a multiple National Champion title holder.  He did just that by claiming four titles – one of only two drivers in the history of WKA to accomplish that feat.
The following season was just as successful as Lemke was victorious during five of the 10 Parilla Junior races to claim the championship. That included a trip to compete at the IAME International Final in France. Lemke also captured the Yamaha Junior division championship.
In 2015 Lemke won 66 percent of the national races he entered and finished in the top five an unbelievable 90 percent of the time. He also participated in the reality television show Kart Life on TruTV.
This year Lemke has 10 wins (24 percent) in the senior class, 12 runner-up finishes, 10 third-place runs, three fourths and a pair of fifths (88 percent top five and 74 percent podium finishes).
For more information on Lemke, visit http://www.brandonlemke.com.
McCALLISTER PRECISION MARKETING – 
McCallister Precision Marketing, which is based in Columbia, S.C., focuses on assisting up-and-coming race car drivers with career advancement and promotion. It also provides companies with a strategic plan for their sales and marketing needs, as well as works with race teams to not only secure sponsorships, but to build ongoing partnerships with those sponsors. For more information, visit http://www.MarketWithMPM.com.
INSIDE LINE PROMOTIONS –
Inside Line Promotions specializes in affordable public relations and media management for motor sports drivers, teams, sponsors, tracks, series, events, organizations and manufacturers. ILP Founder Shawn Miller leverages professional journalism with new media technologies and social networking to improve your exposure and the return on investment for your sponsors.
To meet the media relations needs of your program by joiningTeam ILP, contact Shawn at 541-510-3663 or Shawn@InsideLinePromotions.com. For more information on Inside Line Promotions, visit http://www.InsideLinePromotions.com.