JHM Signs Drivers for 2017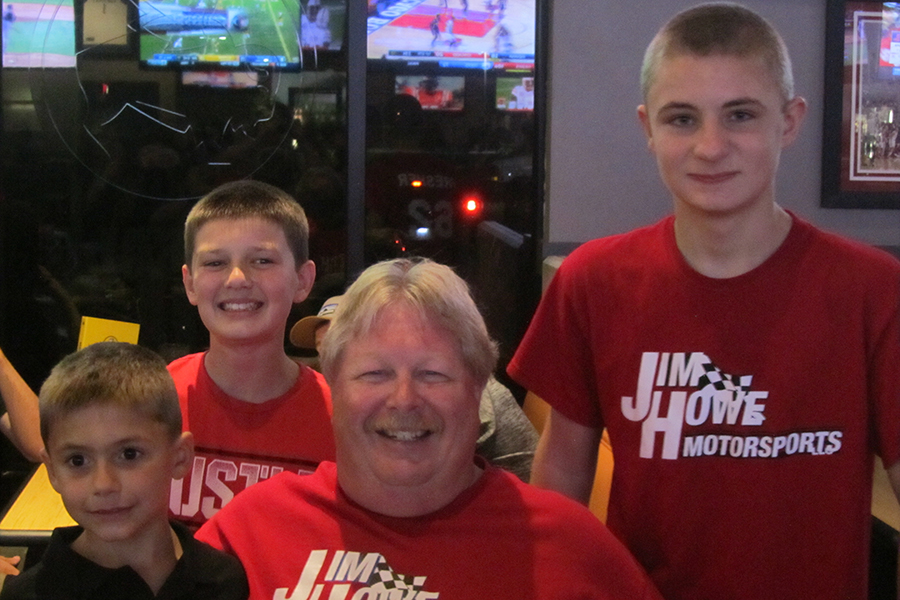 Jim Howe Motorsports LLC General Manager Jim Howe poses with his 2017 stable of drivers. From left to right is Braden Huckaby, Brayden Johnson, and Jordan Fresher. Photo courtesy of Jim Howe Motorsports LLC
Jim Howe Motorsports LLC of Elizabethtown (IN) has signed three young drivers to pilot the team's BBS Race Engine Development-powered #62 BirelART racing go-karts for the 2017 season.
Jordan Fresher of Avon (IN), Brayden Johnson of Bloomington (IN), and Braden Huckaby of Columbus (IN) were feted at a local restaurant and then signed their 2017 contracts in front of team manager Jim Howe, friends, and family.
Fresher drove for the team in 2016, running the team's Junior (1) Sportsman mount on the Southern Indiana Racing Association (SIRA) street circuit and in Tony Stewart Racing Series action at the historic Whiteland (IN) Raceway Park. He had an outstanding season with JHM, winning one pole, leading five laps, and posting 11 top five finishes in 15 starts while running second in the SIRA Junior 1 championship.
Johnson and Huckaby are new to the team. Johnson raced for the first time in 2016, driving a Junior Sportsman kart for his parents, while Huckaby has two seasons in kid karts under his belt driving for his parents.
"These boys are outstanding drivers," Howe noted. "I'm so lucky to have Jordan back for 2017 and moving up to Yamaha Junior (2) after a really great year. Plus, I now have a couple of younger drivers to carry the JHM torch in Junior (1) Sportsman."
Fresher is the son of Tom Fresher of Avon and Mary Fresher of Plainfield (IN). Jordan, 13, returns for his second season with JHM. Jordan is an eighth-grade student at Avon Middle School North and likes math. Favorite foods include pizza, hot dogs, quesadillas, pancakes, and waffles. He likes to ride his bicycle, play Xbox, watch football, and race. He aspires to be a professional racecar driver when he is older.
"I want to be a better racer," Jordan said, "and learn how to drive the new kart Jim is getting for me in 2017."
Johnson, 11, is the son of Eric and Kari Johnson, also of Bloomington. The fifth grader at Childs Elementary School in Bloomington likes gym and art. Favorite foods are eggs, bacon, dumplings, and pizza. He loves go-karting and watching sports; he wants to be a professional NASCAR driver when he grows up.
"I'm pretty excited because I think it's going to be a good season," Brayden offers, "Jim's kart is fast and it's pretty cool having two new teammates racing on the track with me. It's gonna be a blast to race on tracks I haven't raced on before and compete for points."
Huckaby is the son of Shawn Huckaby and Robin Tyner, both of Columbus (IN). The youth, 7, is a second grader at the Columbus Signature Academy with mathematics, like one of his teammates, as his favorite subject. The youth likes pizza, peanut butter sandwiches, and carrots. His hobbies include fishing, riding his bicycle, and go-karting. Braden wants to be in racing when he grows up.
"I'm excited to learn more about racing" with Jim," Braden said afterwards.
"I met Braden and his dad three years ago at a local restaurant," Howe added, "and told them all about go-karts. Within a few weeks, they came and watched us race. And by the end of the summer, Shawn had bought a kid kart. I've been mentoring them since and watching Braden's process. I'm thrilled to have him with me finally."
Currently, the team plans on running 15 races for 2017, running the full SIRA street-race schedule as well as selected events at the WRP half-mile road course south of Indianapolis. Howe noted additional BirelART karts are in the process of being purchased as the team ramps up to three drivers for the first time ever.
The team will aggressively search for sponsorships for the upcoming season and offers a wide variety of marketing programs for sponsors, using the team to grow their business.