NF Sports Announces SKUSA SuperNationals 20 Line-up with 15 Drivers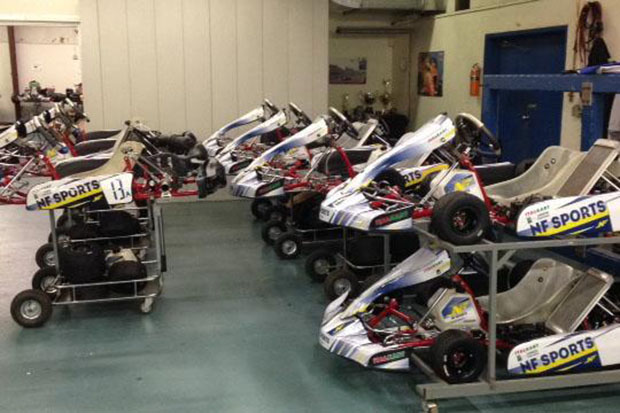 Back in May of 2015 the multi champion Andre Nicastro and the corporate executive/ driver Bruno Fusaro faced the challenge of launching a new Go-Kart team in the US seeking major races in that region. The team's first event was the SKUSA SuperNationals XIX in Vegas and counting on Italkart's factory support top results were immediate from their first official practice appearance.
Since the astonishing results in Vegas NF Sports carried out its equipment for the Florida Winter Tour in the beginning of 2016 and from there to the SKUSA SpringNationals in Phoenix, AZ. From that race even more has been invested in infrastructure, which will be seen at the Vegas race now in November by its customers.
With the managerial expertise of Fusaro and Nicastro's great experience at the track and equipment set up the Brazilian team is ready to host its drivers and family members with a unique kind of support. The attention to each detail and especially the particular way to meet drivers and families reflects the huge demand NF Sports had for its Arrive and Drive program since registrations were opened for the SuperNationals XX back in August.
Thus, a little more than three weeks until the beginning of the 2016 great event NF Sports presents the drivers embracing the team's colors during the SKUSA Supernationals XX.
Micro Swift:
1 – Vinicius Tessaro
Mini Swift:
2 – Gabriel Crepaldi
3 – Rafael Câmara
X30 Junior:
4 – Diego Ramos
5 – José Luiz Muggiati
6 – João Matos
X30 Senior:
7 – Sergio Crispim
8 – Pedro Goulart
9 – Andre Nicastro
X30 Master:
10 – Renato Russo
11 – Jorge Borelli
12 – Dudu Dieter
13 – Antonio Canedo
14 – Marcos Regadas
S4 Master:
15 – Jorge Borelli
"It is with a great satisfaction that we face such a huge demand this special SuperNats edition. We worked hard during this year to improve our equipment and infrastructure in order to meet our team driver's demand even more. With the racing curriculum and background of most of our racers I'm sure we can expect to battle for top results in each class NF Sports will race", said Bruno Fusaro.
For those interested on NF Sports' Arrive and Drive program please go to www.nfsportsusa.com