Maranello Kart's Flavio Sani Shining at the Rok Cup International Final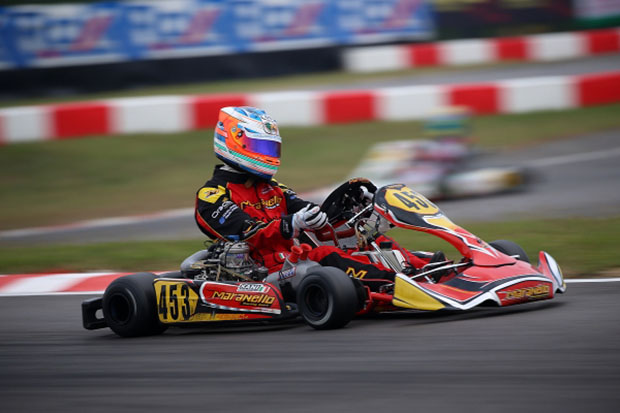 Sani ended sixth at the Rok Cup International Final held in Lonato, while Melis had an unlucky incident at the start. Maranello Kart will be back on track next 28-30 October for the Trofeo delle Industrie.
The Final round of the Rok Cup International has been held at the Circuit South Garda Karting of Lonato and the event scored a participation record of 413 drivers at the start. Maranello Kart's drivers have been putting in good performances.
Category Rok Shifter featured 64 drivers at the start. Among those, Flavio Sani obtained a very good sixth place in the Final after being among the front runners and having the best of a driver of the likes of Rubens Barrichello! Sani's performance in the challenging weekend of Lonato has shown a great crescendo of results, as Maranello Kart's driver managed to turn the tenth place of his group into an eighth position after heats.
Mattia Melis has been hit by an incredible bad luck instead. He has always been among the quickest; he was fifth in his group and sixth after heats, but the rival ahead of him on the starting grid of the Final did not start and Melis hit him putting the word end on his race in this way. That was a real shame as Melis could have obtained a good final result. Maranello has also fielded Giacomo Riva in Rok Shifter. He was ninth in the closing race reserved to drivers that could not qualify for the final.
The very young Brando Pozzi has been quite unlucky, as he was involved in some incidents in the final stages, while the Polish importer of Maranello Kart, ST Racing, has been penalized a bit by the inexperience of its young drivers in this sort of international races.
HEADING TO THE TROFEO DELLE INDUSTRIE
Maranello Kart's attention is now focused on the challenging Trofeo delle Industrie, the very prestigious international race to be held in Lonato next 28-30 October. More than 60 drivers will challenge each other in KZ2, among which Maranello's top drivers Tommaso Mosca and Massimo Dante, and the driver from Slovakia Martin Konopka.
The young Austria Kiano Blum and Yannick Federer will be present in 60 Mini, while the recent winner of the Autumn Trophy Luca Bombardelli and Roberto Cesari will compete in Prodriver Under.