Race Recap: Karting Challenge Presented by Hoosier Racing Tire Round 10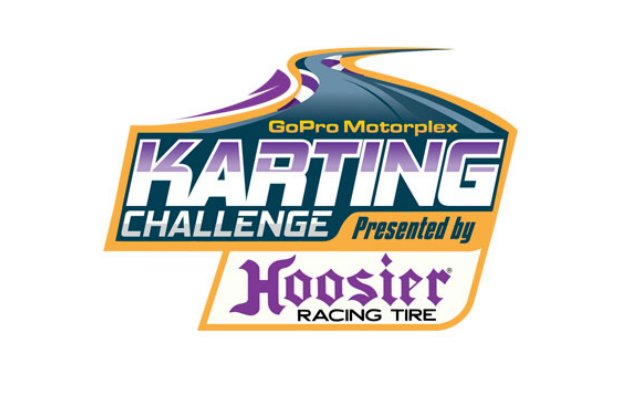 A total of 96 drivers entered Round Ten of the GoPro Motorplex Karting Challenge Presented by Hoosier Racing Tire today. A late October race date brought the coolest temperatures competitors have weathered all year in the low 60's. Round Ten today leaves just two more races of the 12-Round chase for a championship that wraps up on Dec. 3 with the series finale and championship banquet.
Congrats to all Round Ten winners: Jadyn Daniels (Briggs LO206 Junior), Caleb Gafrarar (IAME Mini Swift), Aiden Baker Crouse (Briggs LO206 Cadet), Emory Lyda (Yamaha Junior), Aiden Baker Crouse (IAME Swift), Max Papis (IAME Heavy), Lance Fenderson (IAME Junior), Zachary Linsell (Briggs LO206 Senior), Lars Schmidt (Briggs LO206 Heavy), Dusty Davis (IAME Senior), Ayden Young (Kid Kart).

IAME Swift Division Sponsored by HMS Motorsport:
A total of 13 young drivers took the green flag for the division's 12-lap final race. Brent Crews was the obvious driver to beat after winning the pole in qualifying and taking the pre-final win. In the final, Crews wasted no time, taking the top position in the opening laps. By halfway, Crews continued to lead, but he had a bumper full of Aiden Baker Crouse in the second position. Crews and Crouse hooked up and broke away from the field with over a two-second lead on third position of Devin Gomez and the rest of the field. Crouse perfectly executed a 'slidejob' move on Crews in the Hoosier Hairpin on the final lap, giving Crouse the win, followed by Crews in second and Gomez in third.
IAME Heavy Division Sponsored by Stitch 98:
In the IAME Heavy Division, Todd Shambo took control of the lead and went unchallenged for the first four laps. By halfway, Max Papis closed onto Shambo's bumper and he looked to overtake Shambo in Turn Four. Papis swung way wide in Turn Four, falling back and unable to make the pass on Shambo. However, by Turn Eleven on the same lap, Papis got his wish and completed the pass on Shambo to take the top spot. Papis improved his lead to nearly two seconds over Shambo by the final lap. Shambo made great strides on improving his chase for a championship with a strong second place finish, but it was Papis' day, taking the final win. John Wehrheim rounded out the top three.
IAME Junior Division:
In the IAME Junior Division 13-lap final, it took Lance Fenderson only three laps to find his way around Pauly Massimino in Turn Four. However, by halfway, Gray Leadbetter turned up the wick, running down the leaders from the third position and clocking the fastest lap of the race with a 47.9-second lap. Following her lead was Brooke Nachtmann who ran just outside the top-three in the fourth position. With three laps to go, Leadbetter battled hard with Massimino, eventually overtaking him for second; a move that sent Massimino to fourth and Nachtmann improved to third. Leadbetter then set her sights on leader, Fenderson. In her inaugural start in the IAME Junior Division, Leadbetter went toe-to-toe with the division's frontrunners, but was unable to secure the win, settling for second. Fenderson scored the win and Brooke Nachtmann rounded out the podium in third.
Briggs LO206 Senior Division Sponsored by Todd Shockman RV Sales:
The Briggs LO206 Senior division featured a 19-kart field of closely-matched drivers. In the opening lap, a group of five drivers all jockeyed for position, running nose-to-tail. It was truly a five-kart battle for the lead with Zachary Linsell and Nick Tucker going at it the hardest from the top-two positions. With two laps to go, Linsell and Tucker were side-by-side down the front stretch, with Linsell winning the drag race to Turn One. However, a failed pass exiting Turn Nine cost Tucker greatly, allowing Linsell to pull away from Tucker for the first time all race. Linsell went on to take the win, followed by Tucker in second and Zack Skolnick in third.
Briggs LO206 Heavy Division:
In the Briggs Heavy Division, Lars Schmidt scored the win, followed by Chuck West and Tony Rice.
IAME Mini Swift Division Sponsored by CNC Performance Engineering:
In the IAME Mini Swift 10-lap final, you could throw a blanket over the top-three drivers of Sebastian NG, Caleb Gafrarar and Sam Corry. NG led the opening laps, but by halfway, Gafrarar took a perfect opportunity to pass for lead in Turn Four. However, in Turn One, NG and Corry teamed up to overtake Gafrarar, sending Gafrarar back several kart lengths into the third position. However, the leaders, NG and Corry made contact and slowed in the Hoosier Hairpin. In a lesson on never giving up, Gafrarar maneuvered around the tangled leaders and went on to take the win. Corry was able to get back rolling to take second and NG followed behind in third.
IAME Senior Division Sponsored by MPI:
In the IAME Senior division final, it was pre-final winner, Brandon Jarsocrak who shot out to the early lead with a three-kart gap back to second place of Blake Hunt. However, as the laps wound down, both Hunt and Dusty Davis began to reel in leader, Jarsocrak. After six laps, Hunt had closed onto Jarsocrak's bumper and was able to complete a pass in Turn Four, sending Hunt to the point. Hunt continued to lead with Jarsocrak close behind and Davis trailed about a kart-length back in third. Davis clocked the fastest lap of the race, completely calm and collected and definitely a silent threat to win. Just like that, Jarsocrak and Hunt collected each other in Turn Five, allowing Davis to shoot past both drivers and take the lead. Davis went unchallenged to score the win, followed by Jarsocrak and Michael Bovim.
Briggs LO206 Junior Division Sponsored by Race City Mobile Detailing:
In the Briggs LO206 Junior division 10-lap Final, it was a three-kart battle for the lead between Alex Keadle, Jadyn Daniels and Seth Gentry. By halfway, Daniels was glued to Keadle's bumper as the two frontrunners broke away from the rest of the field. In the final two laps, Keadle and Daniels looked to settle the score amongst themselves. In a final lap, last corner pass, Daniels made an impressive move for the lead to score her first-ever final win. Rounding out the top-three was Gentry and Keadle.
Briggs LO206 Cadet Division Sponsored by EnforcerOne powered by FireAde:
In the Briggs LO206 Cadet Division 10-lap final, Aiden Baker Crouse had the perfect day by winning the pole in qualifying, the pre-final and leading every lap of the final to score the win. Bree Miller finished in second and Alex Delemo III rounded out the podium.
Yamaha Junior Division:
In the Yamaha Junior final, the two nemesis drivers, Emory Lyda and Taylor Stanford, were back at it battling hard for the win once again. By the halfway point, Lyda led the field and had gapped Stanford by nearly a second. Lyda went on to take the win, followed by Stanford and Chase Carey.
Kid Kart Division:
In the Kid Kart Division, Ayden Young, got some valuable laps of experience and was able to take home the trophy for the win as well. Today's win marked his fifth of the season, well on his way to a championship!
Round 10 Results, Standings>> (http://www.gopromotorplex.com/race-events/kart-owner-events/gopro-motorplex-karting-challenge/2016-karting-challenge-results)
GoPro Photo Gallery>> (http://www.gopromotorplex.com/gallery/2016-karting-challenge/)
UP NEXT:
The Karting Challenge Presented by Hoosier Racing Tire will return for Round 11 of the 12-Round club series on Saturday, Nov. 5. Spectator admission is just $5 and children under age five are free. Competitors can save $15 by pre-registering on MotorsportReg.com.
For more information on the Karting Challenge club series, CLICK HERE>> (http://www.gopromotorplex.com/race-events/kart-owner-events/gopro-motorplex-karting-challenge)