2016 Rotax Max Challenge Grand Finals: Team USA Friday Report
Egozi wins Micro Max Prefinal as four drivers transfer to Championship Saturday at 'Olympic of Karting'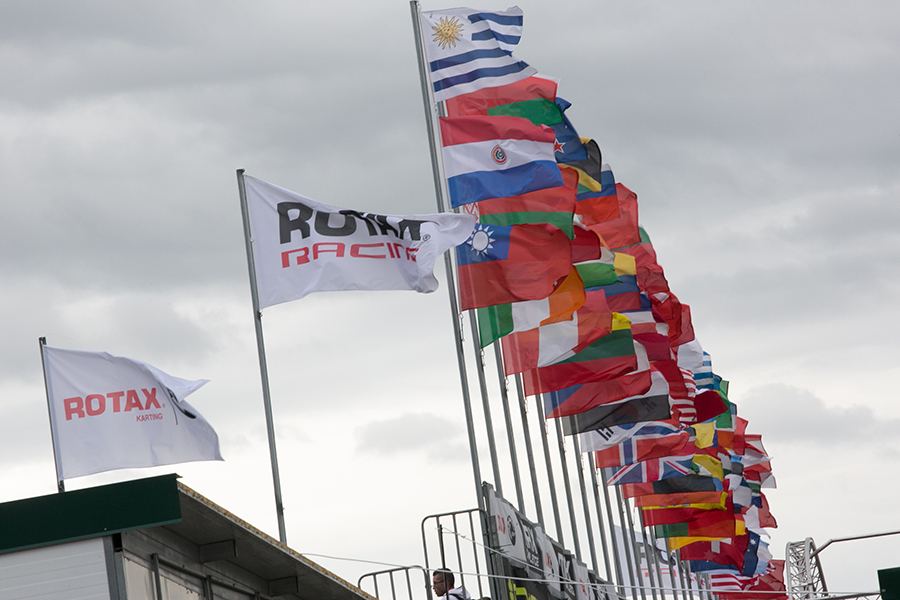 (Photo: Rotax-Kart.com)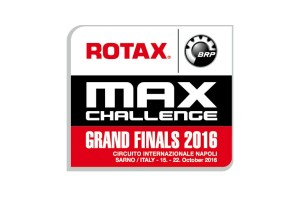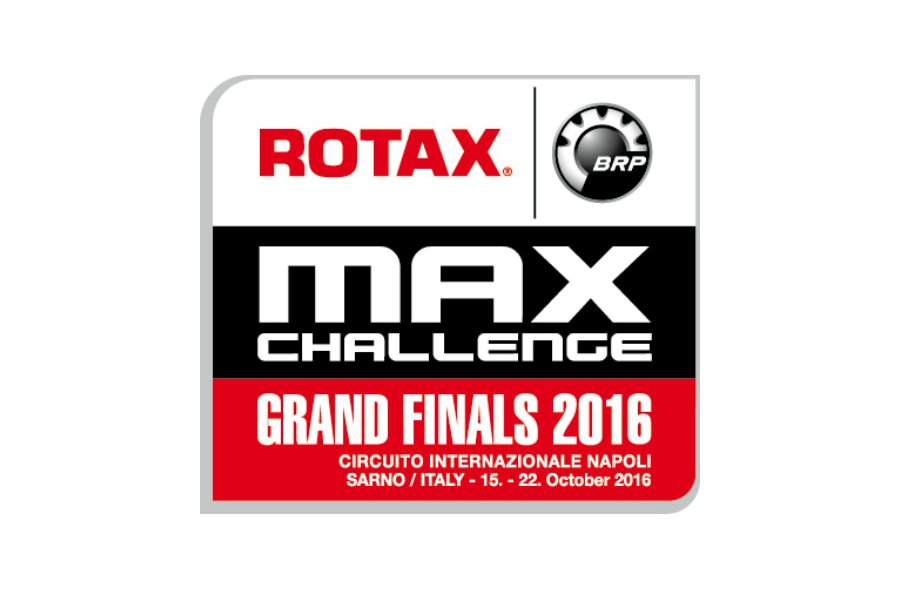 One of the hardest days at the Rotax Max Challenge Grand Finals is Friday. It is the final chance drivers have to confirm their bid for the world championship, or it serves as the sessions of the event for those who are unable to secure a spot on the grid for the main event. It would not be a RMCGF if there was not rain making a major impact. While the rain throughout the week was mild, the skies opened up on the Circuito Internazionale Napoli in Sarno, Italy Friday during the Junior Max Pre Final A. At first, the rain was mild, on and off until it amped up during the DD2 Pre Final A forcing officials to display a red flag before it reached the 70% mark. The event also came to an end early for a number of the 360 drivers in attendance as the four main categories were narrowed down to 34 drivers. With the Micro and Mini Max divisions staying with the full 36 pilots, just four Team USA members were able to move on in the DD2, DD2 Masters, Senior Max and Junior Max divisions.
---
Micro Max
James Egozi and Diego LaRoque continued to put themselves in the hunt for the first Micro Max world title. Each led during the nine-lap event, with Egozi able to edge out the competition for the victory to secure the pole position on Championship Saturday. LaRoque ended up fourth, and will go from the Final Saturday from a difficult outside row two.
#11 – James Egozi
Miami, Florida
RMCGF Appearances: none
Warm-Up: 1:11.124 (3rd)
Pre Final Grid: 4th
Pre Final: 1st +0.053 (1:11.927)
#12 – Diego LaRoque
Phoenix, Arizona
RMCGF Appearances: none
Warm-Up: 1:11.571 (4th)
Pre Final Grid: 8th
Pre Final: 4th +1.824 (1:12.211)
---
Mini Max
It looked to be another Team USA driver with a chance at a Pre Final win with Arias Deukmedjian. The third-place finisher at the US Rotax Grand Nationals was in a heated battle up front, jockeying for position. On lap seven, contact while making a pass for position sent he and Brit Jonny Edgar off course. Both drivers were able to continue, falling down the order. This promoted Luca Mars as the lead Team USA driver, advancing four positions over the 10 laps. Challenge of the Americas Micro Max champion Ashton Torgerson also improved, working up to 17th, still not showing in the pace the other two Team USA drivers have.
#51 – Luca Mars
Sewickley, Pennsylvania
RMCGF Appearances: none
Warm-Up: 1:20.527 (15th)
Pre Final Grid: 14th
Pre Final: 10th +6.069 (1:07.643)
#52 – Ashton Torgerson
Central Point, Oregon
RMCGF Appearances: none
Warm-Up: 1:17.263 (1st)
Pre Final Grid: 24th
Pre Final: 17th +15.236 (1:08.648)
#54 – Arias Deukmedjian
Orlando, Florida
RMCGF Appearances: none
Warm-Up: 1:37.505 (34th)
Pre Final Grid: 3rd
Pre Final: 29th +21.997 (1:07.938)
---
Junior Max
The Rotax Grand Finals always provides some drama regarding changing weather conditions. Today was the Pre Final A session, with a slight rain shower passing just before their event. The service park was busy with drivers trying to make a decision and officials delaying the race for five minutes. Nearly everyone went out on slick tires except for a few with looming clouds overhead. Just three laps into the race, the clouds opened up. The select few drivers on wet Mojo tires knifed their way to the front, taking the top three positions. For the rest of the field it was about holding on. Last year's runner-up Mathias Ramirez and Nicholas Brueckner were up into the qualifying positions, and when the rain came, dropped down the order. Brueckner had an issue, falling to the tail of the field while Ramirez fought for a transfer position. Mathias was able to move up to 14th by the end, promoted to 11th after penalties to earn a spot in Championship Saturday, with Brueckner ending his first RMCGF early classified in 27th.
Michael d'Orlando was working to become the second Team USA driver to transfer to the Final on Championship Saturday. Lap after lap, he worked himself into the top-17, only for trouble to come on the final lap. Michael was spun around in the wet session, dropping out of a transfer spot. Dylan Tavella was not able to get up to speed in the wet session, finishing a day short.
#101 – Michael d'Orlando
Hartsdale, New York
RMCGF Appearances: none
Warm-Up: N/A
Heat Classification: 20th (B-P10)
Pre Final: 22nd +39.006 (1:22.720)
#102 – Dylan Tavella
Massapequa, New York
RMCGF Appearances: none
Warm-Up: 1:21.908 (18th)
Heat Classification: 60th (B-P30)
Pre Final: 24th +42.224 (1:23.014)
#103 – Mathias Ramirez
Bradenton, Florida
RMCGF Appearances: 2015
Warm-Up: N/A
Heat Classification: 11th (A-P6)
Pre Final A: 11th +1:03.907 (1:07.831)
Final Grid: 21st
#113 – Nicholas Brueckner
Hockley, Texas
RMCGF Appearances: none
Warm-Up: N/A
Heat Classification: 49th (A-P25)
Pre Final A: 27th +1:30.862 (1:07.054)
---
Senior Max
Rain Mojo tires was the easy selection for Pre Final A as the track remained soaked. Craig started in a tough position on the grid, but avoided any issues in the opening lap. The two-time US Rotax Grand Nationals champion began climbing up early on, then fell lap by lap until lap 10. Fighting to hold onto his position, he was spun around in the final corner. That dropped him to 19th, out of the transfer positions. On the final lap, Craig worked past one driver, while another fell down the order to put him 17th at the checkered flag. The official results however show a 10-second penalty to Craig for an on-track infraction, relegating him down to 19th and out of the Final.
Challenge of the Americas champion Christian Brooks did exactly what he needed to do. Stay out of trouble in the at the start, run a clean race, and avoid other drivers mistake that could cost you a top-17 finish. For that, Brooks drove a nice 15-lap segment to end up eighth – seventh after penalties – running lap times similar to that of the leader.
#205 – Jake Craig
Mission Viejo, California
RMCGF Appearances: 2011, 2013, 2014, 2015
Warm-Up: 1:19.648 (11th)
Heat Classification: 23rd (A-P12)
Pre Final A: 19th +49.927 (1:22.264) +10.000
#235 – Christian Brooks
Santa Clarita, California
RMCGF Appearances: 2014, 2015
Warm-Up: 1:19.137 (6th)
Heat Classification: 30th (B-P15)
Pre Final B: 7th +13.994 (1:21.388)
Final Grid: 14th
---
DD2 Masters
The Pre Final A was uneventful for the three Team USA drivers involved. Luis Schiavo remained at the front, dropping just a bit to fourth in the wet session. Derek Wang improved his position up to eighth, earning one more spot after penalties, to ensure his transfer into tomorrow's Final. Billy Cleavelin experienced his first full wet session in a DD2 machine, driving to 30th.
The stage was set for Mike Jones, who was hoping for a wet circuit heading into today's Pre Final. Jones fell from seventh to 11th at the start, surrounded by a gaggle of karts all looking to move forward. Jones fell to 16th by lap four when trouble struck, as the Challenge of the Americas Masters Max champion was spun around. It dropped him down the order and out of contention for a transfer spot. Nathan Mauel was left for Team USA, and at one point was in the top-17, but fell back to 19th.
#403 – Derek Wang
Seattle, Washington
RMCGF Appearances: 2010, 2011, 2013, 2014, 2015
Warm-Up: 1:16.486 (8th)
Heat Classification: 29th (A-P15)
Pre Final: 7th +21.763 (1:20.986)
Final Grid: 14th
#410 – Nathan Mauel
Broken Arrow, Oklahoma
RMCGF Appearances: 2004, 2005, 2006, 2008, 2009, 2015
Warm-Up: 1:17.167 (23rd)
Heat Classification: 48th (B-P24)
Pre Final B: 19th +31.151 (1:21.290)
#419 – Billy Cleavelin
Shell Beach, California
RMCGF Appearances: none
Warm-Up: 1:18.421 (28th)
Heat Classification: 41st (A-P21)
Pre Final: 30th +1 Lap (1:23.424)
#433 – Mike Jones
Union Valley, Texas
RMCGF Appearances: 2012, 2013, 2014
Warm-Up: N/A
Heat Classification: 14th (B-P7)
Pre Final B: 23rd +36.164 (1:20.725)
#446 – Luis Schiavo
Miami, Florida
RMCGF Appearances: 2010, 2014, 2015
Warm-Up: 1:16.213 (10th)
Heat Classification: 3rd (A-P2)
Pre Final: 3rd +11.202 (1:20.530)
Final Grid: 6th
---
DD2
Friday was the end to a difficult week for the two Team USA DD2 drivers. Both were placed in the Pre Final B event, positioned outside the top-17 they needed to be in to transfer to Championship Saturday. Christian Munoz had the better starting position, but a rough opening lap demoted him down to 29th, with Dev Gore coming across the line in 30th. They were unable to navigate forward, end their 2016 RMCGF event.
#313 – Christian Munoz
Miami, Florida
RMCGF Appearances: 2013
Warm-Up: 1:18.419 (30th)
Heat Classification: 42nd (B-P21)
Pre Final B: 24th +41.700 (1:20.040)
#338 – Dev Gore
Atlanta, Georgia
RMCGF Appearances: none
Warm-Up: 1:10.060 (10th)
Heat Classification: 50th (B-P25)
Pre Final B: 28th +45.254 (1:19.943)