So Cal Oval Karters Only Road Race This Saturday at Perris Auto Speedway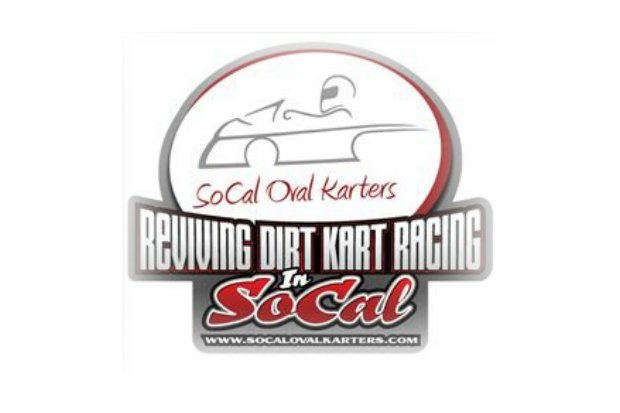 After five weeks off, the So Cal Oval Karters return to action at one of their most anticipated events of the 2016 season this Saturday, October 22, at Perris Auto Speedway.  Saturday's race, which is round #9 on the schedule for the SCOK, will be the only road race this year.
Track promoter Don Kazarian and track man Rick Fulton will cut a road course into the center of the infield for the annual event which will be staged under the sun.  The grandstands and concession stands will not be open for the race so fans are urged to bring chairs and coolers to watch all of the action from trackside.  Admission is $10.00 and entrance for all will be through the track's pit gate.  Gates will open at 9:00 AM and the karts will hit the track for practice at 11:30.
In addition to the five classes of SCOK –  KT100's, Senior 4 Cycles, F200's, Open Class and the Junior/Juniors – the Senior and Junior class karts from Wheel2Wheel Raceway will also be in action this Saturday.
Highlighting Saturday's show will be the KT100 class where rivals Chris Southern of Hesperia and Joe Gibb of Long Beach will butt heads once again as they come into the race in a virtual tie for the class point lead.  Besides Southern and Gibb sharing the top of the KT100 points heap, Gibb leads the points in the Open class, Menifee's Don Holdsworth is the leader in the Senior 4 Cycles and Steve Juillerat sits on top of the F200 standings.
At last year's PAS road race, Oxnard's Rob Marion took home the trophy in the KT100's, Matt Martis of Bonita grabbed the checkered flag in the Senior 4 Cycles and "Hubcap Mike" Collins of Lake Forest was victorious in the Opens.
After Saturday's twisty turn left and right race, only two events will remain on the 2016 SCOK championship schedule.   The first will be back at Perris on November 5 and the season closer will take place at Wheel2Wheel Raceway in Victorville on November 19.
The So Cal Oval Karters would like to thank the following sponsors for helping make the 2016 championship series possible.  Burris Racing, Cory Kruseman Sprint Car Driving School, Hubcapmike.com, Perris Auto Speedway, R&J Motorsports, THC Home Medical Services, T-MAC Racing and Yamaha of America Racing Engines.  If you or your business would like to become a partner of the So Cal Oval Karters 2016 season, please call or E-mail Mike Nigh at (805) 857-2595 or mailto:scokart@gmail.com.
Point Standings
KT100
1. Chris Southern – Hesperia – 1195
1. Joe Gibb – Long Beach – 1195
3. Rob Marion – Oxnard – 1140
4. Thomas Southern – Hesperia – 1124 *
5. Randy Truax – San Diego –  934
Open Class
1. Joe Gibb – Long Beach – 1260
2. Dillon Hoffman – Cathedral City – 1155
3. Scott Bohle – Fountain Valley – 1150
4. Norm Reynolds – San Marcos – 940
5. Chris Southern – Hesperia – 840
Senior 4 Cycles
1. Don Holdsworth – Menifee – 1230
2. Desiree Gaynor – Banning – 1146
3. Tony de Almeida – Chino Hills – 821
4. John Leonhart – Norwalk – 782
5. Ryan Sherman – Lake Elsinore – 680
F200
1. Steve Juillerat – Whittier – 1205
2. Scott Gaynor – Banning – 1190
3. Justin Garcia – Riverside – 825
4. Troy McIntosh – Lake Elsinore – 520
5. Jason Voss – Lake Elsinore – 485
KT100 Main Event Winners
3-12 Wheel2Wheel – Chris Southern
4-23 Wheel2Wheel – Chris Southern
5-14 Wheel2Wheel – Chris Southern
6-4   Wheel2Wheel – Chris Southern
6-18 Perris Auto Speedway – Joe Gibb
7-23 Wheel2Wheel – Joe Gibb
8-6 Grand Arena at Industry Hills – Chris Gibb
9-17 Wheel2Wheel – Thomas Southern
F200 Main Event Winners
3-12 Wheel2Wheel – Jason Morheiser
4-23 Wheel2Wheel – Steve Juillerat
5-14 Wheel2Wheel – Troy McIntosh
6-4   Wheel2Wheel – Steve Juillerat
6-18 Perris Auto Speedway – Steve Juillerat
7-23 Wheel2Wheel – Steve Juillerat
8-6 Grand Arena at Industry Hills – Scott Gaynor
9-17 Wheel2Wheel – Scott Gaynor
SR 4 Cycle Main Event Winners
3-12 Wheel2Wheel – Jason Morheiser
4-23 Wheel2Wheel – Don Holdsworth
5-14 Wheel2Wheel – Don Holdsworth
6-4   Wheel2Wheel –  Don Holdsworth
6-18 Perris Auto Speedway – Don Holdsworth
7-23 Wheel2Wheel – Don Holdsworth
8-6 Grand Arena at Industry Hills – Ryan Sherman
9-17 Wheel2Wheel – Bryan Dawley
Open Class Main Event Winners
3-12 Wheel2Wheel – Joe Gibb
4-23 Wheel2Wheel – Joe Gibb
5-14 Wheel2Wheel – Joe Gibb
6-4   Wheel2Wheel – Chris Southern
6-25 Perris Auto Speedway – Joe Gibb
7-23 Wheel2Wheel – Joe Gibb
8-6 Grand Arena at Industry Hills – Joe Gibb
9-17 Wheel2Wheel – Joe Gibb