World Champions Welcomed to the Gold Coast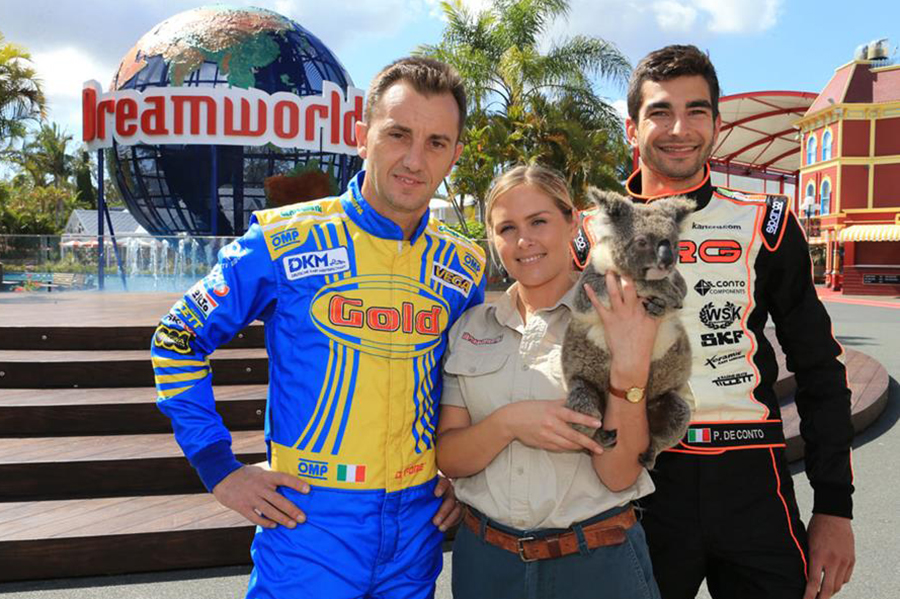 Five-times World Karting Champion Davide Forè (left) and reigning World Champion Paolo De Conto were welcomed to the Gold Coast this morning (Pic: Coopers Photography)
World Karting Champions Paolo De Conto and Davide Forè have been welcomed to the Gold Coast during a visit to one of the regions most famous attractions – Dreamworld.
The Italian pair, who have secured six World Championships between them, are in Australia for this weekend's Race of Stars International Karting event as a part of the SuperFest leading into the Castrol Gold Coast 600.
For De Conto, it's his first visit to Australia and he's already thoroughly enjoying his time after meeting a koala at Dreamworld this morning. Dreamworld, through the Dreamworld Wildlife Foundation is a significant contributor to koala and native wildlife conservation across Australia.
"When I think of Australia I think of koalas and kangaroos, so it was an amazing experience to be able to hold one this morning," said 24 year-old De Conto.
"I only landed in Australia on Tuesday night but already I have really enjoyed seeing the beaches and how beautiful the Gold Coast is."
Forè, a two-time winner of the Race of Stars event, rates the Gold Coast as one of his favourite destinations in the world.
"We travel a lot with our racing but we never go anywhere as beautiful as the Gold Coast.  It is fantastic and I really enjoy coming here," said Forè.
The Race of Stars will see the two Italians line up against last year's runner-up Dutchman Marijn Kremers and 20 of Australia's best drivers in the elite KZ2 class.  Also competing among the 200 competitors are visitors from Singapore, the Phillipines and New Zealand, making it drivers from six different countries in attendance.
"I've won two surfboards (the trophy awarded to the winner) and I want to make it three this weekend but the competition is going to be very tough," said Forè.
"Last year I had a great battle with Kyle (Ensbey) and (Marijn) Kremers was also very fast.  Now with Paolo here it's going to be an even better race.  I'm really looking forward to putting on a good show for everyone but hopefully it will be me who wins."
De Conto however, has other ideas.
"Davide has been talking up the fact that he has won these great surfboard trophies, now that I've seen one I really want to win one as well," said De Conto, who will drive for the CRG Australia team this weekend.
"I saw the track for the first time yesterday.  It looks like it is very fast and going to be exciting."
While at Dreamworld the pair also tried their hand at the V8 Redline Simulators in the Park's Motorsports Experience, which will host an adrenaline-packed breakfast for motor racing fans this Tuesday (18/10).
Held as a part of the official GC600 Superfest program, the breakfast guests will enjoy a morning in Brock's Garage amongst the world's largest collection of Peter Brock racing cars with opportunities to meet the Supercar drivers James Courtney, Chaz Mostert and Steve Owen.
Practice for the Race of Stars begins tomorrow ahead of qualifying and the heat races on Saturday.  The Finals will be contested on Sunday.
The Xtreme Karting Complex is located on Pimpama-Jacobs Well Road, Pimpama.  Entry for spectators is free.
SuperFest – an initiative of the Queensland Government, City of Gold Coast and Supercars Australia – is a community events program that provides support to organisations and groups wishing to host events and projects that contribute to the festival surrounding the Castrol Gold Coast 600.