Inverness City Announces Grand Prix Event Details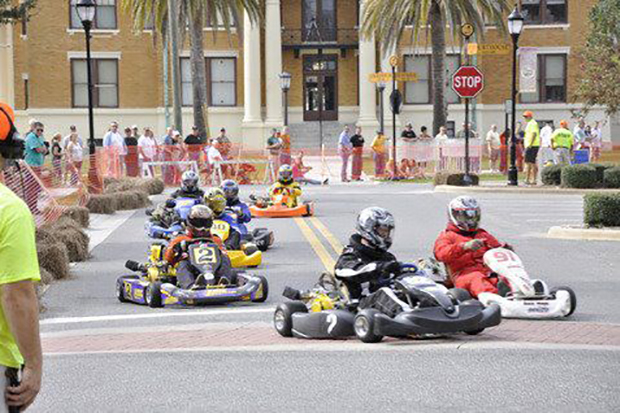 The Inverness Grand Prix & Motorsports Festival, is set for November 18-19, 2016 in downtown Inverness, announces the entertainment and race class list for this 2-day event.
Friday, Nov. 18, 2016 will kick off at 5 p.m. with vendors and music. Starting at 7 p.m. is a free concert by regional favorite Stormbringer. While the concert is underway, event volunteers will transform the streets of downtown into a race track. Street races start at 10 a.m. on Saturday.
One of the event founders and race directors, Harry Lewis, explains, "this is the only street race in the southeastern United States, making it a rare opportunity for karting enthusiasts. It is 3/8 mile course that offers challenges from road surface, five turns and a 680-foot back stretch where karts have been clocked at 72 miles per hour. It is a big job preparing the track and ensuring safety."
2016 Inverness Grand Prix Class list
AKC Youth And Sportsman
JR3/BSP Medium/206 Medium
Tag Jr.
BSP Heavy/206 Heavy
Tag Heavy/Tag Senior
Yamaha Animal Challenge
AKC Heavy
206 Masters/BSP Super Heavy
Champ Karts Box Stock/Flathead
AKC Modifieds
This event is free and open to spectators.
Inverness Grand Prix & Motorsports Festival
Friday Nov. 18, 2016 starts at 5 p.m. and Strombringer is at 7 p.m.
Saturday, Nov. 19, 2016 starts at 10 a.m.
1 Courthouse Square, Inverness, FL
352-726-2611 x 1306
Register to drive at MotorsportReg.com under the Inverness Grand Prix event for 2016