Waiting for the Finale in Adria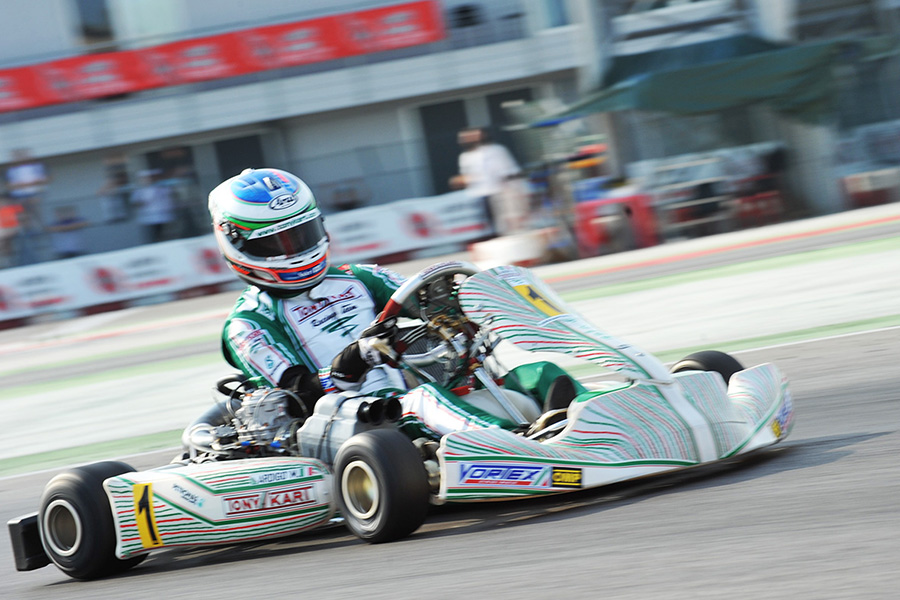 (Photo: Press.net Images)
It was an eventful day, full of gripping heats: 24 were the races which were run at the Adria Karting Raceway to establish the starting grids of tomorrow's WSK Final Cup Pre-finals and their six pole-sitters. All the races took place with summerlike weather: heated climate also on track, with breath-taking battles which are only a foretaste of what is going to happen in tomorrow's finale. Don't miss the live streaming of WSK Promotion, which will cover all Sunday's programme. The streaming is available on the official website www.wsk.it.
Hat-trick for Ardigò in KZ2
In KZ2, the Italian Marco Ardigò won today's three heats and he will be the pole-sitter in tomorrow's Pre-final. Next to him his fellow countryman Alessio Piccini (both on TonyKart-Vortex-Vega), always in the three top positions in all the heats. Second row, after his good results in qualifying, for the Italian Francesco Iacovacci (Luxor-LKE-Vega), ahead of the New Zealander Marcus Armstrong (TonyKart-Vortex).
Basz aims at success in OK
The Polish Karol Basz (Kosmic-Vortex-Vega) definitely aims at winning the trophy: he won twice today. The British Clement Novalak (Tony Kart-Vortex) will try to foil his plans of victory: he won the third heat and he will fill the second slot on the grid of the Pre-final, with Basz in pole position. Behind them the Italian Leonardo Lorandi (Tony Kart-Vortex) and the Finnish Paavo Tonteri (CRG-Parilla), the most consistent drivers of the pack on a day which was full of troubles for the frontrunners.
No-one beats Martins in OKJ heats
In OKJ, the French Victor Martins (Kosmic-Parilla-Vega) won all the four heats he took part in and clinched the pole position of the Pre-final A. The front row is completed by the Danish Noah Watt (Tony Kart-Vortex), winner in one of the heats. The pole-sitter of the Pre-final B, thanks to his victory, will be the Spanish David Vidales (Tony Kart-Vortex). Second slot for the Moroccan Sami Taoufik (FA-Vortex).
Caglioni leads the pack in the 60 Mini
The long list of the 73 entrants of the 60 Mini found its leader: the Italian Leonardo Caglioni (Evokart-TM-Vega), winner in three heats. Two victories for the American Ugo Ugochukwu (Energy-Iame). The two drivers will be the pole-sitters of the Pre-finals A and B: next to them the Spanish Jose Gomez Hernandez and the French Evann Mallet (both on CRG-TM): they both won once today.