The Race to the WSK Final Cup Begsin in Adria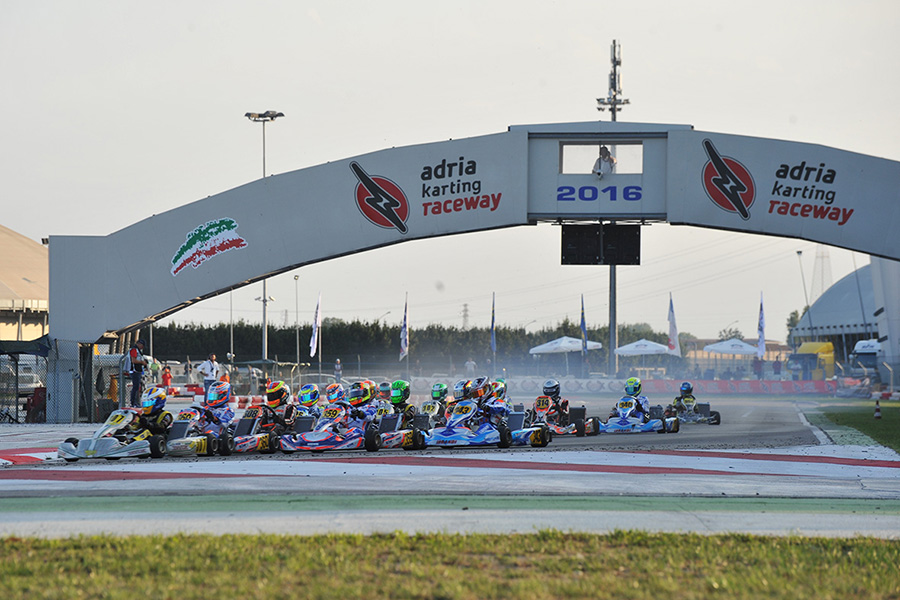 (Photo: Press.net Images)
The weekend in Adria (Rovigo, Italy) opened in the best way possible: 176 drivers met for the first racing day of the WSK Final Cup at the Adria Karting Raceway. The single round event represents a golden opportunity to finish the season with a bang. On the 1,302 metres of the northern Italian circuit, this morning drivers coming from 32 countries from all around the world (Africa, Latin America, Oceania, Middle East, North America, Europe) underwent scrutineering and are now ready to battle on track. We saw the first duels during this afternoon qualifying: an anticipation of the show we are going to see tomorrow during the heats. The first two heats were run today in the evening: tomorrow the remaining 26 races.
All the duels live in streaming from the Adria Karting Raceway
There are all the ingredients for a great racing weekend. Fans will be able to see the competition also on the Internet thanks to the live streaming produced by WSK Promotion. The streaming will cover the whole programme (Pre-finals and Finals of the 60 Mini, OK Junior, OK and KZ2 categories) on Sunday 2nd October and it will be aired on the official web-channel www.wsk.it.
Iacovacci (KZ2), Novalak (OK) and Watt (OKJ) are the fastest in qualifying
In KZ2, the Italian Francesco Iacovacci (Luxor-LKE-Vega), with his 43"333, was a hundredth of a second faster than Marcus Armstrong (TonyKart-Vortex-Vega), from New Zealand. Iacovacci will be the pole sitter with Armstrong filling the second slot: third time for the Italian Marco Ardigò (TonyKart-Vortex-Vega), at his comeback to KZ2 expressly for this race. Ardigò placed ahead of another Italian, Daniele Vezzelli (CRG-Modena-Vega). The situation is uncertain in the OK too: the British Clement Novalak (Tonykart-Vortex-Vega) is the pole-sitter thanks to his 47"065, 193 milliseconds ahead of the Polish Karol Basz (Kosmic-Vortex-Vega). The Russian Alexander Smolyar (TonyKart-Vortex-Vega) scored the third best performance in 47"313, three tenths of a second better than the British Tom Joyner (Zanardi-Parilla-Vega). Closer gaps between the two top drivers in the OK Junior, with the Danish Noah Watt who finished ahead of the Swedish Hampus Eriksson (both on Tony Kart-Vortex-Vega) for only 67 milliseconds. After them, in second row, the French Theo Pourchaire and the Russian Ivan Berets (both on Kosmic-Vortex-Vega). The 60 Mini, after that 73 drivers passed scrutineering, today had its free practice session. For the junior drivers of the category, qualifying will start tomorrow.