Awning Company Super One Series Final Round: PF International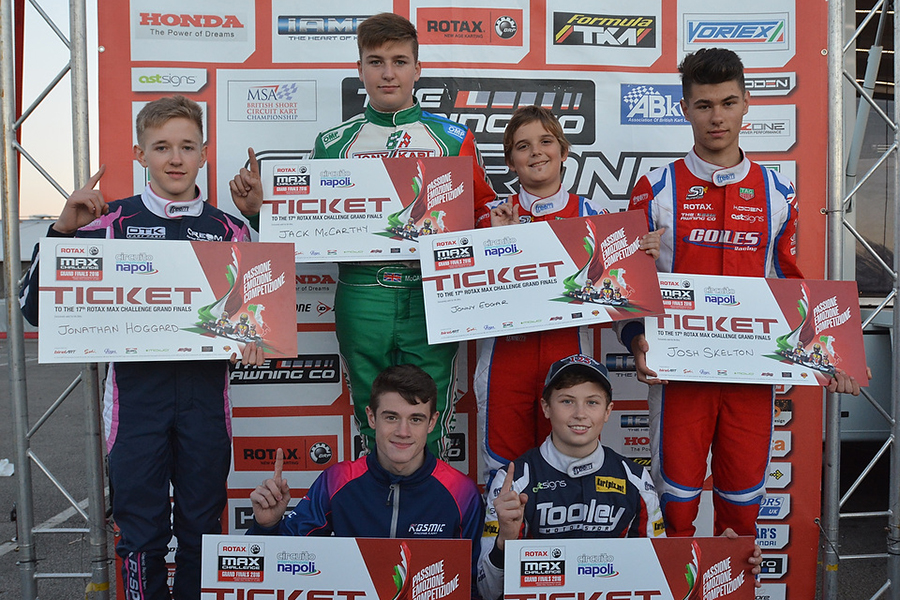 (Photo: kartpix.net)
Eleven classes and 280 competitors set the scene for an exciting Super One finalé at the UK's best appointed circuit, PF International.  Three titles had been settled prior to this last round, the rest would be fought out through three long days.  Some big prizes were on offer, OTK factory supported free entries for the OK and OKJ, several free entries to the Rotax Max Challenge International finals including for the first time one from MiniMax, and three entries in each of the X30 classes to their International final.  Saturday for the heats had been sunny and dry but overnight rain left the track wet for the first three finals.
ABkC Honda Cadet National Championship
Sunday's finals day kicked off with the Honda, the second biggest class in the series. Justin Breward was quickest in timed qualifying from James Walker, Tom Lebbon and Oliver Bearman.  Harry Thompson, Walker and Wesley Mason won the heats, new champion Thompson recovering well from a poor TQ.  Mason was quickly shuffled out of the lead by Thompson, all on wets in the first Final.  Heading and Bearman had penalties in Heat One and whilst Heading spun to the back, Bearman was swiftly into lead contention shadowing Thompson.  Walker clawed his way to the lead due and traded second with Bearman allowing Thompson a cushion but Bearman threw off the challenge and came back for a close second.  Caden McQueen headed the fourth place battle over Alex Eades and Mason.  With the second final in sunny warm conditions, Bearman snatched the lead but Thompson was soon back in charge.  Mason leapfrogged McQueen to enter the lead battle, Thompson now down to fourth whilst Mason and Bearman fought it out.  With great skill Thompson swooped round the outside of the first hairpin to grab the win once more over Bearman, who is easily second in the series from McQeen and Eades.
Final 1 (10 laps) 1 Harry Thompson (CER/Synergy); 2 Oliver Bearman (Virtus Motorsport/Project One); 3 James Walker (CER/Synergy); 4 Caden McQueen (Privateer/ZIP); 5 Alex Eades (Global Karting/BRK); 6 Wesley Mason (Project One/Project One).
Final 2 (12 laps) 1 Thompson; 2 Bearman; 3 Mason; 4 Oliver Greenall (Evolution Racing/Project One); 5 Walker; 6 McQueen.
ABkC Junior TKM National Championship
Lee Whittingham had the best pace in the time trials over Abbi Pulling and Bradley White whilst Adam Sparrow had one heat win and Whittingham the other.  Sparrow got a tremendous start in the first final and never looked back as he was over 4s to the good by the chequer.  Three abreast out of the first hairpin had Joe Fowler breaking clear of Bradley White and Whittingham whilst Pulling had ben rather mired in eighth.  But she put on a late spurt on the drying track, clambering up to fourth.  The title was finely balanced as White and Fowler hindered their chances with a clash over the bridge.  Sparrow was turned sideways out of the lead in favour of Ian Sisson but he in turn was shuffled back by Whittingham and Pulling.  White was frantically trying to recover so when Sissons came off on the last lap clashing with Kristian Brierley ninth place was just enough to give him the title by two points on Pulling.  Whittingham had held Pulling off to win the race with Sparrow and James Pashley a distant third and fourth.
Final 1 (11 laps) 1 Adam Sparrow (Tal-Ko Racing/Tal-Ko); 2 Joe Fowler (Jade Karts/Jade); 3 Bradley White (Tal-Ko Racing/Tal-Ko); 4 Abbi Pulling (Tal-Ko Racing/Tal-Ko); 5 Ian Sisson (Privateer/Jade); 6 Lee Whittingham (Privateer/Tonykart).
Final 2 (13 laps) 1 Whittingham; 2 Pulling; 3 Sparrow; 4 James Pashley (Privateer/Jade); 5 Jordan Lee-Chapman (Privateer/Tonykart); 6 Fowler.
ABkC TKM Extreme National Championship
Joe Stockford then Louis Back and Matthew Taylor were on top of the 43 kart timed qualifying list, the series' biggest class.  Phil Smith won two heats and Christopher Whitton the other.  Rookie Harry Moore was leading the championship but losing places in the first final, then getting a front fairing penalty along with three others.  Whitton quickly usurped Smith for a massive lead to the chequered flag, Smith hanging on for second on a rapidly drying track.  Defending champion Matt England was at the back then retired.  Kyle Sproat held off Sam Fowler for third.  Whitton made a great start in the second final, a long way clear of Smith who was forced back as Sproat and Owain Rosser contested second.  Smith came back to the front of that group to help reel in Whitton who faded rapidly to eighth.  Smith and Rosser blocked each other at the front allowing Fowler and Sproat to lead over the finish.  Moore's tenth was easily enough for the title whilst Sproat catapulted into second for vice champion, England falling to sixth.  Six drivers had the 10s penalties for displaced front fairings, a rough and tumble race!
Final 1 (12 laps) 1 Christopher Whitton (Litchfield Motorsport/Tonykart); 2 Phil Smith (Precision Racing/Tonykart); 3 Kyle Sproat (Litchfield Motorsport/Tonykart); 4 Sam Fowler (Jade Karts/Jade); 5 Joe Stockford (Privateer/Jade); 6 Owain Rosser (Jade Karts/Jade).
Final 2 (13 laps) 1 Fowler; 2 Sproat; 3 Smith; 4 Rosser; 5 Andrew Lawrence (TWM/Tonykart); 6 Ryan Edwards (Flex Motorsport/Tonykart).
Junior X30 International Qualifier
Angus Fender just had the edge on Oliver Clarke in the time trials but Clarke won both heats.  Championship leader Gordon Mutch suffered a heat exclusion although being able to drop two rounds in this series would help him against Fender later.  Oliver Clarke fought off a challenge from Henry Laws round the hairpins in Final One then succumbed to Reggie Duhy who in turn was displaced by Evan Cook with all but one kart now on slicks.  A sideways moment over the bridge lost Duhy the lead, Clarke coming back to the front.  Another grassy moment put Duhy back to eighth whilst Fender relieved Cook of second on he last lap.  However Clarke had a 10s penalty for driving standards whilst Mutch, Duhy, Laws and Oliver Greetham had 10s penalties for displaced front fairing leaving Fender with the win.  Fender took a big lead at the start of the second final, Louie Westover leapfrogging Cook for second.  Clarke was on a mission, carving through the field and when Fender faded back towards Westover, Clarke pounced on both.  Mutch was also racing through the field, coming up to second at the end which was just enough to give him the overall lead by 3 points over Fender.  Fender's fourth place behind Westover was not quite enough but they will do battle again at the X30 international finals.
Final 1 (13 laps) 1 Angus Fender (Jade Karts/Gold); 2 Evan Cook (Jade Karts/Gold); 3 Abigail Ross (AMT Services/Tony); 4 Louie Westover (Privateer/OTK); 5 James Taylor (KMS/Tony); 6 Tom Westworth (Intrepid UK/Intrepid).
Final 2 (13 laps) 1 Oliver Clarke (M Sport/Tony); 2 Gordon Mutch (Clan Racing/Mad Croc); 3 Louie Westover (Privateer/OTK); 4 Angus Fender (Jade Karts/Gold); 5 Oliver Greetham (S8 Racing/Alonso); 6 Evan Cook (Jade Karts/Gold).
MSA British Cadet Kart Championship (IAME)
Joshua Rattican had tied at the top of the timed qualifying table with Bray Kenneally with new champion Harry Thompson hard on their heels.  Thompson must have won more Cadet titles in one season than anyone else.  He also won two of the heats, Kenneally the other.  As Thompson led the first final, Rattican came up to challenge Taylor Barnard for second.  Having thrown that off Taylor punched into the lead, Georgi Dimitrov came through to trade the lead and Thompson dropped to fourth.  Into the penultimate lap and Barnard took the lead over Dimitrov whilst Rattican put Thompson to fourth.  Down the hill on the last lap Dimitrov regained the lead, then Rattican executed a switchback to put him down to fifth.  Yet through the last corners the incredible Thompson outwitted the others to snatch the win by 0.02s over Rattican, Taylor and Jonny Wilkinson.  Thompson's initial lead in the second final was soon eroded by Rattican who was briefly first until Dimitrov assumed the position.  Challenging Kenneally for third, Taylor spun onto the grass at turn one, another pair cutting over the grass in avoidance with little loss.  Luckily Taylor had enough points in hand to save the vice-champion position.  Thompson found a winning pass over the bridge, Dimitrov deposed to second and Kenneally third.
Final 1 (12 laps) 1 Harry Thompson (Fusion/Synergy); 2 Joshua Rattican (AIM Motorsport/Synergy); 3 Joseph Taylor (Fusion/Synergy); 4 Jonny Wilkinson (KMS/ZIP); 5 Georgi Dimitrov (Fusion/Synergy); 6 Taylor Barnard (OWR/Synergy).
Final 2 (12 laps) 1 Thompson; 2 Dimitrov; 3 Kenneally; 4 Barnard; 5 Rattican; 6 Arvid Lindblad (AIM Motorsport/ZIP).
MSA Junior British Kart Championship (OKJ)
With an entry slightly smaller than before all Jonathan Hoggard needed was some finishes to win the British Junior crown.  Mark Kimber had been fastest in qualifying and he and Morgan Porter won the heats.  Max Jeanne swooped past Porter for the first final lead whilst Hoggard did a few laps at the back then went in.  Meanwhile Porter, Jeanne and Chris Lulham entertained at the front, swapping the lead until Lulham consolidated the position at turn one.  Jeanne ran wide at the second hairpin, offering second to Porter, but regained the place by the flag.  Final two had another good scrap for the win amongst Porter, Lulham and Jeanne.  Hoggard hung back then put in several fastest laps before cruising for the finish and the title.  Porter regained the lead to ensure second in the championship over Kimber who snatched second in the race, Jeanne and Lulham next.
Final 1 (14 laps) 1 Chris Lulham (Fusion Motorsport/Exprit); 2 Max Jeanne (Litchfield Motorsport/Tony); 3 Morgan Porter (BMR/Octane); 4 Mark Kimber (Strawberry Racing/Tony); 5 Bradley Barrett (Privateer/Alonso); 6 Kyle Connolly (M Sport/Tony).
Final 2 (14 laps) 1 Porter; 2 Kimber; 3 Jeanne; 4 Lulham; 5 Roman Haskett (Litchfield Motorsport/Tony); 6 Barrett.
MSA British Kart Championship (OK)
A great entry of seniors for the last round had Oliver Hodgson over Luke Knott and Jamie Flynn whilst points leader Dean MacDonald had no time.  Hodgson continued his clean sweep through the heats although MacDonald was third and fourth with fastest laps.  His championship hopes were dashed at the start of the first final as Knott and Hodgson seemed to touch spearing MacDonald over the grass and to last.  Ross Martin took up the lead but Hodgson was quick to recover past Flynn then sliced into the lead for an unchallenged win.  Martin was second on the road but had a front fairing penalty like Macdonald so Flynn reclaimed that spot.  Hodgson cruised to the second final win and with it the British title.  Jacob Stilp held a lonely second for much of the race until the flying Scotsman arrowed through to challenge.  No matter which side MacDonald tried the door was firmly closed so he had to settle for third and runner up in the championship.  Ross Martin retired three laps from the end whilst Roy Johnson also stopped just after claiming fourth over Tom Gamble.
Final 1 (14 laps) 1 Oliver Hodgson (PF International/Birel); 2 Jamie Flynn (RFM/Alonso); 3 Jacob Stilp (Mad Croc/Mad Croc); 4 Tom Gamble (Strawberry Racing/Tony); 5 Archie Tillett (Privateer/Fullerton); 6 Sam Faulkner (Birel ART UK/Birel ART).
Final 2 (14 laps) 1 Hodgson; 2 Stilp; 3 Dean Macdonald (Strawberry Racing/Tony); 4 Gamble; 5 Nicholas Scholl (Strawberry Racing/Tony); 6 Flynn.
Senior X30 International Qualifier
Thomas Turner topped the TQ from Matthew Hirst and went on to win both the heats.  He had Jordan Brown-Nutley for first final front row company with Hirst and Matthew Davies behind.  But Brown-Nutley spun at the first turn, leaving Turner in the lead and Josh Collings leapfrogging Hirst for second.  Hirst came back and broke away at the front behind Turner whilst Collings slipped back to eleventh.  A big final laps challenge by Hirst resulted in him running wide out of the bridge turn and losing ground, having to defend from Davies and Ben Davis.  Brett Ward was fifth and went into the second final two points ahead of Davies with Collings a further point back.  Collings could do no better than eighth and Ward fifth so when Davies overcame the challenges from Turner to win, the top spot for the International finals was his.  Euan Wilson came from ninth to fourth behind Hirst.
Final 1 (14 laps) 1 Thomas Turner (Mark Baines Motorsport/Mad Croc); 2 Matthew Hirst (KR Sport/Kosmic); 3 Matt Davies (Privateer/Tonykart); 4 Ben Davis (Dan Holland Racing/Alonso); 5 Brett Ward (MLC/Mach 1); 6 Jordan Brown (KR Sport/Kosmic).
Final 2 (14 laps) 1 Davies; 2 Turner; 3 Hirst; 4 Euan Wilson (S8 Racing/Alonso); 5 Ward; 6 Davis.
ABkC MiniMax National Championship
Jenson Butterfield had already won the ABkC title but that did not hinder him in his winning ways, and he won one heat with Lorcan Hanafin the other.  Alex Lloyd had been on pole for the heats after TQ success, back from injury.  Butterfield had not done quite so well in his other heat so lined up on the second row of the first final grid with Tom Canning and Jonny Edgar on the front row.  Multiple lead changes between Canning, Dexter Patterson, Hanafin and finally Butterfield entertained.  Patterson lost many places over the bridge leaving Butterfield and Canning to fight it out for the win, finishing in that order.  Edgar lost fourth near the end and would be given a penalty which he successfully appealed leaving him sixth.  So it was all very close for the vice champion spot going into the second final with a short rain shower to complicate matters.  Butterfield broke away at the front with Hanafin, Canning and Lloyd dicing for second.  Patterson spun to the back then Butterfield was caught with Lloyd taking over at the front.  Canning in third was only four points in arrears to Edgar for runner-up in the championship but as Lloyd was knocked back Butterfield again surged to the front displacing Hanafin. Canning lost further places on the last lap to Klaas Kookier and Ben Fayers but Edgar's sixth kept him overall runner-up.  He will go to the new MiniMax International Finals as he is of the right age unlike Butterfield.  The points may remain provisional if appeals are pending.
Final 1 (13 laps) 1 Jenson Butterfield (Strawberry Racing/Tony); 2 Tom Canning (KR Sport/Kosmic); 3 Lorcan Hanafin (Strawberry Racing/Tony); 4 Alex Lloyd (Dan Holland Racing/Alonso); 5 Klaas Kooiker (Tooley Motorsport/Tony); 6 Jonny Edgar (Coles Racing/Tony).
Final 2 (13 laps) 1 Butterfield; 2 Hanafin; 3 Kooiker; 4 Ben Fayers (Project One/Tony); 5 Canning; 6 Edgar.
ABkC Junior Max National Championship
Myles Apps had topped TQ from Rory Hudson and Jonathan Hoggard but William Pettitt had a front fairing penalty dropping him to last, he would play catch up through the heats.  They were won by Hudson and Hoggard.  Hudson ran wide on the opening laps of the first final dropping him down to fifth whilst Mark Kimber took up the lead over Myles Apps.  Pettitt was also quite a long way down.  Apps and Hoggard vied for the lead until Hudson managed to consolidate his position at the front with Hoggard vaulting by Kimber for second, the latter falling to fifth.  Pettitt charged up to third, but Apps fell to seventh.  Despite being only sixth Joe Turney was fairly clear in the title charge, although having already been given a ticket to the International Finals by BNL the Super One entries would go to the next two.  In the second final as Pettitt took over the lead Apps spun down the order.  Hoggard had fallen to sixth and started his charge through to the front.  Reaching third he found he found Pettitt challenging Hudson for the lead, and taking the win through the last complex.  Hoggard put his kart between them but he was then excluded for a driving offence losing his vice champion slot, and elevating Hudson to second.  Turney took the ABkC title from Pettitt and Hoggard.
Final 1 (13 laps) 1 Rory Hudson (Tooley Motorsport/Tony); 2 Jonathan Hoggard (KR Sport/Kosmic); 3 William Pettitt (Tooley Motorsport/Tony); 4 Tommy Foster (Privateer/Tony); 5 Mark Kimber (Strawberry Racing/Tony); 6 Joe Turney (KR Sport/Kosmic).
Final 2 (14 laps) 1 Pettitt; 2 Hudson; 3 Foster; 4 Kimber; 5 Tyler Chesterton (Coles Racing/Tony); 6 Turney.
ABkC Senior Max National Championship
Jack McCarthy topped TQ whilst Josh White and Josh Collings took the heat wins.  White took pole for the first final, McCarthy alongside and Harrison Thomas and Josh Skelton behind.  Collings was quickly into the lead over White until Thomas split them.  Skelton came up to second briefly before falling to fifth all his action letting Collings escape at the front.  McCarthy and White traded second, finishing in that order whilst Thomas defended fourth but lost to Skelton and was then penalised 10s.  For the second final Collings enjoyed a huge lead as the others fought behind.  Collings was awaiting the result of an appeal from an earlier exclusion which could lift him well up the final points order.  Meantime McCarthy finally got the better of White which tied them for the championship points lead but McCarthy had the title on countback, ahead of White, Skelton and Thomas.  The championship points remain provisional until the appeal is heard.
Final 1 (14 laps) 1 Josh Collings (Dan Holland Racing/Alonso); 2 Jack McCarthy (Strawberry Racing/Tony); 3 Josh White (Coles Racing/Tony); 4 Josh Skelton (Coles Racing/Tony); 5 James Johnson (Privateer/Tony); 6 Tom Croydon (Coles Racing/Tony).
Final 2 (14 laps) 1 Collings; 2 McCarthy; 3 White; 4 Johnson; 5 Ben Davis (Dan Holland Racing/Alonso); 6 Morgan Rose (Coles Racing/Tony).