CRG at the WSK Final Cup with Some Excellent Debuts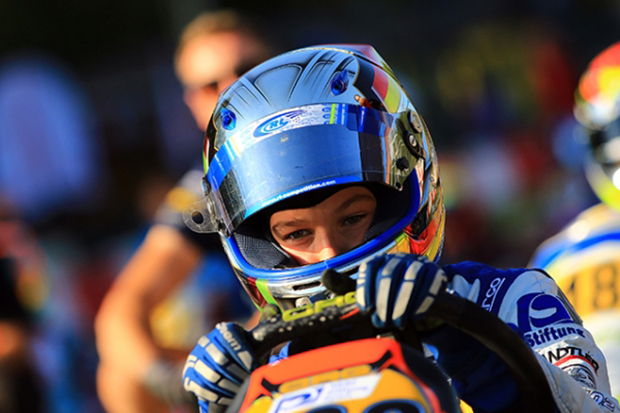 CRG will take to the debut several young drivers at the WSK Final Cup of Adria in Junior, eying the forthcoming appointments and in preparation of season 2017. CRG to field Tonteri and Joyner in OK. Strong presence in Mini with private teams.
The WSK Final Cup of Adria kicks off the season's finale as usual, a very intense period that this year will reach its conclusion in Bahrain next November 19th. This is an important moment for CRG to introduce a good number of new drivers ahead of next season.
CRG's squad is going to be strengthened from the forthcoming round of the WSK Final Cup of October 2nd, as several young drivers will join forces with the Italian outfit especially in Junior, alongside the fresh winner of the German DKM Championship Dennis Hauger.
CRG, A LOT OF NEW DRIVERS IN JUNIOR
Among CRG's new names, 60 Mini 2015 Italian Champion Mattia Michelotto, Lorenzo Ferrari, who run two races in DKM, former F1 driver Alessandro Nannini's cousin  Matteo Nannini, who has been putting in great performances in Rok Cup, and the young French Adam Eteki, are all ready to face this season's finale with CRG. They will also be competing in other important races, as in the case of Ferrari who will run the X30 International Final, the Trofeo delle Industrie and the World Championship in Bahrain, while Michelotto will be on track at the Trofeo delle Industrie and in the World Championship, Eteki will partake in the World Championship and Nannini in the Trofeo delle Industrie.
In the Junior category of the WSK Final Cup of Adria, CRG will also field the German  Marius Zug, who has performed very well in DKM, alongside his fellow countryman Valentino Fritsc. Also present for CRG, the Czech Dan Skocdopole and the Dutch Kas Haverkort of team CRG Keijzer Racing. Both drivers have put in strong performances in Germany.
THE NEW DKM CHAMPION TONTERI IN OK
The fresh champion of DKM from Finland, Paavo Tonteri will compete for CRG on CRG-Parilla in OK, alongside Tom Joyner on Zanardi-Parilla. Both drivers are ready to run a strong race before the closing appointment with the OK World Championship in Bahrain. 
A STRONG LINEUP ALSO IN MINI
CRG presence in 60 Mini – category that registered important numbers also in Adria – is going to be particularly strong thanks to private teams. Team Gamoto will lead the CRG lot with Han Cenyu, Alfio Spina, Jose Antonio Gomez, Evann Mallet, Gabriel Bortoleto, Martins Stenshorne, Adam Putera, Huang Xizheng, Nikhil Bohara, Arsch Bohara and Laurens Van Hoepen.
Team Morsicani will field Enzo Scionti, while Ean Eyckmans and Yani Stevenheydens will race for EGP Racing Team, and Lilly Zug for Team RL-Competition.com.
THE PROGRAMME (GMT+2)
Friday 30 September: qualifying OKJ, OK, KZ2 from 15:40; heats from 17:20.
Saturday 1 October: qualifying 60 Mini at 9:40; heats from 10:30.
Sunday 2 October: Prefinals from 10:30; Mini Final at 13.40; OK Final at 14:10; OKJ Final at 14.40, Final KZ2 at 15.10.