Stunning CRG in Kerpen! 4 out of 4 Titles in DKM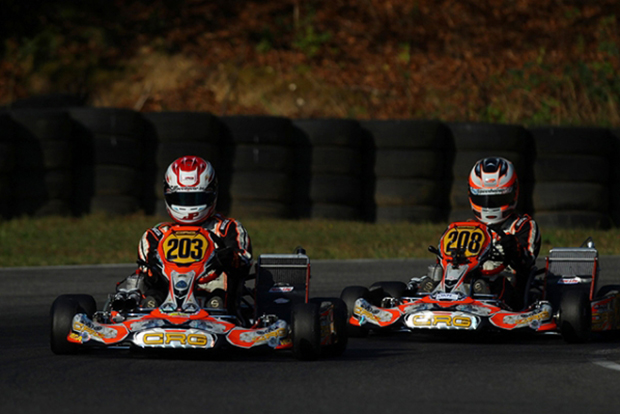 CRG claimed all available titles in the closing stage of the German Championship DKM. Jorrit Pex victorious in KZ2, Max Tubben in KZ2 Cup, Paavo Tonteri in OK and Dennis Hauger in OK Junior.
CRG obtained an exceptional result at the German Championship DKM, that is the most competitive National Championship in Europe thanks to the presence of works teams. CRG won all 4 titles that were up for grabs, a stunning and unprecedented result!
The final round of DKM held in Kerpen awarded the KZ2 title to Jorrit Pex on CRG-Tm (CRG Holland), as Max Tubben obtained the in KZ2 Cup's title on CRG-Tm (CRG Holland), while Paavo Tonteri on CRG-Parilla (CRG TB Racing Team) had already been in OK Champion since the race of Oschersleben, and Dennis Hauger was crowned OK Junior Champion on CRG-Parilla (CRG Holland).
The competitiveness of CRG chassis has been highlighted in this season finale on all the racing fields, starting from the KZ World Championship won by Paolo De Conto (CRG-Tm) in Sweden, the International CIK-FIA KZ2 title claimed by Pedro Hiltbrand (CRG-Maxter), who also won the Spanish Championship and the European OK Championship in Belgium on CRG-Parilla and the KZ2 European Championship won by Fabian Federer (CRG-Modena) in Belgium.
The Circuit of Kerpen witnessed the crushing finale put in by CRG drivers, that had taken the lead of DKM since the previous round of Oschersleben, before keeping their momentum and securing the titles in the closing round of the season.
FIFTH TITLE FOR JORRIT PEX (CRG-TM) IN KZ2
The Dutch driver Jorrit Pex built his KZ2 victory in Kerpen in a wise Final one, where he secured a fourth place that granted him the necessary points to claim his fifth DKM title after those won in 2011, 2012, 2013 and 2014, always on CRG. The first final was won by Jorrit's brother Stan Pex, also on CRG and, as Jorrit, back to using a Tm engine unit. Jorrit Pex was then sent off track in Race-2 when racing among the pace setters, but the title was already firmly in his hands. Stan Pex took another podium in P3 in this second Final. Among CRG drivers, the Dutch driver Bent Viscaal ended in Race-1's top ten in seventh place, while the Dutch Joey Hanssen was eighth in Race-2 and the Swede Benjamin Tornqvist was ninth.
Classification: 1. Jorrit Pex (CRG-Tm) points 191; 2. Forè 157; 3. Ardigò 155; 4. Hajek 155; 5. Stan Pex (CRG-Tm) 116; 6. Specken 111; 7. De Conto (CRG-Tm) 95; 8. Norris 78; 9. Amstrong 73; 10 Lundberg 56.
TUBBEN KZ2 CUP CHAMPION (CRG-TM)
In KZ2 Cup, the new category reserved to emerging drivers that have not already obtained strong results in DKM or International races, the young and brilliant driver of CRG Holland Max Tubben came to the fore on CRG-Tm, winning the title with a big margin to his rivals. Tubben won Final one, and then ended Race-2 in second place. These results, alongside the previous four wins in Wackersdorf and Oschersleben gave him the Championship lead ahead of team mate Symen Wiggers. A good performance in Race-1 was also put in by other CRG drivers, like the Dutch Jeroen Bos who was fourth, Symen Wiggers who followed him in fifth and the Swede Andreas Johansson ending eighth. Wiggers was ninth in Race-2 leading team mate Mark Potman.
Classification: 1. Tubben (CRG-Tm) points 215; 2. Wiggers (CRG-Tm) 138; 3. Kreutz 138; 4. Hold Maranello-Modena) 131; 5. Paul 118; 6. Mahler 97; 7. Weering (CRG-Tm) 91; 8. Bos (CRG-Tm) 83; 9. Weber 79; 10. Jocker 64.
PAAVO TONTERI (CRG-PARILLA) TAKING OK TITLE
The OK title was already firmly in Paavo Tonteri's hands on CRG-Parilla run by CRG TB Racing. Despite this, the Finn Tonteri did not miss the chance to fight for the victory in the first final, eventually settling for P4, followed at the flag by team mate Tim Troger, who has recently won the German ADAC title. Tonteri had to give up at Race-2's turn one due to an incident instead. The other two German drivers of CRG TB Racing Team, Luca Lippkau and Nermin Colakovic came to the fore in the second final, taking respectively the fifth and sixth place.
Classification: 1. Tonteri (CRG-Parilla) points 216; 2. Basz 167; 3. Simmenauer 139; 4. Novalak 130; 5. Brinkmann 120; 6. Milell 120; 7. Viscaal (CRG-Parilla) 96; 8. Troger (CRG-Parilla) 96; 9. Arnold 91; 10. Lippkau (CRG-Parilla) 86.
DENNIS HAUGER (CRG-PARILLA) VICTORIOUS IN OK JUNIOR
The young Norwegian of CRG Holland Dennis Hauger on CRG-Parilla has been very strong in Kerpen, running a perfect weekend that earned him the OK Junior title. Hauger – who comes from 60 Mini and is at his first season in Junior – has been stunning, taking a deserved maiden title in this category showing a great growth throughout the season. Hauger got to Kerpen as classification leader after the victory and third place secured in Oschersleben, but the classification was still wide open ahead of the final round. Hauger ended Race-1 in second place, behind team mate Kas Hoverkort on CRG-Tm run by CRG Keijzer Racing Team, but he got full haul as Hoverkort was transparent to the classification. Hauger secured another second place in Race-2, a result that confirmed his classification lead. Haverkort was again on the podium in P3. Among the fastest on CRG, Patricija Stalidzane of RL-Competition was sixth in Race-1, while Luca Maisch (Junior ADAC Champion) of CRG TB Racing Team was ninth. Lorenzo Ferrari took a good 13th place, and  Niels Troger the 14th. Troger ended Race-2 in P8, while Renzo Alibaks was 14th and Marius Zug 15th.
Classification: 1. Dennis Hauger (CRG-Parilla) points 209; 2. Milesi 190; 3. Pourchaire 125; 4. Vidales 123; 5. Hansen 103; 6. Ptacek 90; 7. Marseglia 89; 8. Wankmuller 82; 9. Luca Maish (CRG-Parilla) 80; 10. Ghattas 79.