d'Orlando Brothers Ready for Remainder of 2016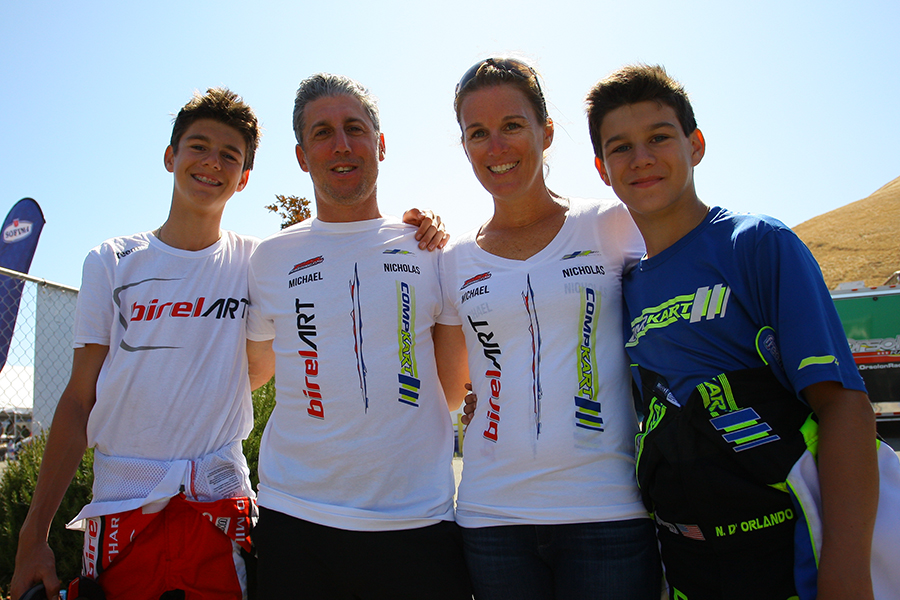 What an exciting 2016 racing season thus far for the d'Orlando brothers, as they now prepare to close out the 2016 season at some of the worlds' biggest events. Both drivers have exceeded expectations in their sophomore and rookie campaigns in the junior ranks, and look to keep those expectations high as they prepare for the closing months of what has been a season full of change and great success.
Michael and Nicholas d'Orlando kicked off their racing season in beautiful sunny Florida, in January, at the coveted international competition of the Florida Winter Tour.  Under direction of team Koene USA, starting their 4th year together, on the world renowned TonyKart chassis, Michael topped the series with a Rotax Junior Championship and earned a spot on Team USA for the Grand Finals, in addition to the Junior Rok Vice-Championship.  Nicholas also had an incredible start of the year with a pole position as well as heat race wins in the series, proving he would be one to watch out for as he began his rookie campaign in the junior categories.
After the Florida Winter Tour, the d'Orlando camp made the tough decision to make a team change to start the spring season.  Michael would join the historic powerhouse factory team of Birel ART, based in Milan, Italy, and would move on to race in various CIK-FIA European Championship events against the best junior drivers in the world, while also compete in a limited North American schedule with North America's powerhouse Birel ART importer, team PSL Karting.  Nicholas would return to familiar territory and re-join Pennsylvania's legendary J3 Competition, with whom he competed in 2012, to become a factory pilot for their very own chassis brand, COMPKART.  He would compete in North America's top national and regional series events for his junior rookie season.
Michael saw some early success at his new level of competition, showing impressive results in only his second European event.  Nicholas showed he was ready to race against the top US and international competitors earning multiple race wins and top 10 finishes in various national & regional competitions.  But after competing separately for the first time in their 8 year careers, with both drivers' traveling in different directions across the span of 6 countries, 6 US states and 2 continents, the dynamic d'Orlando brothers would finally be together again at Simraceway Performance Driving Center in Sonoma, CA for the 2016 Rotax US Grand Nationals in August.  Although they were now a 'house divided', it continued to be a joint effort to support each other in pursuit of another national championship title, and for Nicholas, a spot to join Michael on Team USA. It would turn out to be a fantastic weekend for Michael taking the Vice Championship title, although Nicholas would come up short with contact in the opening corners of the main event.
After a few weeks break from the hectic summer months, the brothers returned to the track together again at the USPKS race at Pittsburgh International Race Complex in Wampum, PA in the IAME X30 Jr class.  It would be the last race that they will compete in together for remainder of the 2016 racing season.
Starting this weekend, the d'Orlando Racing squad will travel to some of the world's premier competitions.  Michael will return to Italy for the WSK Final Cup in Adria, then a quick turn-around back again to compete for Team USA in the Rotax MAX Challenge Grand Finals in Sarno, Italy in mid-October.  He'll finish out his year traveling across the world to compete in his first CIK-FIA World Championship event, in Bahrain, this November.   Between events, he will continue his studies as a freshman at Iona Preparatory School and compete on their novice Crew team in various regattas around the region.  Nicholas' schedule will also kick it up a notch with a return to the Rotax US Open Championship in Las Vegas early November, after some testing events leading up to it, then another quick turn-around back to Vegas again for the SuperKarts! USA Super Nationals a few weeks later.   He will also continue his final year at the grammar school of Iona Preparatory and help the school varsity soccer team in their hunt for victories.
d'Orlando Enterprises is pleased to continue to work with their partners for the rest of the 2016 season, such as DB Collaborative (www.db-collaborative.com) and owner John Macones, Fyshe USA/Adidas Motorsport (www.adidasmotorsport.com), Iona Preparatory School (www.ionaprep.org) and Focused Project Management (www.focusedpm.net).  In addition, updates and new d'Orlando Enterprises product can be found on our online store at www.dorlandoracingstore.com.
A sincere Thank You to all our family, friends & fans for your ongoing support as our team continues to work toward a dream.
For more information on Michael & Nicholas d'Orlando, please visit www.dorlandoracing.com. Be sure to follow them on Facebook (Michael d'Orlando Racing and Nicholas d'Orlando Racing), Twitter (@dorlandoracing) and Instagram (@dorlandoracing) to stay up to date on news, information, photos and results.