Big Fields for Superkart Title Meeting in New Zealand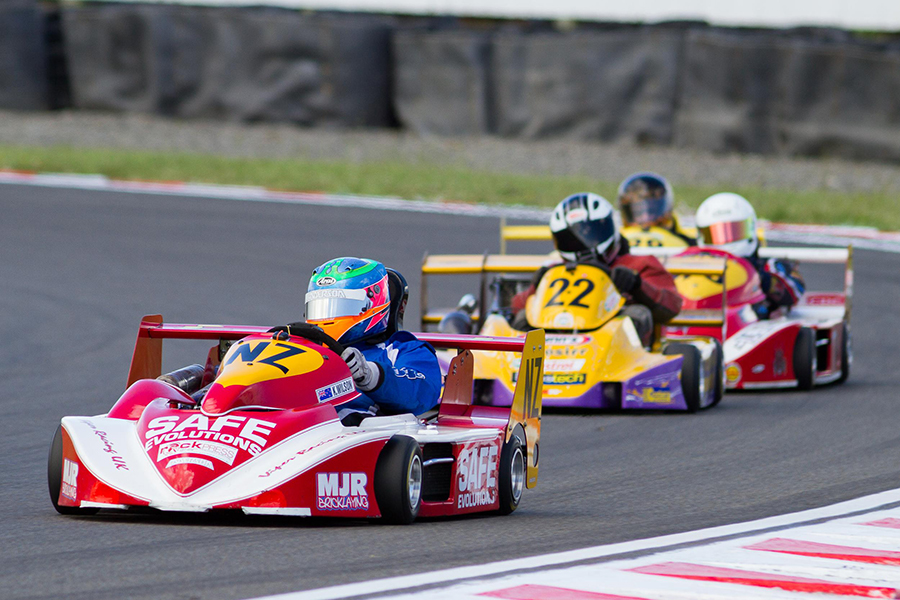 Wellington's Karl Wilson (#NZ) leading Paul Dunlop on his way to winning the 2014 New Zealand SuperKart Grand Prix at Taupo
One of the biggest fields of SuperKarts assembled in New Zealand in recent years is set to impress at the 2016 KartSport New Zealand National SuperKart Championships and Grand Prix meeting at Hampton Downs this weekend.
The blue riband International class has attracted 10 entries – including those of former NZ title holders Paul Dunlop and Wayne Sproston – while the National class has attracted seventeen, including former class champions Chris Simmonds and Steve Wilton.
Also back in a SuperKart for the meeting is multi-time New Zealand Sprint class champion Ryan Urban and fellow former NZ Sprint class champion Alex Geary, both in International class karts.
Though better known for his achievements on the country's purpose-built kart tracks,  Urban, from Auckland, is also an accomplished SuperKart driver, having won the big Superstars of SuperKarts race at Laguna Seca in the United States in 2006 against a field of top US drivers.
Traditionally the annual KartSport New Zealand SuperKart Championships and Grand Prix have been a standalone kart one but, following the success of last year's event format at Taupo, this weekend the various class titles will be contested at a new Waikato Challenge car/SuperKart meeting in conjunction with the HRC.
As well as races for the purpose-built, 'lay-down,' SuperKarts there will also be races – and titles up for grabs – for converted 'sit-up' Sprint class karts.
These have also attracted strong fields with eight each in 125cc Rotax Max Light and Heavy.
Sunday is the big day for the SuperKarts with tuning runs, qualifying and the first heats (of 4) in the morning and remaining class heat races then standalone 11 lap International/National and Rotax Light & Heavy Grand Prix races in the afternoon.