14 Year Old Peschang Wins 2 National Road Racing Titles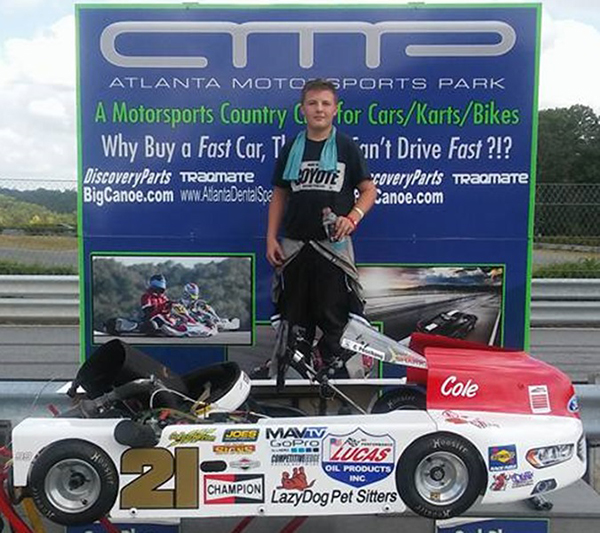 14 year old Cole Peschang from South Beloit accomplished something not many do at 14 years old. He Won 2 National Titles while Road Racing across the United States in the World Karting Association  Road Racing Series . Cole drove his go- kart to Wins at Daytona International Speedway during Kart Week in the Junior Animal Lite and Junior Animal Heavy Classes. He followed up by winning in Georgia in March at Roebling Road Raceway and then again in June at Summit Point Raceway in West Virginia. And he finished up the season Winning the Grand Nationals Race in Dawsonville, Georgia.
It wasn't all fun and games though. Cole states they had some engine issues on and off during the year. "We had pretty much wrapped up the Championships and were testing after our win at Summit Point in June.  WKA is changing the engines rules in 2017 from running Methanol Alcohol to a 110 Octane Racing Gas in a few of the Series' we run in. The class is Pro Gas. So what better time to try and get ahead of the rest by testing now.  So we went to Mid-Ohio Sports car Course for an AKRA/Dart Kart Club road race in mid- June. Saturday we won our class  with a 30 second advantage over 2nd place but I could feel the engine wasn't right. But had no idea what it was. So we reset the valves, reworked our clutch and went out Sunday and got 2nd place but the new engine was weak to say the least. Got home and sent the engine back to the builder. Guess it was an intake valve issue."
2016 was a weird season for our Team says Cole's dad Jeff.  We had highs and lows all year long. Win here , lose there, engine woes, new karts and engines, new racing series, etc. Earlier in the year a fellow racer's family offered Cole a chance of his lifetime so far. They had numerous 2 cycle karts and offered a ride in one of them to Cole. It is something he wanted to do but we really couldn't afford at the time. We were focused on Road Racing in 2016. But seems the road races are only 1 time a month we had time to do other racing. We took their 2015  DR kart to 3 events. Winning 1 of them. The Bromerek's who offered us their kart also offered their tuner with it. Todd Morse has won numerous National races with his daughter as his driver so we knew he could give us a hand figuring out these Euro 2 stroke chassis and Yamaha engines. Todd was great by making us write down all of his tuning notes so we could learn how to do it ourselves. After a race in the highly competitive RT66 racing Series we returned the Brombereks DR kart and bought a slightly used chassis of our own.  We drove to Michigan a few weeks after New Castle RT66 races and picked up a Top Kart Twister chassis and a lot of spare parts. We had nothing at the time for these 2 strokes so we started from zero to where we are today with spares of almost everything for it. We took it out just to get seat time at a race at Sugar River Raceway and almost reset the track record . I knew it'd be a good kart for Cole then."
We also did some other Sprint Road Racing in the Championship Enduro Series. Winning at Gateway, and Mid-Ohio.
Another low to the season was a few track glitches. WKA was supposed to race in mid -June at Virginia International Raceway ( VIR) but the track closed for the month to repave the facility instead. So the race was moved to a brand new facility Dominion Raceway in Thornburg, VA. 2 weeks prior to the event the track was not completely finished and the race had to be cancelled . Leaving the Road Racing Series with only 4 races on their schedule instead of the usual 5. The WKA Grand Nationals  are the last races of the season. This year it was held at another brand new facility. The Atlanta Motorsports Park just outside Dawsonville, GA. It is a 2.0 mile road course with up to 100 feet of elevation changes.
Also going on during the WKA Grand Nationals was a " Live Event weekend" for Cole. One of his 2016 sponsors is Champion Spark Plugs. Part of his sponsorship is media exposure through their numerous media platforms. Cole gave a few short video clips of his racing weekend  along with lots of photos and descriptions of what is required for his racing weekend. Giving them his times, where to watch the races live on the internet and a good view of what goes on behind the scenes at a National Go Karting event. And then Champion posted them LIVE on their Social media pages for Millions to see.
The season ending races at Atlanta Motorsports Park were positive for the most part.  Sunny for Fri practice and Saturday's races. Sunday was a washout with heavy downpours of rain. Making the track unsafe for racing at 80-120 mph in most classes. Cole was having some issues with the kart pushing in the corners . We tried different tires pressures and even new tires. Sunday in the first practice we figured it out. We put shims in and moved the front tires out for more grip. It worked. We were ready for our race and the rain started and never let up.
His team would like to thank all the people and sponsors who helped him along the way. His parents, his Grandpa who is his mechanic ,  Champion Spark Plugs, Federal-Mogul, Lucas Oil, GoFast HP, El Diablo Clutches, GoPro Cameras, Joes Racing Products, LazyDog Pet Sitters, MAVTV, Olson Signs, R&L Auto Body, Competitive Edge Racing Software, and Kenny Venberg Chassis .