Good Victory for Francesco Alaimo in Triscina at the Italian Prodriver Under Championship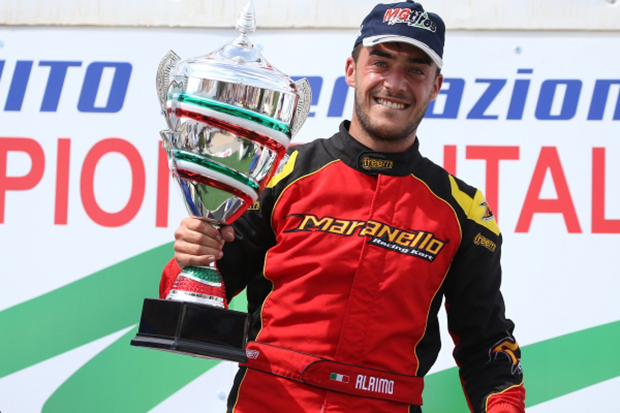 Francesco Alaimo closed the final round of the Italian Prodriver Championship with a good victory. Palmeri di Villalba also on the podium of Prodriver Over. Marco Pastacaldi run a strong debut race with Maranello Kart in KZ2.
Maranello Kart has been protagonist of several good performances in Triscina's round of the Italian ACI Karting Championship, especially with Francesco Alaimo who has won one final of Prodriver Under on Maranello-Tm.
The Sicilian driver, who already secured the Regional Championship one race early, turned out to be one of the quickest in the round of the Italian Championship that took place at the International Circuit of Triscina (Trapani). He won in fact the second final of the weekend after fighting for the victory in the first race too.
Alaimo was handed a 10s time penalty due to jumping the start in Race-1 and was eventually pushed down from P2 to P5. He managed to celebrate on the podium of Race-2 though, at the end of a good comeback race that saw him crossing the line with an unquestionable win and the fastest lap of the race. Alaimo ended the Championship in fourth position.
Alaimo has been celebrated on the podium in front of his home crowd and called himself satisfied by the victory in Triscina: "I am very happy on winning this race of the Italian Championship on my home circuit, especially as – being a mechanical engineer – I prepare the kart myself. I am disappointed for the penalty I got in final one, otherwise I would have closed the championship in an even better position."
Stefano Palmeri Di Villalba has also competed in Prodriver Under on Maranello and closed his campaign with the seventh place in Race-1 and the tenth in Race-2. Maranello Kart claimed a podium in Prodriver Over with Sebastiano De Matteo who ended the first Final in third place and Race-2 in P9.
Marco Pastacaldi – at the debut with Maranello – also run a very good race in KZ2. He secured a great fourth place in the second final at the end of a comeback started from the back of the grid due to an incident in the first final. Pastacaldi's performance has been remarkable, as he managed to put in a series of very quick laps in the closing stages posting the second fastest time in 47.540s.