Awning Company Super One Race Report: Shenington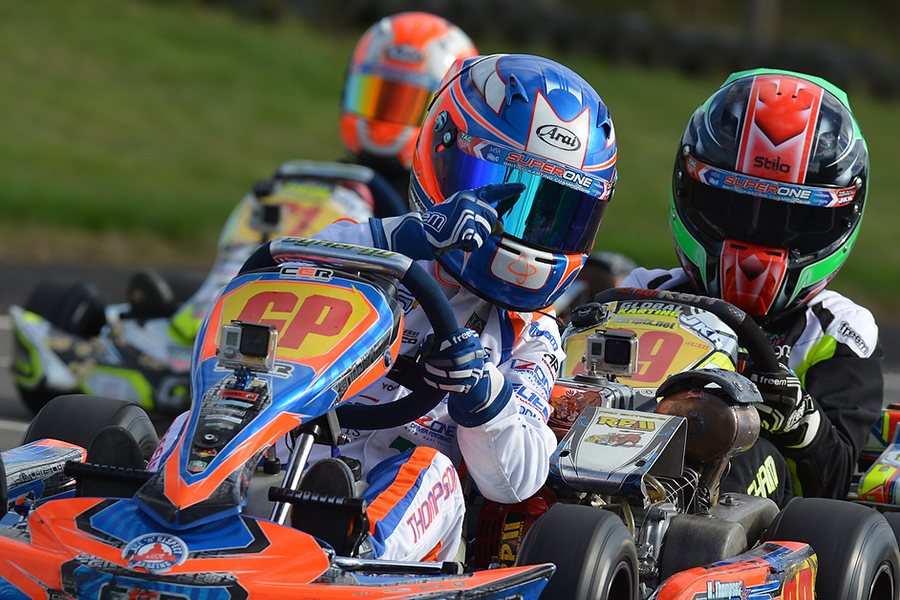 Harry Thompson (Photo: kartpix.net)
Three titles were settled at the Oxfordshire circuit. Scott Allen clinched the short circuit gearbox MSA British Championship whilst Harry Thompson completed a unique double in adding the Honda Cadet to his IAME Cadet British title and Jenson Butterfield has done enough to put the MiniMax title to bed, both with a round to run.   It was wet nearly all day on Saturday for the timed qualifying and heats, only the last couple of races had slicks but Sunday dawned bright and sunny.
MSA British Short Circuit Gearbox Championship for KZ1
Scott Allen was a full second faster than Dan Kelly in the streaming wet timed qualifying and went onto dominate the two heats.  Unfortunately round one winner John Pike was unable to race, citing work priorities.  In the first final Allen set off ahead of Kelly with guest driver Tom Longfield just about hanging onto the lead pair.  A masterly lunge at the last hairpin say Kelly move ahead and although Allen came back on his rear bumper no safe overtake presented.  Hannah Lang came of the start grid last but leapfrogged Anderson Chilcott and Lee Hasler for fourth.  For the second final Allen leapt away from the middle of the front row to lead Kelly and Longfield.  The gap between the lead duo waxed and waned, with Kelly putting in fastest lap but never quite able to find an opening.  Lang came by Chilcott for fourth once more, before the latter retired and Longfield again acquitted himself well.  Allen celebrated his British title over the line and said: ""It was hard but fair racing all season, still difficult to win though."  That was the final round of the class, all the others end at PF International two weeks later.
Final 1: 1 Dan Kelly (Andy Fairless Racing/Birel ART); 2 Scott Allen (Jade Karts/Gold/IAME); 3 Tom Longfield (Privateer/Birel ART/TM); 4 Hannah Lang (MK Racing/Tonykart/Vortex); 5 Lee Hasler (Privateer/CRG/Maxter); 6 Anderson Chilcott (Jade Karts/Gold/IAME).
Final 2: 1 Allen; 2 Dan Kelly +0.14s; 3 Longfield; 4 Lang; 5 Hasler; 6 Chilcott.
ABkC Honda Cadet National Championship
Joint largest class with senior TKM Extreme, the Honda Cadets needed two timed qualifying sessions and a repechage before the finals.  Alex Eades was quickest over Oliver Bearman in TQ1 with Harry Thompson sixth, and in TQ2 Archie Brown was quite a bit faster than Kacper Skuza.  When put together the first session was faster.  Bearman won both his heats and Thompson the other.  The first final was quickly stopped for an accident but the errant driver was able to restart at the back.  After a heat exclusion Sebastian Bloch found himself starting near the back of the repechage but soon arrowed through to win over Tyler Read.  Frankie Taylor's driving was bad enough to see him excluded from the event.  The O Plated Bearman lined up on pole for the first final alongside Thompson, Bearman being the only realistic challenger to Thompson for the title.  Although Bearman did take the lead at the start he was soon drifting backwards with some sort of problem, capped by a spin in the chicane to end 22nd.  Thompson assumed the lead and despite a successful challenges by Dylan Cooper he took the win over Eades and James Walker. Cooper was squeezed wide in the chicane attempting a pass and fell to 19th.  The E Plated Wesley Mason was docked a lap for driving standards and would be another of the quick ones starting the second final from near the back.  Thompson and Eades broke clear, Thompson deciding to retake up the lead when the next group came close, eventually heading a twelve kart train.  Lucas Ellingham vaulted into second, Eades third and so it stayed with Thompson defending to the chequer and Bearman battling up to eighth.  Thompson has enjoyed a fantastic year racing in both classes, often at the same meetings.
Final 1: 1 Harry Thompson (CER/Synergy); 2 Alex Eades (Global Karting/BRK); 3 James Walker (CER/Synergy); 4 Tom Lebbon (BRK/BRK); 5 Caden McQueen (Privateer/ZIP); 6 Lucas Ellingham (Global Karting/Zip).
Final 2: 1 Thompson; 2 Ellingham; 3 Eades; 4 Archie Brown (BRK/BRK); 5 McQueen; 6 Walker.
ABkC MiniMax National Championship
Only Jonny Edgar had a realistic chance of keeping the title hopes alive to the final round and he qualified third just ahead of Jenson Butterfield whilst Oakley Pryor was fastest from Tom Canning.  Pryor won heat one and Lorcan Hanafin the other putting Canning on pole for the first final alongside Butterfield.  Although briefly in second to Canning, Edgar was shuffled back to fifth whilst Canning and Butterfield disputed the lead.  Hanafin came up to spoil their fun by taking the win, Butterfield second whilst Canning out-witted Edgar and Dexter Patterson for third.  For the second final Hanafin and Butterfield sped clear whilst Edgar was mired in an exchange with Canning, eventually third.  That was more than enough to give Butterfield an unassailable points advantage for the ABkC National title.
Final 1: 1 Lorcan Hanafin (Strawberry Racing/Tony); 2 Jenson Butterfield (Strawberry Racing/Tony); 3 Tom Canning (KR Sport/Kosmic); 4 Jonny Edgar (Coles Racing/Tony); 5 Dexter Patterson (Strawberry Racing/Tony); 6 Finlay Bunce (Tooley Motorsport/Tony).
Final 2: 1 Hanafin; 2 Butterfield; 3 Edgar; 4 Canning; 5 Patterson; 6 Ben Fayers (Project One/Tony).
ABkC Junior Max National Championship
Everybody was quite close in the timed qualifying but it was Mark Kimber from Joe Turney and Myles Apps that scored at the top of the list.  Kimber and Turney shared the heat wins but it was Apps' consistency with two seconds that brought him pole for the first final.  There was a good bit of shuffling around at the front between Apps, Tyler Chesterton and Turney until the latter broke away.  He was reeled in by Jonathan Hoggard and Chesterton who then both traded the lead.  Turney regained second then was hung out to dry to finish fifth, Chesterton clear to win whilst Hoggard claimed second over Kimber.  The second final was much of a re-run, Hoggard shuffled back from the lead taken up by Turney for a few laps.  He was deposed by Chesterton in the chicane followed by a further place loss to Kimber.
Final 1: 1 Tyler Chesterton (Coles Racing/Tony); 2 Jonathan Hoggard (KR Sport/Kosmic); 3 Mark Kimber (Strawberry Racing/Tony); 4 Rory Hudson (Tooley Motorsport/Tony); 5 Joe Turney (KR Sport/Kosmic); 6 Myles Apps (Dan Holland Racing/Alonso).
Final 2: 1 Chesterton; 2 Kimber; 3 Turney; 4 Hoggard; 5 Hudson; 6 Apps.
ABkC Senior Max National Championship
Jack McCarthy took fastest qualifying time over Josh White and Josh Skelton with McCarthy and Josh Collings going onto win the heats.  Skelton and Collings lined up on the front row of the first final, in the biggest grid of the year. Collings then managed a lights to chequer win despite the close attention of White after he had taken Skelton early on.  Charlie Turner was nobbled in the chicance, losing many places then retired with a thrown chain.  Harrison Thomas worked his way up to third, beating Skelton and McCarthy.  Collings once again took the second final win, but with more effort as he had to repass Skelton and regain the lead from White.  That pair drew clear of Tom Gamble who eventually succumbed to Thomas for third.  Turner fell foul of officialdom with an exclusion from driving in his efforts to recover.
Final 1: 1 Josh Collings (Dan Holland Racing/Alonso); 2 Josh White (Coles Racing/Tony); 3 Harrison Thomas (KR Sport/Kosmic); 4 Josh Skelton (Coles Racing/Tony); 5 Jack McCarthy (Strawberry Racing/Tony); 6 James Johnson (Privateer/Tony).
Final 2: 1 Collings; 2 White; 3 Thomas; 4 Tom Gamble (Strawberry Racing/Tony); 5 Johnson; 6 McCarthy.
ABkC Junior TKM National Championship
For many Shenington in the TKM home track yet Ian Sisson took fastest in TQ from Kristian Brierley and local James Pashley.  Sisson dominated in the wet and won both heats from Pashley but lost many places on the first lap when his engine cut out.  He would finish a lowly 17th.  Bradley White took up the running until Adam Sparrow relieved him of the lead, only to be himself put aside by Abbi Pulling.  Then Joe Fowler surged into a big lead for the win, Pulling breaking clear of the second group to chase him down.  Pashley leapfrogged White and Ross Deal near the end for third.  Sparrow was later excluded for driving standards.  Fowler hung onto the lead throughout the second final, Pulling on his bumper but never quite seeing a gap.  Pashley and Lee Whittingham traded third with Pashley prevailing.  Sisson made it to 10th and Sparrow to 12th.
Final 1: 1 Joe Fowler (Jade Karts/Jade); 2 Abbi Pulling (Tal-Ko/Tal-Ko); 3 James Pashley (Privateer/Jade); 4 Ross Deal (SJ Motorsport/Tal-Ko); 5 Zak Oates (Klaassen Motorsport/Tonykart); 6 Lee Whittingham (Privateer/Tonykart).
Final 2: 1 Fowler; 2 Pulling; 3 Pashley; 4 Whittingham; 5 Jordan Lee-Chapman (Privateer/Tonykart); 6 Kristian Brierley (Klaassen Motorsport/Tonykart).
ABkC TKM Extreme National Championship
This class has enjoyed an extraordinary resurgence this year, and more than matches Honda Cadet for size, needing a repechage every round.  The amalgamated timed qualifying had Harry Moore at the top of the list from Tom Owen, Joe Stockford and Charlie Bruce-White.  Owen, John Hogan and Bruce-White won the heats putting Owen on pole from Bruce-White for the first final.  Bruce-White led initially until Owen vaulted over Phil Smith and then led.  Smith had started sixth on the grid but he was soon relieved of the lead by Chris Whitton who had fairly flown up from grid 13.  Ryan Edwards, the Welsh champion, momentarily took third from Owen but fell back to sixth, allowing Smith and Whitton to break away.  Owen held off Bruce-White for third which would become second when Whitton was excluded for not having enough fuel left to give a sample.  A little further back Simon Vercoe, James Ogden and Lewis Wadley all crashed out at the high speed Hangar Corner.  Five karts had 10s penalties for displaced front fairings.  From eighth on the grid Matthew Taylor sliced through the squabbling lead pack headed by Phil Smith and Owen in the second final to lead.  Smith fell as far as eleventh before working his way back to fifth.  Taylor was reeled in by Edwards and Owen, both going past with Owen then taking the win. Edwards lost second to Taylor.
Final 1: 1 Phil Smith (Precision Racing/Tonykart); 2 Tom Owen (Klaassen Motorsport/Tonykart); 3 Charlie Bruce-White (Privateer/Tonykart); 4 Matt England (Privateer/Tal-Ko); 5 Harry Moore (Jade Karts/Jade); 6 Ryan Edwards (Privateer/Tonykart).
Final 2: 1 Owen; 2 Matthew Taylor; 3 Edwards; 4 England; 5 Smith; 6 Moore.