CRG ÜBER Allies in Germany at DKM with Pex Brothers, Tonteri, Hauger and Tubben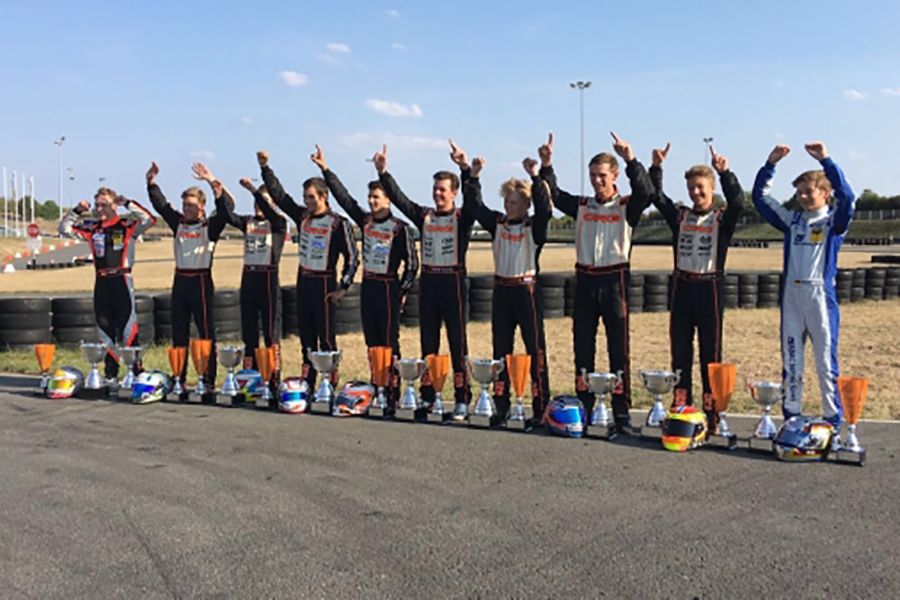 CRG obtained a great result also in Germany in the fourth and penultimate round of the DKM, where Pex brothers, back on Tm engine, crushed their rivals in KZ2. Tonteri dominated OK, Hauger ended on top in OK Junior, taking the championship lead and Tubben obtained a fair and square victory in KZ2 Cup.
Following the double win in Sweden at the KZ World Championship with Paolo De Conto on CRG-Tm and at the KZ2 International Super Cup with Pedro Hiltbrand on CRG-Maxter, CRG's victorious run continued in the fourth and penultimate round of the Deutsche Kart Meistershaft of Oschersleben, race run on September 11th. This underlined that the result of Kristianstad one week ago was not by chance. Everyone having a different opinion has been quickly disproved. In Oschersleben, CRG claimed 7 wins in 8 finals and a total of 19 trophies!
PEX BROTHERS DOMINATE KZ ON CRG-TM
The two Dutch brothers Pex had a spectacular run in KZ2 with CRG Holland. They went back to the TM engine that allowed Jorrit to win the 2015 World Championship and the past editions of the DKM (2014, 2013 and 2012 on TM engine and 2011 on Maxter). Jorrit Pex was leading the classification after the first three races of the DKM run in Wackersdorf, Ampfing and Genk and kept his momentum in the first final of Oschersleben strengthening his classification lead. The youngest of the two brothers, Stan Pex came to the fore in the second final instead. Started sixth, he took on a fight for the victory, overtaking his brother Jorrit first and Hajek then, heading towards his maiden win in  DKM. Music has changed at Pex's family!
To wrap it up, CRG has been winning KZ2 in Oschersleben, dominating Race-1 with Jorrit Pex, who also secured the fastest lap of the race, and then winning Race-2 with Stan Pex  (with fastest lap) and claiming P3 with Jorrit. The German Daniel Stell made it into the top 10 on CRG-Modena run by SRP Racing Team. In Oschersleben he has been the quickest after heats and seventh in Race-1, while the Swedish driver Benjamin Tornqvist was ninth in Race-2 on CRG-Tm run by CRG Holland. The Japanese Fuma Horio had to settle for two placings on CRG-Tm instead, as he was 16th in Race-1 and 14th in Race-2. Following the fourth place in the heats and the retirement in Race-1 during the formation lap, Fabian Federer on CRG-Modena of SRP Racing, put in a strong recovery in Race-2 climbing all the way to P12.
Jorrit Pex is leading the championship at 181 points, Ardigò is second at 146.
DOUBLE WIN FOR TONTERI IN OK
In OK the Finn Paavo Tonteri has been dominating the fourth round of Oschersleben on CRG-Parilla run by CRG TB Racing Team, and is now very close to securing the OK title of DKM. Tonteri won the first of the two Finals proceeding team mate Tim Troger, while the other driver of CRG TB, the German Luca Lippkau, was fourth. Tonteri claimed another win in the second Final, and he was joined on the five-place podium of DKM by Lippkau in fourth and Troger in fifth place.
Tonteri confirmed his lead in the championship with 212 points, while Basz is second at 146.
OK JUNIOR, HAUGER TAKING VICTORY AND CLASSIFICATION LEAD
OK Junior welcomed a new Championship leader, the Norwegian of CRG Holland Dennis Hauger, on CRG-Parilla. In Oschersleben, he took a third place in Race-1 after a good comeback race from P13, and then secured an excellent victory in Race-2 that earned him the classification lead. The good performance scored by CRG was rounded off in Race-2 by the second place of the German Marius Zug of RL-Competition, by the fifth place of the Dutch driver of CRG Keijzer Kas Haverkort  and by the sixth of Luca Maisch for CRG TB Racing Team. Hauger is the new classification leader with 177 points, while Milesi follows him at 163.
DOUBLE WIN AND CLASSIFICATION LEAD FOR TUBBEN IN KZ2 CUP
Another good performance in KZ2 Kart Cup has been completed by the young Dutch driver Max Tubben on CRG-Tm run by CRG Holland, who had been previously shining also in Sweden at the World Championship. Tubben has dominated the scene of DKM in Germany as he took the pole position leading three CRG drivers: namely, the German Yannik Witte (CRG-Modena, SRP Racing Team), the Dutch Max Weering (CRG-Tm, CRG Holland) and the German Moritz Horn (CRG-Maxter, CRG TB Racing Team). Tubben has then granted himself P1 after heats, before taking Race-1 victory leading Witte and Weering, with Mark Potman fifth on CRG-Tm run by CRG Holland. He completed his dominant run claiming another victory in Race-2, this time leading Weering and Christoph Hold on Maranello-Modena. The Swede Andreas Johansson ended the second final in a good P6 on CRG-Tm. Tubben totaled 165 points in the classification and got the lead off team mate Wiggers, who is now second at 128 points.
DKM OSCHERSLEBEN, 11.09.2016
KZ2 Race-1: P1 Jorrit Pex (CRG-Tm).
KZ2 Race-2: P1 Stan Pex (CRG-Tm), P3 Jorrit Pex (CRG-Tm).
OK Race-1: P1 Paavo Tonteri (CRG-Iame), P2 Tim Troger (CRG-Iame), P4 Luka Lippkau (CRG-iame).
OK Race-2: P1 Paavo Tonteri (CRG-Iame), P4 Luka Lippkau (CRG-Iame), P5 Tim Troger (CRG-Iame).
OK Junior Race 1: P3 Dennis Hauger (CRG-Iame)
OK Junior Race-2: P1 Dennis Hauger (CRG-Iame), P2 Marius Zug (CRG-Tm), P5 Kas Haverkort (CRG-Tm).
KZ2 Cup Race-1: P1 Max Tubben (CRG-Tm), P2 Yannik Witte (CRG-Modena), P3 Max Weering (CRG-Tm); P5 Mark Potman (CRG-Tm).
KZ2 Cup Race-2: P1 Max Tubben (CRG-Tm), P2 Max Weering (CRG-Tm), P3 Christoph Hold (Maranello-Modena).
The closing round of DKM is scheduled for September 25th in Kerpen.