CRG Dominates KZ and KZ2 World Championships in Sweden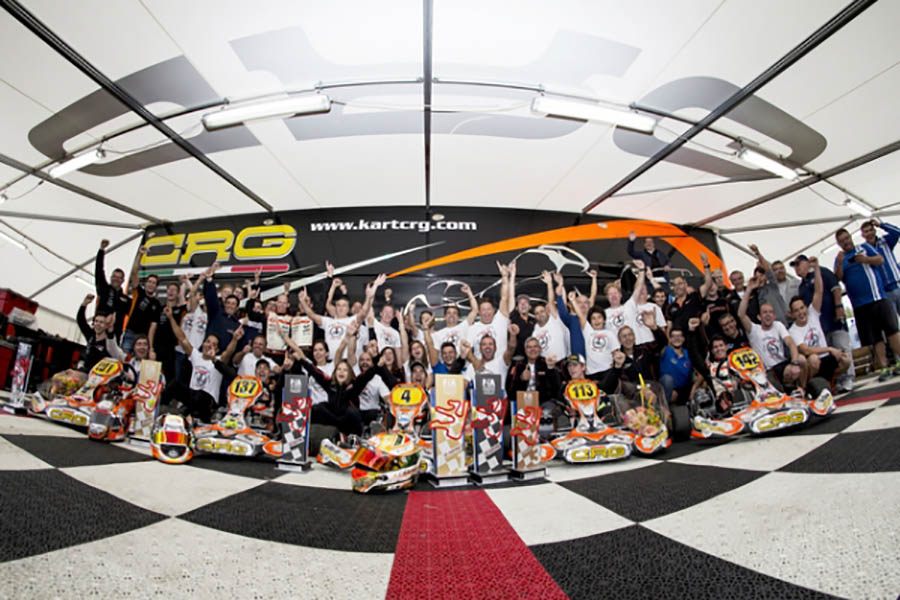 CRG is living an fantastic season finale and managed to win the CIK-FIA KZ World Championship with Paolo De Conto on CRG/TM/Vega and the CIK-FIA KZ2 International Super Cup with Pedro Hiltbrand on CRG/Maxter/Vega at the Circuit Asum Ring of Kristianstad (Sweden).
CRG dominion in Sweden has been clear for the whole weekend, but the two world finals in the shifter categories KZ and KZ2 have had very exciting starts, before turning to a downhill run for the color bearers of the Italian outfit that managed to show their full potential taking two stunning victories.
PAOLO DE CONTO NEW KZ WORLD CHAMPION
In one word, Paolo De Conto has been superb in Sweden. He managed to take the CRG chassis powered by the works Tm engine to the victory claiming pole position, winning both heats, Prefinal and triumphing in the Final. The closing race has not been a walk in the park for De Conto though, as he found himself in P4 at a certain point. CRG driver had the strength to keep his focus and started a comeback well aware of his potential. This allowed him to cross the finish line first with a good margin on the rivals. Paolo De Conto recouped in this way last year's Le Mans race when he had to settle for P2 at the end of a red-hot final lap where he closed behind Jorrit Pex, and deservedly obtained his first World Champion title. CRG earned in this way the third World title in the last four years, following 2013's victory scored by Max Verstappen and 2015's win by Jorrit Pex. This is also the 13th victory in the shifter categories for CRG, who celebrated in the best possible way the 30th anniversary of the company founded back in 1986 by Giancarlo Tinini.
Among the CRG drivers, the Finn Simo Puhakka (CRG-Tm) has been very quick in KZ, recovering all the way to the final P5, as did Arnaud Kozlinski who did not show any sign of rust and secured the sixth place of the Final, after an hiccup in one heat. Stan Pex (CRG-Vortex) of CRG Holland has also run a good race ending eighth, while his brother Jorrit, who was the exiting World Champion, had to settle for P12 this time. Flavio Camponeschi (CRG-Parilla) was 17th and proceeded Andrea Dalè (CRG-Tm).
CRG LOCKING OUT KZ2 PODIUM, AS HILTBRAND IS THE NEW CHAMPION
The first final run today in Sweden saw the victory of the International Super Cup going to the Spanish driver Pedro Hiltbrand. The CRG works driver, recently crowned OK European Champion and KZ2 Spanish Champion, has been at the wheel of the CRG chassis pushed by a Maxter engine unit prepared by Kartissimo's Renato Andreoli. After dominating qualifying, heats and Prefinal, Hiltbrand has been early on challenged by team mate Felice Tiene (CRG/Tm), who had in turn won the other Prefinal, while Tommaso Mosca split the two CRG drivers. A third into the race, Hiltbrand won the duel and started pulling away to the victory. Mosca had to retire due to some technical problems, while Felice Tiene lost some ground in the contact with his team mate but eventually put in a good recover to the final P4. CRG secured anyway a whole podium with three different engines. The new European KZ2 Champion Fabian Federer on CRG/Modena completed a stunning comeback race ending second, while the home hero Benjamin Tornqvist on CRG/Tm run by CRG Holland was third at the end of a good race.
Among the 88 drivers partaking in this international KZ2 race, the other CRG finalists also deserved a round of applause. The German Daniel Stell (CRG-Modena) of SRP Racing Team was ninth, the young and fast driver of CRG Holland Max Tubben (CRG-Tm) was 14th, while his fellow countryman from Holland Dylan Davies (CRG-Tm) was 16th for CRG Keijzer Racing. The Spanish driver Gerard Cebrian Ariza (CRG-Tm) also had a very strong weekend, but was eventually handed a 10s time penalty in the Final, as happened to Tom Joyner (Zanardi-Parilla) who had previously run a great Prefinal. The Dutch driver Bent Viscall (CRG-Tm) of CRG Holland ended 26th. Fabrizio Rosati (CRG-Tm) has been very unlucky instead as he had to retire from the Prefinal due to an incident at turn one, while the Swede Andreas Johansson (CRG-Tm) of CRG Holland just missed out to get access to the Final as happened to the Japanese Fuma Horio (CRG-Tm).
Giancarlo Tinini, CRG President: "The KZ victory of Paolo De Conto and Pedro Hiltbrand's victory in KZ2 are two great results for us. We were a bit unlucky in KZ with Simo and Koko, that could have scored a good result too. I am sorry for the two Pex brothers that have been struggling a bit for the whole week – exception made for qualifying where they had found a good setup. The KZ race has been great, Paolo did not start off very well but our driver proved he had more speed into him and managed to find his way past all the rivals. We won the KZ World Championship for the second year straight and this time we have proven to be unquestionably the strongest."
Dino Chiesa, Team Principal CRG: "Leaving victory aside, which is always great for a team like ours, I liked two things of this weekend. I enjoyed Paolo De Conto's victory in KZ, he went close to the title last year and this time he deservedly secured the title. I also am happy on the KZ2 title won by Pedro Hiltbrand, who is in a very strong year and took the victory on Maxter engine. This shows that the material is great also in KZ2, that is a very important category for karting and for our brand in particular. These results are the outcome of a year long work and credit for them goes to everybody, starting from mechanics to engine preparators and drivers. We all win or lose together. Now we will try to close the season on a high in Bahrain with the OK and OK Junior World Championship".