2016 California State Karting Championship – Race Report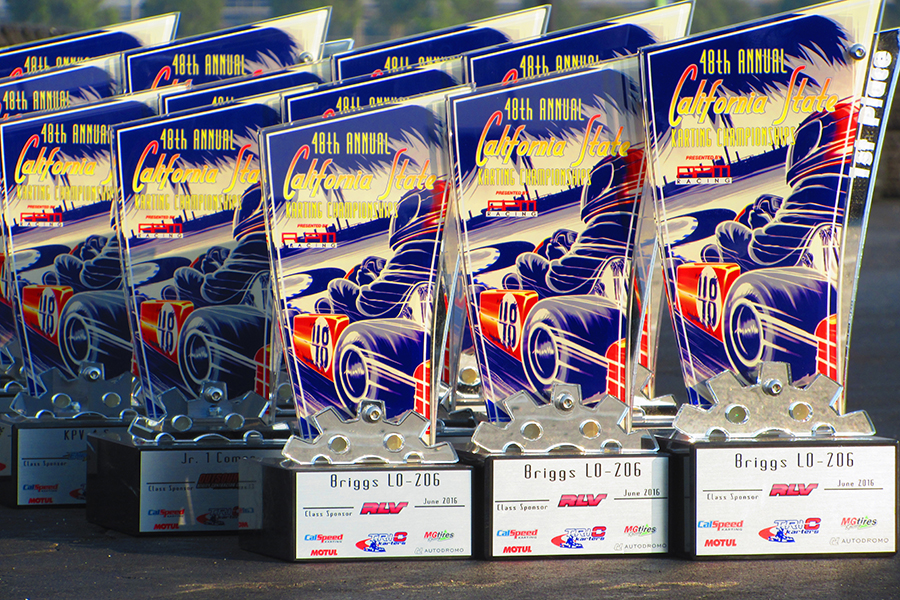 The 48th running of the California State Karting Championship, sponsored by APM Racing with Courtney Concepts and MG Tires/WR International, took place this past June at CalSpeed on, quite possibly, the hottest weekend of the year. Temperatures soared above 110 degrees with the asphalt track temps even hotter! With most local race teams taking the weekend off from racing, turn out was far lower than expected.
The weekend kicked off with Friday practice day where participants practiced hard and enjoyed In-N- Out Burger for lunch. Saturday opened bright and early with two warm up sessions, followed by a green-white-checker qualifying and two heat races. Saturday night campers spent the evening relaxing in the pits, playing at the mobile video gaming truck and cooling down with ice cream sundaes. The hottest day of the weekend, Sunday, was filled with lots of seat time as drivers warmed up and then raced into the pre-main and main event.
The winner of each Green-White-Checker qualifying race earned the inaugural Grizzly Award and a new tradition was born as drivers passed the trophy table on Friday and Saturday to "rub the Grizzly" for luck.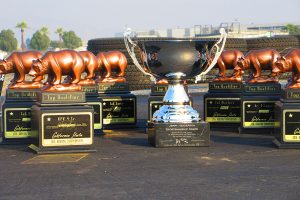 Top Qualifier Recipients
Jr. 1 Comer – Carson Morgan
KPV 4 Sr. – Jake Craig
LO206 – Cameron Jocelyn
Shifter – John Nielsen
TaG Jr – Gary Lyles
TaG Masters – Chris Kneevers
TaG Micro – Frankie Mossman
TaG Mini – Carson Morgan
TaG Sr – Jake Craig
World Formula – Mike Mantel
All class champions brought home custom trophies by J&M Trophy and the Autodromo Veloce watch, the official timepiece of the Championship. Additional prizes included $1000 to each of the winners of the KPV4 Sr. and the TaG Sr. classes and $500 in prize money (courtesy of Outsource Utility Contractor Corp.) for each of the Jr. 1 Comer and TaG Mini classes. K1 provided customer driving suits as a Hard Charger Award in several classes.
Jr 1 Comer (sponsored by Outsource Utility Contractor Corp):
1st – Cole Morgan
2nd – Dakota Tate
3rd – Ethan Ho
KPV4 Sr. (sponsored by Empire Karts):
1st – Tate Sanders
2nd – Jake Craig
3rd – Cameron Jocelyn
LO206 (Sponsored by RLV):
1st – Derek Zimmermann
2nd – Adam Verlengiere
3rd – Cameron Jocelyn
Shifter:
1st – John Nielsen
TaG Jr:
1st – Gary Lyles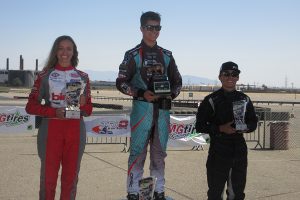 TaG Masters (Sponsored by Full Throttle Karting):
1st – Roy Steele
2nd – Branden Bell
3rd – Chris Kneevers
TaG Micro:
1st – Frankie Mossman
2nd – Mathias Coito
TaG Mini (Sponsored by Outsource Utility Contractor Corp):
1st – Carson Morgan
2nd – Cole Morgan
3rd – Ethan Ho
TaG Sr (sponsored by K1):
1st – Jake Craig
2nd – Breanna Miscione
3rd – Tyler Reviere Verninas
World Formula (Hillwig-Goodrow):
1st – Mike Mantel
2nd – Kari Hillwig
3rd – Robert Miller
Throughout the course of the weekend, written nominations were being accepted for the Jerry Henderson Sportsmanship Award. One of the very last races Jerry ever worked was the 2015 California State Karting Championship just a little over a year before his passing in April of this year. Tri-C Karters wanted to honor Jerry's memory in a very special way – and the presentation of this award was the highlight of the weekend. With an overwhelming number of nominations by his peers, Gerry Florez was chosen as the 2016 recipient.
KartRacer TV was on hand all weekend recording the racing action and interviewing drivers and sponsors. Prior to final production, budgetary considerations dictated that only one class could be highlighted. Because of the ever growing popularity of the "new to Southern California" LO206 class, this was the class chosen for production.
Tri-C Karters has been seen rising entry numbers in LO206 Sr. since its recent introduction in April and has just added an LO206 Jr class for the last four club series races. www.tric-karters.org