AKRA Returns Regional-Level Racing to Maryland's Nicholson Speedway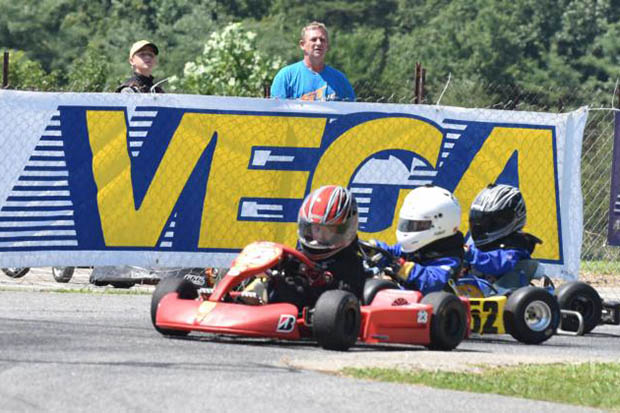 Nicholson Speedway club officials and members welcomed the American Kart Racing Association (AKRA) to their historic sprint track nestled near the shores of the Chester River on the Delmarva Peninsula this past August 26-28 for the fourth and final round of the 2016 Vega USA American Sprint Cup Series "Northern Tour."
Nicholson – built in the late 1950s on Earl Nicholson Road just outside of Chestertown, Maryland – offered racers a speedy quarter-mile track that can be negotiated in less than 20 seconds by some TaG racers.
Florida's Colin Warren, who had never turned a lap on the circuit before the event, described the track as "fast and flowing" and "very smooth." Other racers noted they enjoyed the smoothness of the track and quick layout.
Click here for full race report and photos!
Pre-Registration Now Open for AKRA Southern Tour at Bushnell, FL
Online pre-registration is now available for Round 3 of the AKRA American Sprint Cup Series "Southern Tour" presented by IONIC Edge Chassis, which will take place Sept. 23-25 at the new Bushnell Motorsports Park in Bushnell, Florida.
Click here for the Southern Tour online registration page.
AKRA is excited to travel to Bushnell for the first time to conclude the Southern Tour and final tune-up before the inaugural October 21-23 Grand National Championship of the American Sprint Cup at 103rd Street Sports Complex in Jacksonville, Fla.
The American Sprint Cup Series is proud to be sponsored by Vega USA, AKRA racing programs sponsor RockAuto.com, class sponsors Kart City Performance, Briggs & Stratton Racing, Razor Chassis, Roberts Kart Shop, IONIC Edge Chassis, TSRacing.com, Michigan Kart Supply, Target Distributing and Boon & Sons, and associate sponsors Power Plus Lubricants and S&M Kart Supply.