Maranello Kart in Sweden with Mosca and Zanchetta for the International KZ2 Super Cup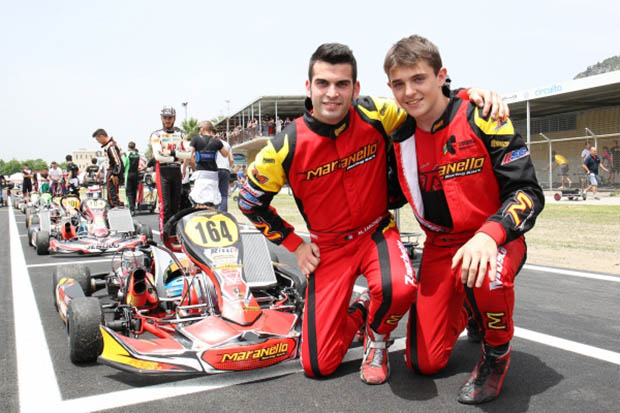 Tommaso Mosca and Marco Zanchetta are all set to get on track in Kristianstad (Sweden) and aim to a prestigious result with Maranello Kart in the most important KZ2 CIK-FIA race of the year.
The Circuit of Kristianstad (Sweden) is about to house the most important race of the KZ2 season, the CIK-FIA International KZ2 Super Cup to be held in the weekend of September 4th. Maranello Kart will make it to the track with two of its strongest drivers: Tommaso Mosca and Marco Zanchetta.
Both Maranello Kart drivers, assisted by SG Race by Griggio and employing TM engines by Rizzi, are ready to aim to a good performance as everything is in place to get a great result. Tommaso Mosca comes in fact from the European KZ2 Championship of Genk, where he displayed a great shape, posting the quickest time of his group in qualifying and putting in strong runs in the heats and Prefinal. An incident at the start of the Final prevented Mosca from fighting for the podium though, but the young driver of Maranello Kart has shown to have what it takes to be among the strongest racers on the international scene.
Marco Zanchetta will also have great chances to score a very good result. The Italian driver has returned to Maranello Kart this year and is well motivated to get a prestigious result. Zanchetta has been training ahead of the Kristianstad's round in the past few weeks, showing good speed in the Italian Championship race held in Sarno and claiming the podium in the recent Summer Trophy in Lonato. Zanchetta has already been a protagonist of CIK-FIA international championships and  this time he will have another chance to shine among the best drivers in the world of KZ2, while showcasing a winning chassis like Maranello Kart's.
The programme of Kristianstad (GMT+2):
Friday 2 September: Free practice; Qualifying from 16:30.
Saturday 3 September: Qualifying heats from 10:20 to 13:45.
Sunday 4 September: Prefinals at 11:15; Final at 13:55.
All results and Live TV feed will be available at www.cikfia.com