Pedro Hiltbrand KZ2 Spanish Champion on CRG-Maxter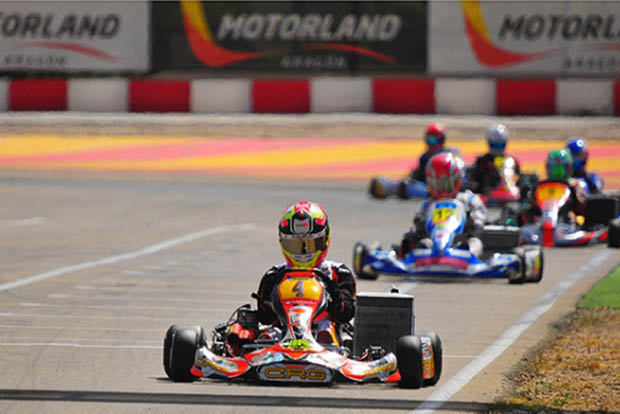 Pedro Hiltbrand secured his fourth double win in Alcaniz and has been crowned Spanish Champion one race early. He has been running with the support of Kartissimo 2M and Maxter engine by Andreoli.
The Spanish driver of CRG Pedro Hiltbrand displayed a great shape and claimed the victory of the Spanish Championship on CRG-Maxter. He has dominated the round of Alcaniz taking a crushing victory that allowed him to secure the Spanish KZ2 title one race early thanks also to the support of Kartissimo 2M and to the competitiveness of the Maxter engine unit prepared by Andreoli.
Pedro Hiltbrand has taken another stunning double win in the two Finals held at the Circuit Motorland Aragona of Alcaniz in occasion of the fourth and penultimate round of the Spanish Championship. He is now uncatchable in the classification ahead of the closing round scheduled for next September 25th in Valencia. Hiltbrand has scored his fourth double win of the season in the Spanish KZ2 Championship, after the full hauls of Toledo, Portimao and Zuera.
After winning the recent European CIK-FIA OK Championship, Pedro Hiltbrand collected another important title in this season end: the KZ2 Spanish Championship. This is an important sign of the competitiveness level of CRG's driver at the eve of another very important appointment: the International Super Cup KZ2 scheduled for September 4th in Kristianstad (Sweden).
Among CRG drivers on track in Alcaniz, Gerard Cebrian Ariza claimed race-one's podium in P3 on CRG-Tm, and the sixth place in Final two.
Circuit Motorland, Alcaniz, 28 August 2016, KZ2:
Final-1 result: 1. Hiltbrand (CRG-Maxter); 2. Gonzalez; 3. Cebrian (CRG-Tm); 4. Martinez; 5. Noval; 6. Soriano.
Final-2 result: 1. Hiltbrand (CRG-Maxter); 2. Gonzalez; 3. Santos; 4. Martinez; 5. Noval; 6. Cebrian (CRG-Tm).
The classification of the Spanish Championship after four rounds:
1. Hiltbrand (CRG-Maxter) Spanish Champion, points 360; 2. Martinez 282; 3. Gonzalez 282; 4. Cebrian (CRG-Tm) 267; 5. Santos 261.