The Resurgence of the 80cc Shifter
Nimble gearbox category thriving with SIRA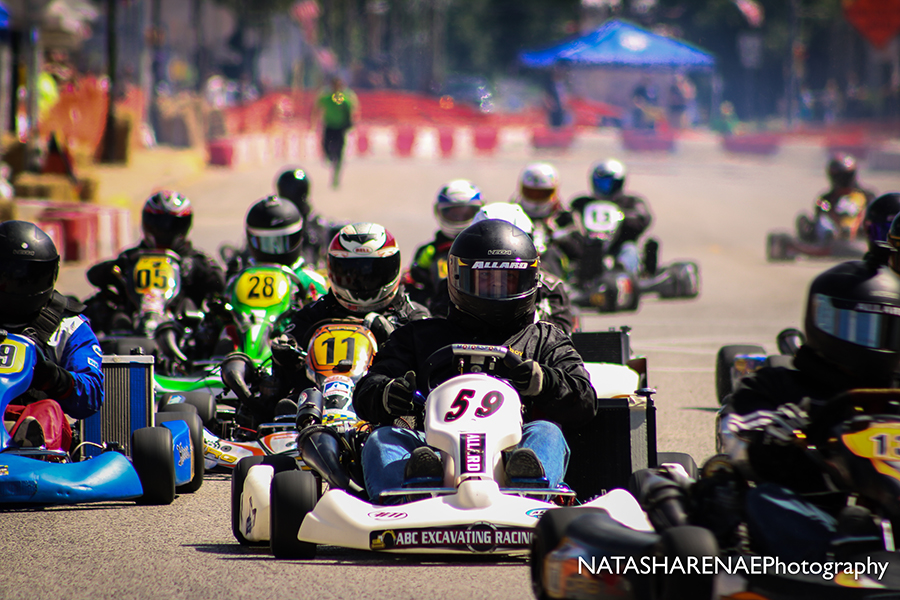 You don't have to go back very far in the recent history of karting to dive into a time when 80cc shifters were a major part of the action at Superkarts! USA or Stars of Karting events, or in ultra-competitive IKF regions like Northern California.  The assorted 80cc engines of Honda, Yamaha and Suzuki provided a different experience than the 125s, and were initially intended to offer a 'Lite' class for those looking to bang gears with a little less top speed, and a much less violent ride.  The 80cc formula was made even more attractive by certain track characteristics, as it was truly a much better package for the tighter sprint circuits, such as many of those found in NorCal.  The class also opened the door for Junior competitors to shift gears, and it exploded on the SKUSA ProMoto Tour in the late 90s.
A simple look at the names of 80cc Junior and Senior entries at past SKUSA SuperNationals will tell you that the class was well supported, and how it helped to develop pro caliber drivers.  The list is long and stacked, as it was a development stop for many young pilots. From the NASCAR Sprint Cup, the 80cc package helped develop AJ Allmendinger and Cole Whitt; a trio of drivers from IndyCar in Charlie Kimball, Graham Rahal and James Hinchcliffe, IMSA drivers Joel Miller, Patrick Long and Colin Braun, and DTM race winner Robert Wickens.  You can add in large group of drivers who would go on to win some of the biggest races and championships in karting, such as Alex Speed, Alan Sciuto and Mike Giessen.
In an era of the sport where we often see powerplants and categories come and go, the resurgence of the 80cc Shifter category in Indiana is particularly intriguing.  The Southern Indiana Racing Association (sirakarting.org) is running the class on their seven-event street race schedule and the category is enjoying a major growth spurt.  In 2015, SIRA averaged 15-20 karts per race, but this year, they're enjoying even more support and are averaging 25-30 entries.  At the most recent event – the Alexandria Grand Prix – they put a grid of 25 karts on the track for a main event that was won by Joe Ruch.
The 80cc class was given new life in the same region where Superkarts! USA planted its initial roots, primarily thanks to long-time shifter drivers Tim Sawyers and his son Tyler, who found a couple of cheap 80cc engines to mate with some older chassis they had in the garage.  The plan was hatched, so they put them together to go out and have some fun with SIRA.  The concept was to have fun, and with a pool of cheap motors readily available, it seemed like a great idea. At first, there were just 4 or 5 karts but SIRA made a place for them to run, at a reduced entry fee and no trophies.  Tyler was just 13, but Tim put him into one of his 80cc rides because they needed the kart count.  Tyler took to the shifter package immediately, and Tim never drove that kart again.
As is so often the case in the sport, the momentum began to grow and the handful of 80cc karts quickly become 10-15 and then 15-20.  We all know that karters like to race in big fields, so the growth simply fueled itself.  People started pulling their old 80cc karts out of the garage, or bought used packages, and now there are up to 30 karts at any SIRA race.  The interesting point is that the new class started pulling people off the sidelines instead of stealing them from other classes.  It was attracting new people to the sport, and it was also luring ex-racers back to the track. SIRA's 80cc Shifter program has some great storylines in the paddock as well, including four father-son teams, two uncle-nephew teams and one three generation squad (father, son, and grandpa).
SIRA runs the same basic rule set that was used for the SKUSA Formula K1 class, with the exception that a stock ignition is required. Programmable ignition certainly pushed the limits of the CR80 in the 2000s, and this rule evolution has provided much reliability to the engines. The class is sponsored by TB Kart Indy, a new shop that is owned and operated by Darren Harden.
Joe Ruch is a long-time 125cc shifterkart pilot who caught wind of the category's growth in the SIRA program during the 2014 off-season. Ruch and his father were trying to decide what to do for coming season, as the 125cc fields in Indiana has dropped off substantially.  Joe heard through the grapevine that SIRA was drawing between 10-15 80cc shifters at almost every one of their races in 2014. They did some digging and found it to be true, so they tracked down a race-ready Woltjer Honda CR80 package and bought it for $500, shipped to their door.
"Street racing against 20+ shifter karts, what more could you want," Ruch told EKN. "On top of great racing, the SIRA is a great series to race with and even better people to be around. The level of competition continues to increase every race as more and more drivers find out what a great thing we have going. It's affordable, fast, fun, and we are still banging gears and keeping shifter karting alive in the Midwest."
"I find the 80cc package to be a real pleasure to drive," Ruch continued. "Compared to my 125cc, it doesn't have brutal power that a 125 packs, so it takes a bit more finesse to keep your momentum up. Being smooth is of the upmost importance when you don't have the low-end power to pull you out of the hole, so to speak. The 80cc is also much easier on your body (especially on the street courses), so it's a great platform for all ages in senior karting. If you like grabbing gears but don't want the wear and tear on your body when you go back to work on Monday, this is an ideal set up."
The new 80cc category has helped bring many ex-drivers back to the sport, such as 26-year-old Zach Schiff, who is now an Equipment Manager for Sertek, a stainless steel restaurant equipment manufacturer.
"I have kept in touch with Joe Ruch over the years and he told me about SIRA's 80 class and that they were drawing 20 karts," offered Schiff, who won both the Stars of Karting and WKA Manufacturers Cup 80cc Junior class in 2005. "How can you pass that up when you have the old championship kart sitting in your garage? That kart sat in my garage for 10 years. After a little convincing, I decided to get the old First Kart ready to go last winter and now I'm hooked again."
"The people have been the best part about the summer though," continued Schiff, who bought a hitch for his VW Jetta and tows a 4×7 utility trailer to make it to the track, camping in a tent all weekend. "Everyone just wants to race; yes, it's competitive, but having fun is Priority A.  I can't say that was case for me back in the day. It's just myself at the track, but I have received so much help and support from the other drivers and families. The Harden family has especially been such a blessing helping me with everything I need."
Everything points to continued growth for the 80cc Shifter class with the SIRA, which has two races remaining on their 2016 schedule.  The next event is the Ceraland Grand Prix on September 17-18, ahead of the Daleville Grand Prix on September 24-25.
In addition to the SIRA program, the 80cc Shifter class will mark its return to the Xtream Rock Island Grand Prix Powered by Mediacom this coming Labor Day weekend, and there is certainly an opportunity for the annual event to become a big part of the 80cc rejuvenation.  The category was included in the event during the SKUSA heydays from 1999-2002, and the names of winners include Jason King, Dan Roe, Jake Pierson and Chris Jackson. To put the carrot out to any competitors planning to support the RIGP this year, the record lap time for the class at Rock Island is a 33.966 set in 2002 by Johnny Johnson.
"We would like to see shifter racing rejuvenated in the Midwest and will work with anyone trying to do so, and so this seemed a natural when the request was made." offered Roger Ruthart, President of the Xtream Rock Island Grand Prix Powered by Mediacom. "The SIRA rules also offer a great opportunity to get some old – and not-so-old – engines back racing again. We hope they have a great show here and that this is just the beginning. I hope the fact that we are running the class in Rock Island will attract more people to try it out."
Like so many regions of the country, the Rock Island Grand Prix is enjoying a period of stabilization thanks to the growth of the Briggs 206 program, which has provided incredible strong numbers in the 206 Senior and Masters classes they offer. Likewise, the resurgence of the shifterkart program in the Midwest should also aid is increasing the numbers for one of the sport's longest running events. Rock Island is celebrating its 22nd anniversary this year.
SIRA has done a fantastic job to support the growth of the 80cc Shifter program and it has, in turn, helped to solidify the series and its profitability, which is good for everyone.  With two races still on their 2016 schedule, SIRA welcome any and all interested races to join in on the shifterkart fun.  So, if you have an 80cc package sitting in your garage, get that bad boy out and fire it back up.  You won't regret it.  You're not alone.
Please follow and like us: