ROTAX MAX Euro Challenge at Salbris: Hot Race Action Under Even Hotter Conditions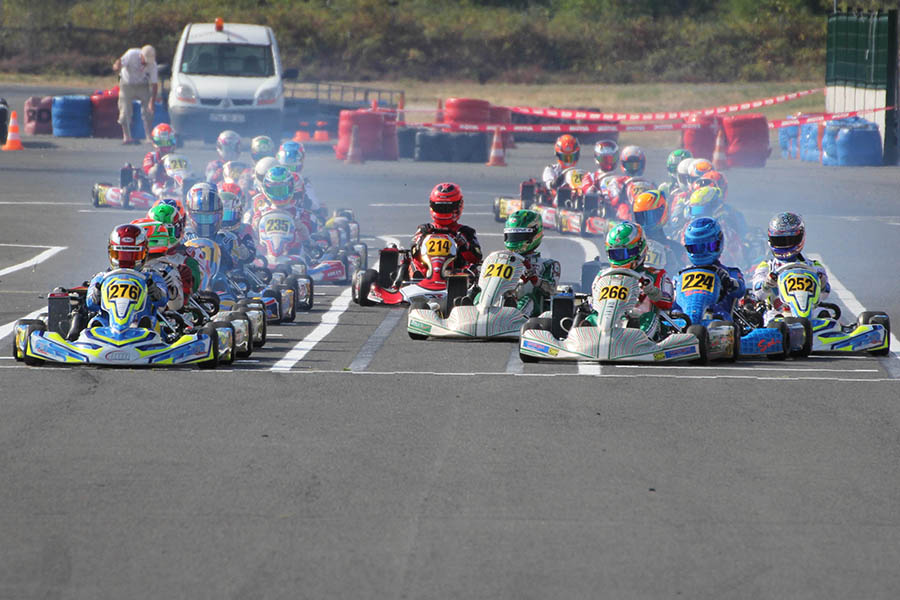 Today Salbris was venue of a hot racing day. All told nine qualifying heats were on the agenda ascertaining the final grids for the last round of the 2016 ROTAX MAX Euro Challenge. Again weather made for a special task. Extremely Hot temperatures turned the Circuit of Sologne Karting into a real melting pot …
Dylan Buys (JJ Racing) was the dominant man in the junior's heats. The Dutchman took the reins by a clean record of three wins gaining the pole position for the prefinal on Sunday. Friday's quickest Mark Kimber (Strawberry Racing) lost a little bit of ground but still was fast enough to manage a good second place in the heat ranking. Third place went to Frenchman Jean Nomblot (Nomblot) ahead of Lauri Leppa (Vaisanen Hekki) from Finland in fourth place. A big improvement had to be attested to Olli Caldwell (KR Sport). After a topsy-turvy qualifying the Brit jumped from 17th to fifth position.
The senior's heats were actually a in the hands of Berkay Besler (Bouvin Power) and Gary Donnelly (Strawberry Racing). Both distributed the race wins. Nevertheless, none of them made it to the top in the heat ranking. Besler and Donnelly experienced at least one incident in the course of the heats. As a result Besler had to be satisfied with sixth place in the intermediate classification while Donnelly even dropped back to twelfth place. On the top Lars Lamborelle (Dan Holland Racing) established himself: Without a win, but therefore with most consistent results, he defended the pole position. Behind, Russia's Denis Mavlanov (Bouvin Power) gained the second place ahead of Adrien Renaudin (Patrice Renaudin). Fourth place went to Glenn van Parijs (Bouvin Power) in front of Jack McCarthy (Strawberry Racing).
In the DD2 class, Constantin Schoell (Daems Racing) tied in with his performance from Friday. The Austrian celebrated two wins and took another third place, which eventually made him defend the top. Second place went to Dzianis Slavinski (Dan Holland Racing) from Belarus, who made a great job. After being seventh in the qualifying he improved remarkably – even winning one of the three heat races. Alexis Coursault (Coursault) followed in third spot ahead of championship leader Kevin Ludi (Spirit Racing) and Italy's Cosimo Durante (Franco Durante). Title defender Ferenc Kancsar (VPDR) suffered a small Waterloo. In the first heat a collision forced him into the pits, which he could hardly compensate by an eighth and seventh position in the subsequent races. Ultimately he ended up in tenth place in the heat's merge.
Beside the thrilling races there was one more thing causing a stir: The all new AHD System developed by RGMMC made its race debut. For the first time the Anti-Pushing-Device was officially used in racing. The big test run for which 20 juniors mounted the AHD system was a great success and delivered decisive data, which will help optimizing the system for its general use in 2017.
Now that the final grids are set everyone is ready for the big showdown on Sunday. The final phase starts at 11:20 a.m. with the junior's prefinal. More information regarding reports, photos, results and live TV stream are available on the official websites www.rotaxmaxeurochallenge.com or www.telemundi.com.